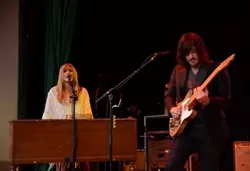 Grace Potter and the Nocturnals showcased a remarkably pliable sound at their Gallivan Center Saturday night, and they had fans representing every part of that sound in the audience.---
Led by the lanky Potter on vocals, guitar and keyboards, and missing their bass player, Catherine Popper, the quintet-turned-quartet veered from rootsy rock & roll to country to white-girl soul during their nearly two-hour set.
Potter noted that the show was an "all-request set," with song suggestions gathered via Twitter and Facebook in the days leading up to the show. She might have been kidding, but if she wasn't, the crowd seemed inclined to ask for a lot of ballads. That's not a huge problem, given Potter's smoky, assured voice. And those ballads made the more rocking moments stand out, that's for sure.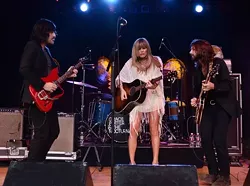 The band kicked things off with "Goodnight Kiss," a song that showed off yet another facet of the group's approach with its light reggae vibe. From there, Potter and her band mixed in a steady diet of covers with their own tunes like "That Phone," "Joey" and "Paris (Ohh La La)."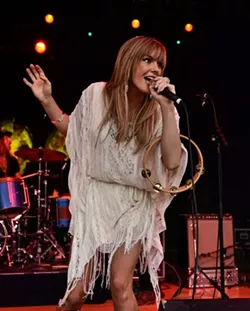 The band is pretty entertaining to watch, and not just Potter in her tall heels and short skirt, rocking out on a Flying Vee guitar here and there. Guitarists Scott Tournet and Benny Yurco, both clad in black, shined brightest when the band went into blues-heavy bar-band mode, and drummer Matt Burr was the grinning epitome of classic rock with cowboy hat, moustache and smooth moves behind his kit.
The covers Potter and Co. tackled were some of the high points of the show. Wilco's "Muzzle of Bees" was a nice surprise, and delivered with style. Jefferson Airplane's "White Rabbit" showed the band can get a little trippy in between much poppier moments. And a take on Otis Redding's "Pain in My Heart" was a stunner. That was the song that really sold me on the show, and the band, given this was my first time seeing Potter and the Nocturnals. And it's the song that will most likely lead me to seeing them again.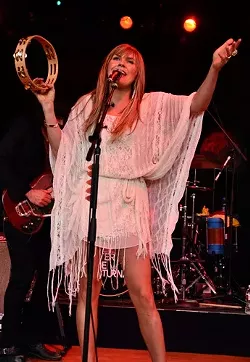 All photos by Meredith Newsome