Every year dozens of local filmmakers take the movies they've been tirelessly working on beyond this state and hit the film festival circuit. --- Some with hopes of gaining buzz, some with hopes of gaining distribution, some looking for an audience to watch it and some simply to prove they could do it. Today we're looking at one film with a trying tale that's become an indie success.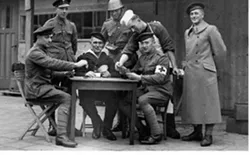 "We Were The Vanquished" focuses on the story Pieter Gerard vanderHoofts, a member of the Dutch Resistance during World War II, who recorded his story prior to his death on tape years ago. Those tapes are brought to life in this documentary film containing photos and footage from the era along with reenactments in this tale of war and sacrifice. The film has received awards and recognition from several indie film festivals, and plans are in the works to make it to bigger festivals as we speak. Today we chat with actress and film producer Lisa Spurrier about the film (based around her grandfather's recordings) and its success so far, plus thoughts on the film community.
Lisa Spurrier
http://wewerethevanquished.weebly.com/
Gavin: Hey Lisa! First thing, tell us a little bit about yourself.
Lisa: I have a Bachelor's Degree in Accounting with a math minor. My husband and I own three athletic shoe stores: New Balance Salt Lake in the Sugar House Center, New Balance Union Park Avenue-opening in August 2011 and Walk Inn/Run Inn in Englewood, Colorado. I have been the Chief Financial Officer of our Company since 1987. I was the CFO of the Christmas Box House from April 2004 until April 2007. I started acting in 2003 and quickly became addicted to it but took a break while working two jobs. In 2008, I decided to start producing since I wanted to raise awareness about child abuse and domestic violence.
Gavin: How did you first get into film, and what were some early inspirations for you?
Lisa: It's kind of a fluke how I got into film. In 2003 I was taking lunch to my husband at our Foothill Store when a friend of mine came walking out of the McCarty agency. She told me she had just signed up for an acting class and I should take it with her. I decided to and was immediately hooked. Producing films was a natural addition to acting.
Gavin: What has it been like for you getting involved with the local film community, both behind and in front of the camera?
Lisa: There is a lot of passion within the local film community for acting, producing, and being involved in all aspects of film making. There is no shortage of talented individuals here in Utah. They are all willing and able to help out. Most of my closest friends are involved with the local film community.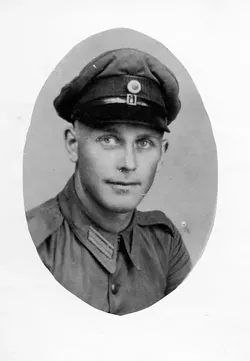 Gavin: First thing about the film, when was the interview first conducted with Pieter?
Lisa: My Grandpa recorded his life stories, including his World War II experiences, back in the 1980's.
Gavin: When did you come across the interview, and what was the quality of it like?
Lisa: I found out about the cassette tapes with the recordings in early 2008. My Uncle Jan had them at his home so I borrowed them so I could transcribe them for future generations. The cassette tapes had a lot of background noise so I started typing up the story while hitting pause on the cassette player. It was a very time consuming, tedious method but it worked.
Gavin: From those recordings, how did the idea for "We Were The Vanquished" come about?
Lisa: After listening to my Grandpa tell his World War II stories, I realized those same stories had been told in different ways by different family members. I was ecstatic to finally hear the stories my Grandpa had told me while growing up in his own words. I found his stories so exciting I decided to produce a film about them. I had numerous pictures of my Grandpa serving in the Dutch Military. After Holland was taken over by the Germans, he fought with the Dutch Resistance against the Nazis, was a Prisoner of War twice and was held on death row. My Aunt Louise and Uncle Jan also found my grandpa's handwritten story from 1948 as well as his typed up story from 1952. My Grandpa called his 1952 story "We Were The Vanquished," so I used that name as the title of the film.
Gavin: What made you decide to splice together footage from WWII photos and original content as a recreation?
Lisa: The entire film is narrated in my Grandpa's own voice. I felt it would be boring if we just listened to his stories and showed the pictures of him. Therefore, I purchased some historical footage and hired a very talented Director, Josh Samson, to film the recreations of the stories. Josh was also able to make the pictures appear to be video footage as opposed to just a still photo.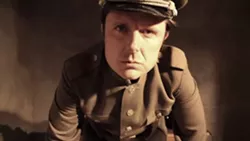 Gavin: What was it like filming the recreations and pairing them up with the recordings?
Lisa: Once I had matched up the still photos from my Grandpa's album to the dialogue where I felt they fit the best, Josh Samson, Bill Gillane and I began discussing how we should shoot the recreations. By doing it this way, we knew exactly which stories needed to be recreated. The tricky part was making them look like they took place during WWII in Holland.
Gavin: How long did it take you to put the film together, and what were some initial reactions from people seeing it before it was released?
Lisa: It took several months to transcribe the two hours of dialogue, look up the words my Grandpa was saying in his heavy Dutch accent to make sure I transcribed them correctly, then a few weeks to scan the old photos onto my computer and match them up with the dialogue. Then I took my Grandpa's 1948 and 1952 stories and I matched them up with the transcribed document from the cassette recordings. I found several interesting pieces of his war stories in the two oldest documents. Therefore, it was decided I would tell the audience the stories not included on the cassette tape. Once my production team and I decided which stories to recreate, we held casting calls, built props, gathered wardrobe and props from the 1940's. Josh actually built the jail cell in his garage as well as the interrogation room and we began shooting.
Gavin: What was it like for you submitting it to film festivals and having to go through the process of getting accepted and rejected?
Lisa: I discovered that films are a very subjective medium. I also learned that a 40 minute film is really hard to get into festivals. The preference is a film under 15 minutes or feature length. I had to remind myself of this when I didn't get into a festival. This was the main reason they gave me for not being able to screen my film. The other reason was if WWII didn't fit in with a festivals theme for the year they didn't accept it.
Gavin: What was the first festival you made it into, and how did it feel seeing your film on the big screen for the first time?
Lisa: I honestly can't remember which one was the first but I can remember the excitement of being in Jackson, Missouri at the Crossroads Film Festival with a packed theater full of people waiting to see my film about my Grandpa's experiences during World War II. That was surreal and exciting.
Gavin: Since your festival premiere you've made it into eight festivals and received recognition for your work from the Foresight Film Fest, SENE Film Fest and the Accolade Competition. How has it been for you and everyone involved to receive that recognition?
Lisa: The film has gotten into eight festivals so far, won "Best Of Utah" at the Foursite Film Festival, won the "Audience Choice Award" at the SENE Film Festival, an "Award Of Excellence" in the Accolade Competition and an honorable mention in the Metropolitan Film Festival of New York. The recognition has been amazing. To have people come up to me at festivals in tears, telling me how much they enjoyed the film and their hope of getting their family members to tell their stories for future generations made it all worth while. It saddens me to know these stories are dying with their owners. Several people asked, "Why aren't these kinds of stories being told in the schools?" They should be. Anne Frank is the most well known story from WWII but there are so many others just like it that deserve to be told.
Gavin: What plans do you have down the road for the film, and what projects have you got coming up after you're done hitting the festivals?
Lisa: I just edited the fine cut of the feature length film I wrote, produced and starred in last year and turned it over to the composer. I am hoping it will raise awareness about child abuse and the plight of foster children aging out of the system. I wrote the story then hired Josh Samson to turn it into a screenplay, film it and direct it. I am also hoping to package "We Were The Vanquished" with a couple of other World War II films I am in the process of producing. My production team, Josh Samson, Bill Gillane and I are in the process of producing more military documentaries so we are keeping very busy.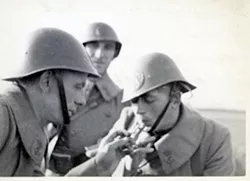 Gavin: Moving onto local stuff, what's your opinion of the local film scene, both good and bad?
Lisa: I think Utah has a lot of talented film makers, actors and producers. However, because everyone is willing to work for free (including myself because I love all aspects of film making and am very passionate about it), very few projects made in Utah pay their cast and crew. I made sure everyone on my set-the entire cast and crew-got paid. I wish we could find a way to make sure everyone gets paid every time they step foot on a set in Utah. I realize independent film makers have limited budgets but there are programs like Kickstarter, that help provide funding for an independent film to make sure the cast and crew get paid. It is also frustrating when only the crew gets paid but not the cast. I think it should be all or none. I also think every project should have a deferred payment contract with the cast and crew if they are unable to pay them up front. That way everyone involved in a successful film is rewarded for their time and effort on the project.
Gavin: Is there anything you think could be done to make it more prominent?
Lisa: Include incentives for the low budget independent films being shot in Utah, better marketing, and better contracts to make sure casts and crew members get paid when a project is successful.
Gavin: Who are some local directors you feel are at the top of their game?
Lisa: T.C. Christensen, John Lyde, and Richard Dutcher. Keep your eye out for Josh Samson too! He is a very talented director, DP and editor who is well on his way to earning respect in the community.
Gavin: What's your take on other film festivals and competitions in Utah and what they do for the film community?
Lisa: Everyone is so set on getting into Sundance that they don't focus on the festival that is right for their film. I attended a film makers bootcamp in Washington DC that was a part of the GI Film Festival. The speakers included the former Senior Executive of Warner Brothers Studios, the head programmer for the Military Channel, and a major Distributor. They all stressed looking for the film festival that fits your film. No matter how good a film is, if it doesn't fit the genre, theme or time limit of a festival, it is not going to get in. Save your money on submission fees for those festivals where you have a chance of getting in.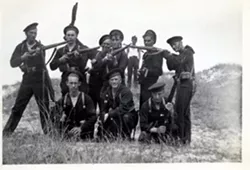 Gavin: Aside from the obvious, is there anything else you'd like to plug or promote?
Lisa: Stay tuned for the premiere of my feature length film tentatively titled "Second Chances," starring myself, Bill Gillane, Dusti Jones Shepherd, Savanna Lewis, Michael Solarez, Sarah Ruth Kent, Matt Mascaro, Trevor Hawkes, Carter Blanc and many other talented Utah actors.
| | | | |
| --- | --- | --- | --- |
| Follow Gavin's Underground: | | | |