In Louisiana, red beans and rice are a Monday meal tradition, a classic example of Creole cuisine. Families often cook red beans and rice on Monday, utilizing leftover ham bones from Sunday dinner. --- It's often served with a pork chop, ham or sausage on the side, or, just as often, all by itself. It's been said that jazz great Louis Armstrong's favorite food was red beans and rice.
I've had many versions of red beans and rice in New Orleans, no two exactly the same. Indeed, if you get together 20 Louisiana cooks in a room you'll come up with 20 different red beans and rice recipes. I've tried dozens myself, with varying degrees of success. Here is the way I like to make it.
Ingredients:
1 ham bone (leftover from a cooked ham)
1 lb. dried red beans
1 bunch scallions - about a cup
1 green bell pepper
4 cloves garlic
1 celery rib
1 large yellow onion
1/4 cup parsley
2 bay leaves
1/2 tsp dried basil
1/4 cup unsalted butter
Salt and cayenne pepper and/or Louisiana hot sauce to taste
Cooked white rice
Begin by soaking the beans in a pot of cold water overnight. After soaking, drain the water and rinse the beans. Replace the discarded water with 2 quarts of fresh, cold water. (I like my red beans to have a stew-like consistency. If you prefer your red beans drier, reduce the amount of water by a cup or so. You can always add water to the pot if the beans get too dry.)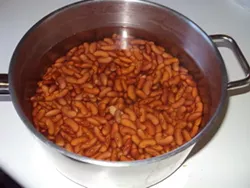 In a food processor or by hand, mince finely all of the vegetables, garlic and onions. I like to use a food processor and turn the veggies into almost a puree. This helps create a more desirable, creamy texture. You don't really want big chunks of vegetables in the beans.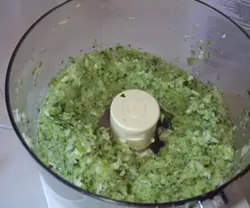 Submerge the ham bone in the pot with the beans and bring to a boil.
Once the water is boiling, turn the heat to medium-low and add all of the remaining ingredients except the salt and the rice. Adding salt at this point can make the beans tough. Stir well to incorporate the vegetables and spices into the mix.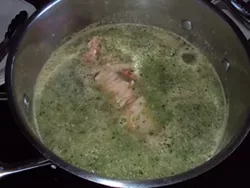 Simmer uncovered at a very low boil (just barely bubbling) for four hours, stirring and turning the ham bone periodically.
After four hours, remove and discard the ham bone. Most of the meat will have fallen off the bone (pull off the rest once the bone has cooled) and the marrow will have melted into the beans, giving them a smoky flavor.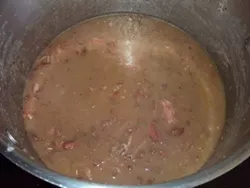 This step is optional, but most Louisiana cooks like to mash up some of the cooked beans and add them back to the pot, giving the red beans a creamy consistency, somewhat like refried beans.
Remove the bay leaves, add salt to taste (the beans will already be somewhat salty from the ham) and serve with cooked white rice.
Laissez les bons temps rouler!