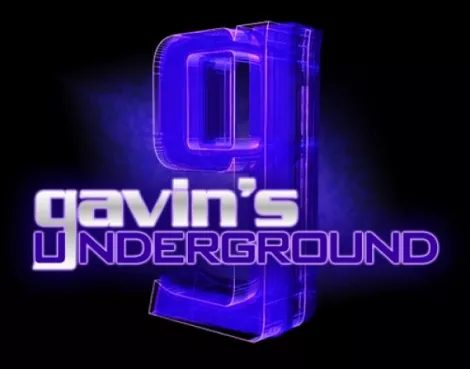 While a lot of the lettering a design fields of print making are dominated by graphics programs and the mighty Photoshop, there's still a place in many hearts for the old fashioned press. --- The styles, patterns and ink blotches may be duplicated, but the feel of the press and the final product remain a sought after design. So aside the minor print companies in town, whenever a designer is looking for the old-fashioned way of doing things, there's only one real place to go.
The Book Arts Program sitting in the Marriot Library at the U is the state's foremost location for artistic letterpress, showcasing the equipment of a craft long departed and the uses they had during their time. The program also offers courses, has become involved with local causes and festivals, has become a home to several of SLC's artistic minds gaining credibility and notoriety over the years, and recently won a Mayor's Award at the Utah Arts Festival. Today we chat the Managing Director Marnie Powers-Torrey about her own artistic career and becoming involved with the program herself, as well as talking about the program and it's impact on the community, plus a few thoughts on local art. (Select photos by Torrey, Mary Toscano, Emily Hatch of Carpe Diem Photography, Mike Marcinek and Heidi Brett. Select collage work by Eva Joregensen and Teresa Jordon.)
Marnie Powers-Torrey (lower row, middle)
http://www.bookartsprogram.org
Gavin: Hey Marnie, first thing, tell us a little bit about yourself.
Marnie: Straight up background/bio/history, I was born in South Bend, Indiana while my dad was getting his PhD in chemistry at Notre Dame. Soon moved to North Carolina, and not long after that to Mt. Pleasant, SC where I was raised through high school.
Gavin: What first got you interested in art, specifically photography, and what were some major influences on you growing up?
Marnie: I gave you a glimpse at my dad, so a peek at my Mom: a Math professor turned Dean of Undergraduate Studies. Partially to their disappointment, I couldn't convince myself that I wanted to doing anything but make stuff—stuff with no practical application but to make philosophical sense of all that was around me. I do vividly remember being a frequent ribbon winner at science fairs—my super rational parents were great supporters of my sense of wonder, so they helped shape my hypotheses, which were always viable but also magically kid-friendly. One year, my mom and I built a pinhole camera, made negs, and developed them in our laundry room. As always, I spent more time on the visual presentation of the final project than on the science, but I do believe this was an important event for me because I had experienced the empirical proof that art and science undeniably intersect. I also stapled a lot of books with pockets and moveable parts out of construction paper as a kid. I admired Georgia O'Keefe, Shel Silverstein, C.S. Lewis, Harriet Tubman, and M.C. Escher in grade school.
Gavin: For college you sought out your Bachelors in Boston for English and Philosophy, but came to the U for your Masters in Photography. First part, what made you originally choose Boston, and what was it like being involved with the Boston Museum of Fine Arts?
Marnie: The South is a charmer, but I wanted to live more. I traveled through Europe and to many islands growing up, but had never lived anywhere else as a post-three year old. I think Boston is just fantastic: relatively safe, full of city, and manageable from city-center to the outer neighborhoods. At the School of the Museum of Fine Arts, Peter Madden, Laura Blacklow, and Jessica Ferguson introduced me to the book as an art form. The school really fosters cross-media, which provided me with very physical experiences to compliment my rigorous multi-disciplinary, undergraduate experience in the Honors Program at Boston College.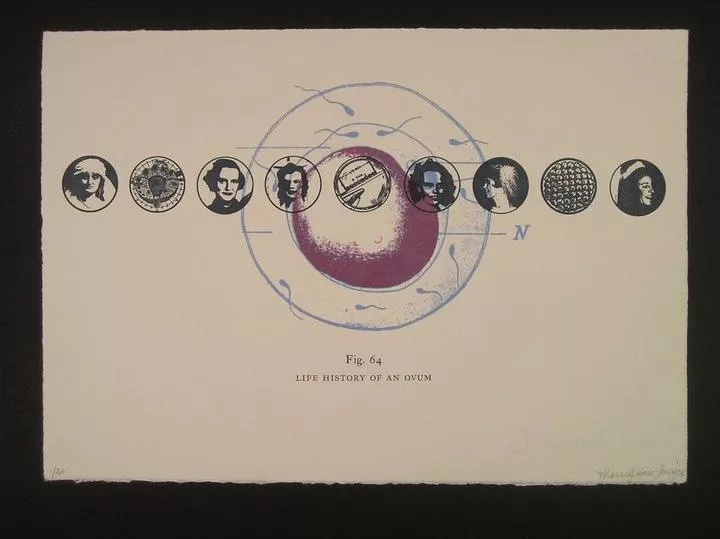 Gavin: What influenced you to come to Utah, and what was the program like for you when you were attending school?
Marnie: Big sky, four seasons of varied lovely, and a free place to live while I took some classes at the University to Utah to check out the fit. I had met Bob Kleinschmidt and Sam Wilson when I visited in 1996, and was enthralled with both of their visual language and palpable passion. Soon after moving here, I enrolled in etching with Bob and then heard Joe Marotta speak at a photography conference—that settled it. The three were my graduate committee—a photographer, printmaker, and painter/draftsman. They were and are very old friends, so I believe they enjoyed our gatherings. I worked a lot in the darkroom and print shop, fooling around a bit with some paint and ceramics, but not so much as an investigation of their plasticity, but rather to explore surfaces of various substrates for drawings, photos, and text.
Gavin: How did you first find out about the Book Arts Program and what made you decide to get involved with the program?
Marnie: I saw a few Book Arts Program lectures in 1998 and decided to take the letterpress intensive taught by Gene Valentine in the summer of 1999—a two-week intensive class that met from 9-5 everyday. I'd been looking for a way to apply text in a physical but clean way… how could I just be finding out about this now? By the fall, I was spending thirty plus hours a week in the studio producing work and volunteering as a studio coordinator. The following fall, I was hired as a part-timer, and in February 2001, Madelyn Garrett, the most committed progenitor of the Book Arts Program, created a position of studio manager and hired me. At that time I was teaching etching and had double duty as a forty-hour plus studio manager/event coordinator while teaching a class in another print studio on campus.
Gavin: For those who may not know, what is the Book Arts Program and what is it designed to do?
Marnie: I'd invite people to check out our website to understand the particulars of what we teach, but in essence, we support the production of visual books. The Book Arts Program champions a continuing engagement with the book and looks to foster the active, interconnected study and application of all the diverse elements this evolving form requires. In offering a unique venue for cross-disciplinary research, exploration, and production, participants working in any discipline can take full advantage of the tremendous facilities, equipment, and faculty to experiment with new formats for visual communication, textual presentation, technological application, and conceptual development. We offer a variety of book-related workshops that range in length from half-day to four days in addition to full-semester classes—all of which are open to members of the community as well as University students. A huge portion of our Program is committed to K-12 outreach initiatives, presenting the book as a method to teach across curricula and age groups as well as a literacy aid and means of self-expression.
Gavin: What was it like for you first getting involved with the program and learning the ropes with all the equipment and producing books?
Marnie: I've talked about my early involvement with the Program, so I'll comment on my initiation into printing equipment and fine press methodologies. Previous to my introduction to letterpress, I'd been doing a lot of relatively messy, collage work with found objects and bits. I had to stand up straighter and wash my hands more often, learning to look at the infinitesimal distinctions of the craft of adding ink to paper under pressure. The machines were exceedingly overwhelming at first—I was in charge of this shop and it's maintenance, with no manual or protocol. I joined the letterpress listserv and lurked quietly while absorbing as much as possible when printers came through the studio or when I attended conferences. My best teachers were the students who used the shop—their problems and eventual solutions became a self-directed course in problem solving on the press.
Gavin: When did you officially become part of the staff, and how was it for you working your way up while helping the program continue on?
Marnie: I shared the first half of the story earlier, but to bring us up to present day: I hired Jen Sorensen as a part-timer in 2002, I believe, and then as a full-time studio coordinator not too long later. We were now a staff of two who were solely committed to the studio, and we worked really, really hard. When the Red Butte Press became active again after a brief quiet period in the late nineties/early 2000's, we were just inundated, with physical work along with a sizeable level of responsibility. We produced much and slept well. I also can't stress the importance of our powerful volunteer from the beginning through the present. Claire Taylor came on the scene sometime in there, and really plugged in quickly as a student and eventually full-time staff member, as she continues to be today! with amazing commitment. Amber Heaton is another long-timer who contributed greatly in the early 2000's and through last year when she left to attend graduate school at RISD. Victoria Hindley was our talented Creative Director for about five years, and our Program was consistently supported by Rare Books Staff, the division in which we where housed, particularly by Madelyn, but also by Luise Poulton, who remains a invaluable asset for the Program today: a resource, a supporter, a contributor.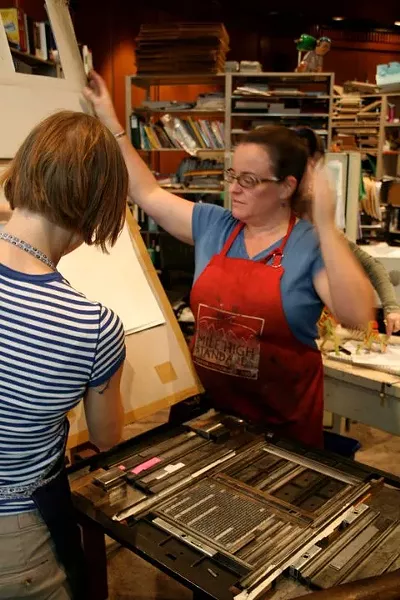 Gavin: What are some of the pieces of equipment you currently have in the program, and how do you maintain them to keep everything working like it was first made?
Marnie: An unfortunate truth about letterpress and its viability in contemporary artistic practices is that these machines aren't made anymore, and haven't been for several decades. Like all things mechanical, there is wear that happens over time that can't be undone. We do our best as caretakers of the presses to keep them clean and well oiled. We do at times need to replace parts, which means either purchasing them through NA Graphics, a very small business that commissions production of letterpress parts in bulk, or having a local machinist manufacture the part based on specs or the old part. Most importantly, our mission is to promote informed use of these presses and antique shears, equipment care a sizeable chunk of the Program's curriculum.
Gavin: I noticed beyond the normal semester college courses, you offer non-credit classes and workshops to the public. How did those start up, and how has that been received by the public?
Marnie: We started teaching workshops to the community at-large in 1995. Initially, it was pretty grassroots/word-of-mouth, and as we have become increasingly involved in community events and became more visible, we have developed more support and interest. The university and greater community gather together and create in our shop—a rich dialogue ensues.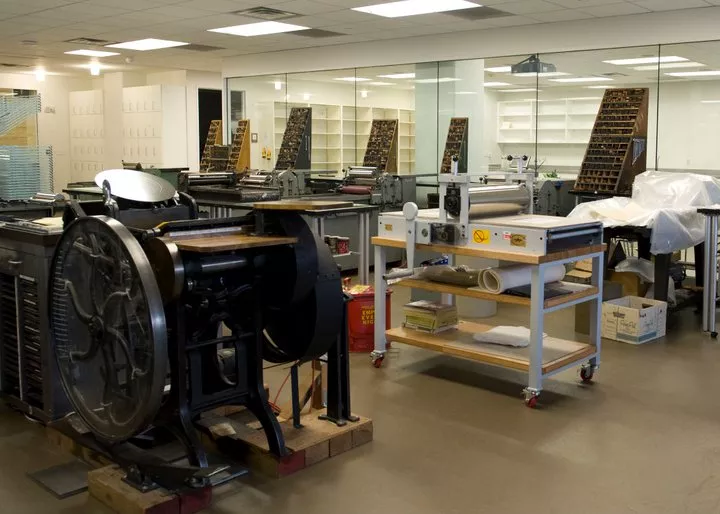 Gavin: You also offer outreach programs such as the Youth City Festival, Treasure Chest and Educator Workshops. What kind of planning goes into those programs, and what has the turnout and reception been like from the community?
Marnie: A huge part of the Program is reaching out to the community of all ages and walks of life—which, like everything we do, is a concerted team effort. And in order to accomplish this work and coordination, we rely on our financial and philosophical supports. The Book Arts Program is very grateful for the continued support of J. Willard Marriott Library and the University of Utah. We owe the Utah Arts Council a huge thanks for giving our K-12 outreach Program such a great start as well as all our current supporters: the R. Harold Burton Foundation, the Dee Foundation, artworksforkids! and the Alternative Visions Fund.
Gavin: You also take part in major events and festival like the AltPressFest, Craft Lake City and the Humanities Book Festival. What influenced you to take part in those events and have a presence in the community at that level?
Marnie: Historically, movements and efforts that can be grouped under the heading of book arts have been very community-minded. Since the 1960's, centers for publishing, printing, performing, and creating have formed internationally, under the auspices of book art. Collaboration is one of the many characteristics of book arts that make it so accessible to varied groups of people. It book arts would a sport, I think it would be deemed a team sport.
Gavin: You've got so many talent artists and print makers currently on staff; David Wolske, Claire Taylor and Mary Toscano to name a few. What has it been like for you building up such an impressive set of people and working with them in the program?
Marnie: Our team is truly what makes our Program what it is and what it will become. Each of our nine staff members is incredibly talented and driven. As a staff, we culminate to offer an incredible wealth and breadth of expertise and experience. As a proud leader of this energetic and creative crew, I do my best to foster their specific talents and skills by assigning projects that best match their interests and allow them the space to do what they are good at doing. Magically, we keep attracting really fine people whose areas of expertise fantastically complement one another. It's a major bonus that we all really like each other too. This contributes to our ability to function efficiently and effectively while remaining creative and engaged with a multitude of different projects.
Gavin: Recently you won the Arts Fest Mayor's Award for the program. What was it like receiving that award and the recognition that comes with it?
Marnie: Frankly, I get really nervous on stages, so the actual moment of receiving the award was quite unnerving. The recognition is exceedingly gratifying. It's pretty great to work hard on something.
Gavin: Are there any plans in the works to expand the program or bring on new events at this time?
Marnie: We are always moving ahead a breakneck pace. In the academic realm, we are working towards a minor and certificate in Book Arts through the Art and Art History Department after a successful two years of collaborating on an MFA in Book Arts/Creative Writing through the Department of English. We are in the process of hiring a new K-12 Outreach Coordinator who will be able to focus on and expand our rapidly growing initiatives with young people. Our programming for adults will continue to offer opportunities with guest artists and lectures from all over the country.
Gavin: Moving onto local stuff, what's your take on the publishing community, both good and bad?
Marnie: You know, I don't think I'm the right person to comment on the commercial publishing community, but perhaps that's not your real question. My comment on the local small press scene is that it is certainly steadily growing, producing letterpress as well as digitally produced publications where both text and graphics play important roles. I also find it quite interesting that one of the few espresso book machines in the world is housed in the Marriott Library, and hope that more individuals who seek a means of self-publishing will give this method a try. You send it a file that's been formatted according to guidelines; it prints, binds, and spits it out, cover and all.
Gavin: Is there anything you believe could be done to make it more prominent?
Marnie: I think the Alt Press Fest held at the City Library each summer is a great avenue for promotion and recognition of the small press community, educating the public in the continued power of print in tandem with growth of electronic communication.
Gavin: What do you think of the rise of local independent press and print companies, and the work they're putting out?
Marnie: Again, I wouldn't say this is my area of expertise. My primary interest, personally, is the visual book, not necessary publication, per say. I know what we are trying to do at the Red Butte Press these days, attempting to tap in to a local mode of production by fostered a creative dialogue between artists, writers, binders, papermakers, and designers in the community. I am also familiar with what other letterpress shops in the area are producing, notably, in terms of book work, Tryst Press is and has been producing exquisitely produced editions for nearly twenty years now.
Gavin: Moving to zines, what's your opinion of the zine community and the work coming out of it these days?
Marnie: When I visit other cities, I'm always on the prowl for book art and zines. I've seen some healthy zine culture in New England in and out of New York, in Philadelphia and in San Francisco. In my opinion, a lot of energetic stuff is being produced via mimeography and digital means right here is SLC. The 'zine culture relies so much on the swapping of publications as a means of distribution that we will have to sit back and watch our local mini-publications as they propagate in cities nationally.
Gavin: What are some local writers and 'zines you believe people should be checking out?
Marnie: You know, that's a hard one to call. With 'zines is so much about who you, as a reader, run into to and who they have been trading with. I'd just say keep your eyes and mind open—from middle schoolers to working professionals, there a great variety of people who are producing 'zines today with a corresponding array of ideas within the publications. Do look at Birdbrain Press—a joint effort between the BAP's Laura Decker and partner Max Kelly.
Gavin: What can we expect both from yourself and the Book Arts Program over the rest of the year?
Marnie: Watch for word of upcoming class, workshops, and events, open to everyone, regardless of level of experience. Also, watch for new publications from the Red Butte Press, including Wo/men At Work, the product of an ongoing dialogue between 1940's writer Ralph Powell, contemporary writers Judy Blunt, Matt Basso, and Andy Farnsworth, artists Laura Decker and Claire Taylor, designer David Wolske, binder Emily Tipps, and creative advisement from myself and Becky Williams Thomas.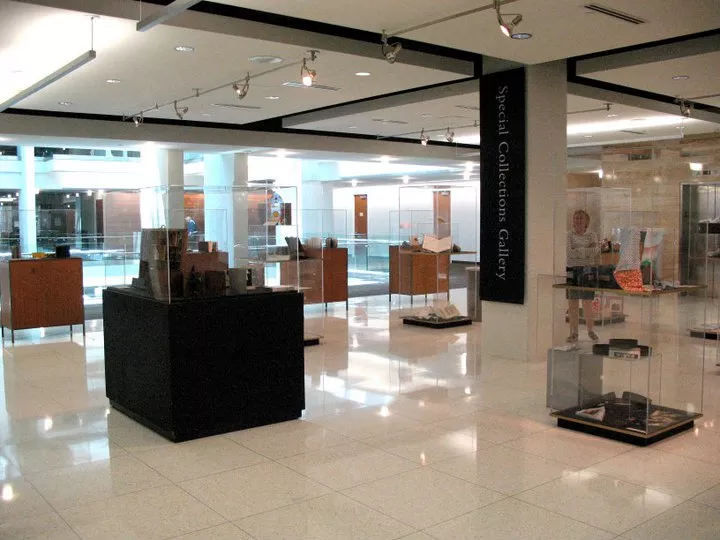 Gavin: Aside the obvious, is there anything you'd like to promote or plug?
Marnie: Laura Decker, Claire Taylor, Mary Toscano will be teaching a great workshop called COMIC RELIEF. It melds the worlds of zines and letterpress, allowing participants to conceive, articulate, print, and bind graphic narratives of their own design over the course of four weeks. The workshop will meet only three times, allowing work to be accomplished in between sessions. For those of you who are interested in dabbling in letterpress printing or 'zine production, this new workshop offers an affordable and fun opportunity with minimal commitment. Another upcoming calendar highlight would be September's film screening and two-day letterpress workshop with visiting artist Amos Kennedy.
| | | | |
| --- | --- | --- | --- |
| Follow Gavin's Underground: | | | |