Hello to all you protest-starting, environment-saving, police-yelling, smokebomb-running, traffic-halting, freezing-Trax-lines-and-sticking-me-on-a-train-with-a-kid-who-kept-coming-up-to-me-asking- "if I like computers"-DeChristopher enthusiasts! --- Don't get me wrong, I like you guys and what you did this week, you sent one hell of a message ... until you gave SLCPD a reason to use all that equipment they haven't used since 1978. But you people put me through 38 minutes of social hell in a train car with no air conditioning and with no platform for me to exit on so I could just walk it, and all I could think of was taking a crowbar to all your fixed-gear bikes. Next time you're going to protest the court, keep it to the sidewalk. Before we get into more venting and events, let's check out the latest addition to the 337 Memorial Wall.
Diving into the ol' hate-mailbox this week, I got a letter that surprisingly wasn't directed at me. The bulk of this letter, coming from a gal named "Katie" who didn't want her name used, asked about Dr Sketchy's, which I wrote up on July 8th. But this little nugget I'm going to share with you that sat at the top of the letter got me laughing for hours, and I couldn't help but share. Pardon the lack of proper structure, she didn't capitalize anything. "i want to thank you for being one of the few islands of culture in this sea of pabst guzzling hipsters and faith driven white washers. trust me when I say the gays love you. not many people go out of their way to help artists. if not for you, i would have stabbed my eyes out long ago knowing the only entertainment blogger in town was carmen rasmusen. do not stop what you do!" ...Alright, I won't. Kudos on the Rasmusen dig, I couldn't agree more for reasons that would take too long to explain in a single post. Thanks for the letter! If you'd like to send your own hate mail, feel free to yellatgavin@gmail.com.
While we're on the subject of bashing people, let's talk about the Twilight Concert Series. Now before I go off here, let me make this clear, this isn't about the Series or its staff or the musicians. This is about the crowd. I understand it's a free concert and certain names bring in people by the truckload, but I'm gonna be honest ... some of you people who go to these are fucking assholes! First thing, who starts a mosh pit during The Decemberists?!? Sonic Youth, Modest Mouse, Black Keys; all of those I could understand. How the hell do you justify starting a human cyclone during "The Crane Wife?" But what really pissed me off and made me hate the Twilight crowd was seeing a bunch of people in the front row point down to the ground in front of the barricade. That usually means two things: a woman just got assaulted or a guy got knocked the fuck out. But no, SLC took it to a new level as security fished out a 10 year-old girl who got roughed up by the pit, as well as her mom, who both bolted to the first aid tent nearby. So I'd like to give a big "Fuck Off" to everyone in that mosh pit, especially for the fact that if the concert heads charged $1 to get in, you assholes wouldn't show up.
And while we're on the topic of the front row, I'd like to toss David Burger at The Salt Lake Tribune in the proverbial microwave and throw some heat on him. For those of you who don't know, the press usually get to sit in the pit so they can snap pics (like mine that you can check out here) and accurately report on the show without being crushed to death by 30,000 people. So a lot of us who cover music or entertainment in general kinda know or run into each other frequently. Every single time I see Burger, he looks about as stone faced and unenthusiastic as you could get, like a metalhead covering a Kesha show, or vice versa. This behavior was exemplified at the Twilight show with Typhoon and The Decemberists, where Burger sat off to the far left end of the stage taking notes and looking like a bored old sack of crap who was forced to go. I swear, I could have glued a samurai sword and helmet to his body, stuck him outside a P.F. Chang's and no one would have known the difference. I know this sounds like I'm just giving shit to a fellow writer, but let me be clear on this subject, we're talking about a music writer for the biggest paper in the state -- a guy who gets free tunes, all-access passes, advanced info and a lot of other perks that many would gladly run to Mexico to have their kidney ripped out to get. To see him sit in the press pit looking bored with the band in front of him, with over 30,000 people behind him wishing they were in his spot, is just a tad annoying to a fellow music lover. And David, don't get me wrong, I actually like you and read your reviews and blog. But if I ever see you at a concert again looking like rigormortis is about to set in, I'm gonna flip a coin and, depending on which side it lands on, I'm going to run up and tickle you or punt you in the shin. Because either reaction will be better than how you looked last Thursday.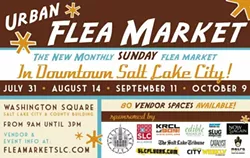 Moving onto tragic news, as you may have read from Dan here at City Weekly earlier in the week, Club Vegas was put to rest this past Wednesday. Amidst financial issues and poor attendance at certain shows, the metal club shut its doors. Aside from giving Area 51 visitors a new parking lot until the building is purchased by someone else, the closure has now left a very noticeable void in the hard rock and metal scenes, as it was the only place certain acts could get a show in the entire state. It'll be interesting to see where the local musical landscape moves from here (as well as where the Ultimate Combat Experience is going to hold shows now), not to mention a lot of the touring acts that came to town with Club Vegas as the only destination that would take them. The smart bet: Burt's and Bar Deluxe will get a lot of the tamer bands, visiting acts will hit up The Complex, and the bands "too heavy to book" will be looking to each other to start a new venue. That is, if someone doesn't come around and buys Vegas just to repaint and rename it. As for my own history with the place, a good many shows were seen there over the past eight years, not to mention some awesome blog coverage that included the God's Revolver incident. I tried several times to get Dusty on here for a proper interview but it never worked out, and that's kind of a shame as a cool piece of Utah Metal history is laid to rest.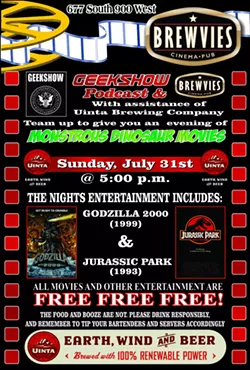 Moving onto events, we'll start with Sunday afternoon as Washington Square becomes the debuting sight of the Urban Flea Market. Yes, that's correct, markets are taking over SLC in a big way. This brand-new event will be held almost monthly from 9a.m.-3p.m. and features several vendors and patrons looking to sell and trade goods of all kinds. Tomorrow's event will feature Bad Brad Wheeler looking to play some tunes around the place, several local food vendors with freshly prepared treats, and Cause For Paws will have animals on hand for adoption. Oh, and it's all free to check out.
Later that evening will be the next installment of the Geekshow Movie Night over at Brewvies Cinema Pub. Starting at 5 p.m., the show's panelists will present "Godzilla 2000" (which to be clear, is not 1999 film in NYC, but an old-school Japanese man in a suit), and the original Jurassic Park on the big screen. Come gather with your fellow geeky patrons and thrash both films to bits with your snide commentary over food and drinks, totally free to attend!
Most of the week is dull after that, but it picks back up on Friday at The Hive Gallery as it features its latest exhibition: Gettin' Up Gettin' Down. The Uprok-sponsored evening will showcase the finest in graffiti and street art from SLC artists including Kier Defstar, Trent Call, Jonathon Baker, Bet So, Dusk Raps, Troy Henderson, Mitch Henrie, Lucky Seven, Shae Petersen, Blake Palmer, Chase Estes, Chew and more to be added. Head on over and check out the art totally for free and pay respect to some of the city's hardest-working artists, and while you're there show the gallery some love.

Then next Sunday, Aug. 7th, we have a jam-packed day starting over at the Main Library with another installment of Craft Sabbath. Taking up the Back To School theme for the month of August, you can see fan favorites as well as new additions to the monthly craft fair as they take over the library's promenade from 1-5 p.m.
Later that evening at Kilby Court will be the latest Salty Streets Flea Market from noon-6 p.m. This month's featured vendors will include the Free Speech Zone, Gardner Seawright, Terrance Bodine, Lily Hussey, Jessi Rosser, Rob Packer, Mike Brown, Jessica Measta, Paisley Dreams, Malinda Fisher, FICE, Audrey Gallegos, Blair Christensen, Salt City Design, Green Closet, Jennifer Diment and more with musical performances from The Sleepwalkers. Buy, sell, trade and swap your goods with vendors on hand, all for just $2.
Then later that evening will be the 4th Annual SLC Zombie Walk! Starting at 7 p.m. somewhere in downtown SLC, the dead will rise as thousands dress up like zombies and creep their way down the streets looking to hunt the living. Or be one of the living with your friends trying to "survive" and run from the mob. Diehard participants have been known to either mock it up and treat it as a parade or roleplay as a planted participant who is bitten and turned into a zombie on the spot. Last year even garnered protesters as a nod to the gay-bashing section you find at every Pride parade. Even if you do nothing, it's a lot of fun just to watch the spectacle march down the road. Last year brought out a couple of thousand folks to the event; let's triple that this year, shall we? As is the case from prior years, the event's route has yet to be determined, and probably won't become official until this Monday. Look to their main Facebook page for the official map and join in the fun!
Sad to say, the rest of the following week is kinda dead beyond visiting bands and, of course, Twilight. See how we come full circle on that one? As for the blog ... we'll check out a show from the weekend, chat with an up-and-coming painter, look at a popular music series in Provo, explore the works of another graffiti artist, visit a popular venue and look at art coming to a big festival. At least, that's what we've got in mind around here; I'm sure there will be more angry rants to come, too. As always, we'll see what happens.