What does a devoted audience look like? Something like the sold-out Kingsbury Hall show Monday night featuring A Perfect Circle, a band that hasn't released any new music since 2004.---
Of course, given that singer Maynard James Keenan's primary band, Tool, goes years between releases, as well, fans of this moody side project probably are used to long waits between albums. On its collective feet from the minute Keenan and his fellow Circlers took the stage, the audience was ready for a night of nostalgia, full of songs from the band's brief period of productivity—the three albums released between 2000 and 2004: Mer de Noms, Thirteenth Step and Emotive.
What the audience might not have been expecting was a deluge of cover songs like A Perfect Circle delivered Monday, including cuts from John Lennon, Marvin Gaye and Led Zeppelin. Let it never be said that Keenan and Co. aren't ambitious when it comes to choosing material for their live shows.
The band—guitarist/keyboardist James Iha, guitarist Billy Howerdel, bassist Matt McJunkins, drummer Jeff Friedl and Keenan, took the stage in a murky purple glow, with the band's logo hanging in the rear of the stage. Keenan, as he is wont to do, essentially hid in the shadows throughout the show, remaining on a raised platform in the rear of the stage next to Iha. In fact, only bassist McJunkins and guitarist Howerdel moved around much at all; most of the time, the members were content to stay in their respective areas of the stage, building up dirge after dirge of dramatic renderings of nearly 20 songs in all, over the course of 90 minutes.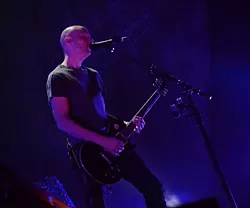 Almost immediately, A Perfect Circle delved into its bag of covers. Lennon's "Imagine" turned into an echo-y, sprawling performance after the relatively straightforward opener of Crucifix's "Annihilation." A couple of originals, "Weak and Powerless" and "The Hollow," showed that A Perfect Circle is best when doing their own stuff, but they quickly went back to the covers, with a one-two punch of Marvin Gaye's "What's Going On?" (accompanied by a shift to glowing green light, perhaps an emphasis on the song's environmental message) and Depeche Mode's "People Are People." It's hard to imagine, but A Perfect Circle's take on the synth-pop oldie made me yearn for the more rocking original version.
The band really locked in, and the show truly took flight, with the performance of "The Outsider," with the song building into a epic prog-rock masterpiece by song's end. There was an energy to that song that the show lacked to that point (much of the credit goes to the creative drumming of Friedl), and from then on, the show featured much more diversity in its sonic approach than it had the first six songs or so. Finally, the audience was getting some of the mind-blowing grandiosity that made A Perfect Circle popular in the first place.
Naturally, many on hand were Tool fans who will follow Keenan wherever he wants to go musically; you can count me among those ranks. Even when he's lurking in the shadows, he's a transfixing performer, with every movement analyzed by the crowd as he reacts to the music around him. He wasn't as animated as he typically is during a Tool show, but he was still fun to watch, as was guitarist Howerdel, who struck more rock poses with his instrument in 90 minutes than most bands do in a career.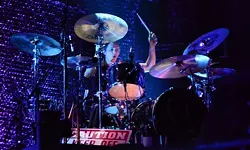 As the show proceeded, so did the covers (Elvis Costello's "What's So Funny 'bout Peace, Love and Understanding?" and Zeppelin's "When the Levee Breaks"), but A Perfect Circle's own tunes continued to deliver the best performances, including takes on "The Noose" and "Gravity," both from Thirteenth Step.
As the show neared its conclusion, it picked up consider steam through songs like a twisted take on Black Flag's "Gimme Gimme Gimme" (even though it couldn't hold a candle to the original's energy), "Orestes" and "Passive." In one of the few times he talked to the audience, Keenan explained why encores are so bogus before the band pushed on with "Counting Bodies Like Sheep to the Rhythm of the War Drums."
One of the show's true highlights came with perhaps its most unexpected cover, as Keenan and Iha were left alone on stage for a stirring rendition of Joni Mitchell's "Fiddle and the Drum." It was an ideal showcase of Keenan's distinct vocals, and showed that A Perfect Circle doesn't have to be all about bombast and layered noise; sometimes they can keep it simple and still be thrilling, and powerful.
All told, fans might have liked more of A Perfect Circle's own catalog in the mix, especially considering how much more potent those songs proved to be than many of the covers dotting the setlist. But you can bet the next time A Perfect Circle comes through, they'll sell out again, whether they have a new album or not, whether they're doing covers or not, as long as Keenan is in the house.
All photos by Meredith Newsome