One of the first rules about putting up graffiti: Never use your real name. --- Or at least that's the case when dealing with both law enforcement and fellow artists. Your handle is your signature, your personality, your style and your reputation all wraped into one defining nickname. The exception to the rule: A single name doesn't get cashed on a paycheck.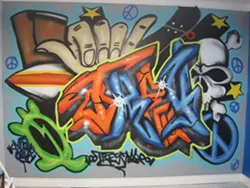 Nocolas Solis has been putting up art for over six years around the city under how own name. One of the few local artists in the genre who doesn't create illegal art, Solis both creates pieces on a public level, while also working with a UVU program that encourages kids to show their art while doing it on a legal level. Several of his works can be found around Provo and SLC, from businesses to people's homes to random walls for adspace. Today we chat with Solis about his art and turning pro, plus his thoughts on local graffiti.
Nicolas Solis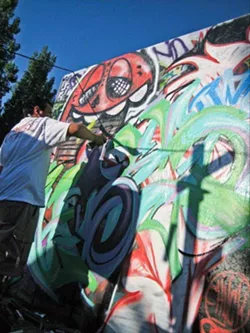 Gavin: Hey Nic! First off, tell us a bit about yourself.
Nic: I'm 19-years-old, and I live in Santaquin. I've been doing graffiti for about 6 1/2 years and I'm apprenticing at Death Or Glory Tattoo Shop in Provo.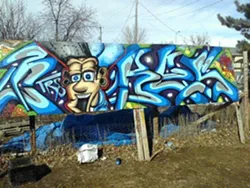 Gavin: What first got you interested in art, and what were some of your early inspirations?
Nic: I've always been into art. I always liked drawing and coloring. My main inspiration for art was that I wanted to be a tattoo artist and I just went from there.
Gavin: How did you get drawn toward graffiti and how did you first get involved with it?
Nic: In 8th grade, I sat next to this kid in my art class who did graffiti and it caught my interest; it was an art I'd never seen before. After that, I started talking to him and he helped me draw letters and get started. From there, I became friends with other graffiti artists and started practicing.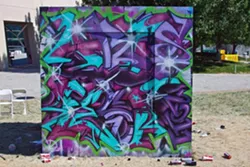 Gavin: What were some of your first pieces like, and how was it for you honing your technique?
Nic: My first pieces were really bad, just like any beginner. I would just look up other artists on the internet who were really good and vibe off of other people's style and came up with my own. I hung out with other graffiti artists I knew and they helped me with my technique.
Gavin: In your experience, is there any real way to learn graffiti, or is it more trial and error?
Nic: It's all about trial and error. There's no way to learn graffiti. It's taken me seven years to get where I am now, and I still have more to learn. Nobody's ever perfect and you can always learn more.
Gavin: When you create and design pieces, do you put them on paper first or do you work from vision in your mind?
Nic: When I was first starting I would draw them on paper first. Now, I can just visualize how it would look on the wall instead of having to draw it out, except when I do rooms, I sketch it out first and then paint the wall.
Gavin: How do you decide where to create a piece and how it will look on that particular site?
Nic: It usually depends on the size of the wall, and I'll decide from there.
Gavin: Do you get hassled by the police for your work or do you tend to stay on good terms with them?
Nic: I don't do illegal graffiti, so I'd say we're on good terms.
Gavin: What are your thoughts on graffiti as a whole in Utah, both good and bad?
Nic: I think all the graffiti posers who go out and tag in the wrong spots give real graffiti artists a bad name. There's a pretty good graffiti scene in Utah, people wouldn't think so but there is, and there's a lot of legal graffiti events for artists to meet up and hang out.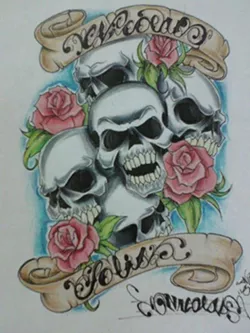 Gavin: Does it ever frustrate you that its not really recognized as a major art form in most art circles, or do you enjoy that underground status?
Nic: I enjoy that it's not really huge and popular. But I don't like when people sit and rag on it saying it's not real art.
Gavin: Do you ever look over other graffiti around the city for what others are doing, or do you concentrate more on your own pieces?
Nic: It's cool to see what other people are doing but I concentrate more on my own pieces.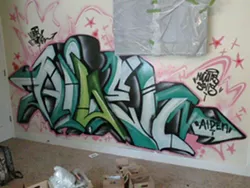 Gavin: Are there any local graffiti artists you believe people should be checking out?
Nic: Mason Fetzer, Kier, Defstar and Kuhr.
Gavin: You're a bit of an enigma in graffiti circles, in the idea that you've gone into business for yourself as a professional artist and create art around town. What gave you the idea to start that?
Nic: A lot of people asked me if I did rooms, and after that I started charging to paint rooms and whatever anyone else wanted painted, I would do it. It's cool making money on something I love to do.
Gavin: How has it been for you on a professional level making art around town and making a living off it, and where are some businesses people can check your work out at?
Nic: I haven't done any businesses yet, but I'm on waiting lists for a few places.
Gavin: What do you recommend for people looking to get into doing graffiti?
Nic: Practice, practice, practice with pencil and paper before you even pick up a can. Hang out with other graffiti artists to see what they're doing and get pointers because most of the time they'll help you out.
Gavin: Going local, what's your take on our local art scene, both good and bad?
Nic: I think the art scene is really growing. There's so many different types of art. The bad part is other artists are very judgmental about different types of art and they think what they do is better than any other art and they look down on graffiti.
Gavin: Is there anything you believe could be done to make it more prominent?
Nic: More graffiti events for people to come and see that it is art, not just vandalism.
Gavin: Are there any galleries, businesses or organizations you feel are helping art around the city?
Nic: Hidden Voices, Higher Ground Learning, Uprok, and many other businesses are helping to support the local art scene.
Gavin: What can we expect from you over the rest of the year?
Nic: I'll start tattooing, still do graffiti, hit up all the local art events, and just keeping painting rooms.
Gavin: Is there anything you'd like to plug or promote?
Nic: Death or Glory Tattoos in Provo and the Hidden Voices Graffiti Art Exhibit at the Woodbury Art Museum in January 2012.
| | | | |
| --- | --- | --- | --- |
| Follow Gavin's Underground: | | | |