I remember vividly my first encounter with chile verde. It was at a now-defunct Colorado restaurant when I was in college. And, I fell in love. Since then, I've eaten hundreds of versions of the stuff. --- Every cook has his/her own recipe; no two are exactly alike. My chile verde, which has evolved over the years, features fresh green chiles, pork, and has a stew-like consistency. Some people like theirs drier. I love it either way.
Here is a step-by-step recipe for Ted's Chile Verde.
Ingredients:
10-12 Anaheim peppers (you could also add a couple of pasilla or poblano peppers if you'd like)
3-4 jalapeno peppers
1/3 cup oil or lard
1 1/2 pounds boneless pork stew meat
2 tbsp. masa harina or flour
1 large diced yellow onion
3 minced garlic cloves
1 cup diced tomato (optional)
3 cups chicken broth or water
1 tsp. ground cumin
1/2 tsp. red chile powder
salt and pepper to taste
Technique:
I use fresh chile peppers. Of course, you could substitute canned peppers, but the flavors will not be as rich. If using fresh peppers, begin by roasted them on a grill, over a gas flame or under the oven broiler.
Get them nicely charred until they look like this.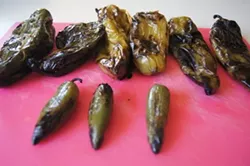 Then, seal the peppers in a plastic bag until they cool down enough to handle. The peppers will steam in the bag, making it easy to peel the charred skins.
Peel the skins from the peppers and remove the stems and seeds. It's easier if you do this under running water, but some cooks say it takes away some of the charred flavor from the peppers; your choice. The peeled and de-stemmed peppers will look like this: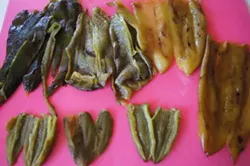 Chop the peppers. For this recipe, I used 8 Anaheim peppers, 2 pasilla peppers and 4 jalapenos. It's fun to experiment with different types of chile peppers for different flavors.
In a bowl, mix the pork with a couple of tablespoons of masa harina or flour. This will help to eventually thicken the chile verde.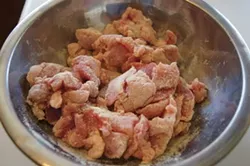 Heat the oil or lard in a large pot and brown the pork over medium-high heat.
Add the onions and garlic to the pot and continue to cook for a few minutes, stirring frequently. Don't burn the garlic!
Now, add the tomatoes, chiles, chicken broth or water and spices to the mix and bring to a simmer.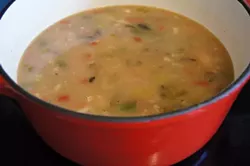 Simmer the chile verde for 2 hours or more, partially covered, until it thickens and the color becomes richer.
Season with salt and pepper to taste and serve with warm tortillas and, perhaps, Mexican rice.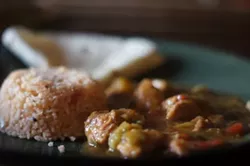 Ole!