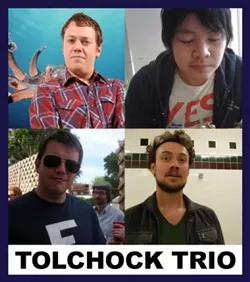 Young guns and old veterans are all over the valley tonight for a mixed bag of performances and entertainment.---
The Music at Main free concert series comes to a close tonight, but not without much ado. A pair of longtime local scenesters, Tolchock Trio and Palace of Buddies, are a fine way to rock out and end the series on the good foot. And, as a side note, it seems appropriate to give a shout out to Andrew Shaw for booking another great season. The concert starts at 7 p.m.
I personally don't know much about the 17-year-old high school music wonderkid Trevor Dahl, aka Plug in Stereo, but City Weekly music critic Dan Nailen recommends the show at Mojo's in Ogden. Dahl hasn't finished high school and has opened for the likes of Dashboard Confessional. What were you doing before you got your diploma?
Over at The State Room, Jimmie Vaughan and the Tilt-A-Whirl Band, a whole bunch of Austin rock stalwarts, will jam out on a set sure to be filled with soaring guitar solos. The show starts at 8 p.m.
If you're in the mood for a little outdoor film about, well, the outdoors, head to The Front Climbing Gym. They'll show 23 Feet, a film about a community of people who have made the conscious choice to live simply in order to do what they love in the great outdoors. Three women set out across the West in their 23-foot-long, 1970 Airstream to search for the stories of people who have turned their backs on the creature comforts of society to live in school buses, vans and other small spaces.
To mix up our list even more, for a book reading, head over to The King's English. Local playwright David Kranes will read from his newly published collection of selected plays.
Follow Me:%uFFFD