Our garden is overrun with basil this summer. So, we've been eating lots of pesto. My favorite pesto-for-pasta recipe is based on Marcella Hazan's --- from her Essentials of Classic Italian Cooking. It's easy-to-make pesto, with no cooking involved (except for the pasta, of course).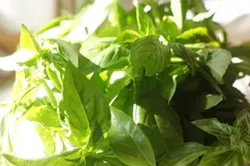 Ingredients
2 cups of tightly packed fresh basil leaves
1/2 cup extra virgin olive oil
3 Tbsp. pine nuts
3-4 garlic cloves, chopped
1/2 cup freshly grated Parmigiano-Reggiano cheese
2 Tbsp. freshly grated Pecorino Romano cheese
3 Tbsp. unsalted butter, softened to room temperature
1 lb. dried pasta or 1 1/2 lbs. fresh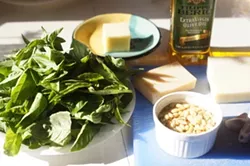 Technique:
Rinse the basil under cold water or in a salad spinner. Blot the basil dry with paper towels.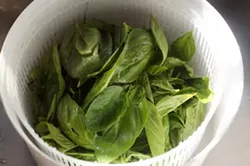 Place the basil, garlic, olive oil, pine nuts and a pinch of salt into a food processor bowl. Process the mixture until you have a creamy consistency. If the mixture is too dry, add a splash more olive oil and pulse a little more.
Empty the basil puree into a bowl.
Mix the two cheeses in until thoroughly incorporated. Then, add the butter and mix until it is also thoroughly incorporated.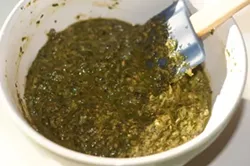 Cook pasta to al dente, reserving 1/4 cup of the pasta water.
Drain the pasta and place into a large bowl or onto a big serving plate. I like to add a tablespoon or two of the reserved pasta water to the pesto to thin it out a little, just before serving. Spoon the pesto over the cooked pasta and toss to thoroughly distribute the pesto throughout.
I prefer pasta with pesto at room temperature or lukewarm, not steaming hot. So you can make it a little in advance. It's even great cold.