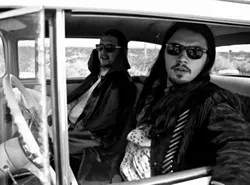 When you were a kid, did you always want to be: a) a firefighter, b) a Wall Street all-star, c) a music critic, or d) other? Well, it's never to late to dream. Here's your chance to wear the music-critic hat, if for only one night.---
We're trying something a little different for this week's Twilight Concert Series show, featuring Ghostland Observatory and Phantogram: We are asking you, the reader, you, the music knowledge hoarder, you, the concert rocker-outer, to give us your musings, critiques and photos of the show via Tweet.
Using Storify, we will aggregate opinions far and wide—from the nearly 40,000 who will be in attendance and those elsewhere—for the review, to be posted Friday morning. Storify essentially allows a user to pull Tweets together by searching for keywords to tell a story and add comments intermittently. Some say technology like this will be pivotal in the evolution of journalism. Whatever our personal and professional opinions may be, at a minimum, it seems like an interesting way to review a rock concert that will be full of dancey tunes and pretty lights.
So give us your Tweets and tag them with #twilightconcerts, #ghostland and/or #CWreview.
Follow Me:%uFFFD