It hasn't really been discussed much in the local music circles, but one of the more awkward goals of many bands is to play St. George. --- Absolutely no joking on this one; the idea of traveling down and playing a gig there has been on the checklist of many a group, if only for the fact they could say they did it. But don't be fooled, it's quite harder than it looks. Aside from the six-hour drive and usual overnight stay that many refuse to do, the biggest venue in the city charges locals to play the stage, forcing many to question whether going down is worth it.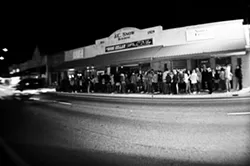 Late last year, the St. George music community received a major gift in the form of GoGo 37, an all-ages gallery and music venue focused on local entertainment. Or for a more descriptive term for those in the north end of the state, picture putting Velour inside Kayo Gallery and sticking it on Main Street. The venue has received major support from many creative circles in the area, as well as the community at large, attracting major local acts to come down and play sold-out shows to audiences dying to have live music that isn't a Las Vegas leftover. Today, we chat with the two men behind the venue about starting it up, the impact it's had on the city's music and art scenes, plus thoughts on local music as a whole.
Mitchell Reber & Ryan Groskreutz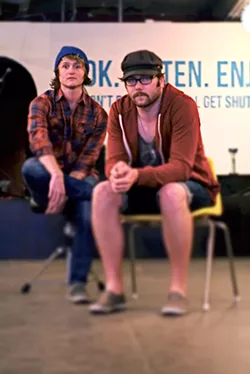 Gavin: Hey, guys. First thing, tell us a little bit about yourselves.
Ryan: Hey, Gavin! My name is Ryan Groskreutz, my partner is Mitchell Reber. I'm 27, he's 24. We're both full-time students at Dixie State College and we are the owners and operators of GoGo 37.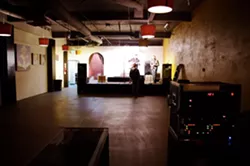 Gavin: How did you first take an interest in music and art, and what were some early influences on you both?
Mitchell: I was a total MTV/VH1 music-video junkie growing up. I remember the first CD I asked for, when I was eight years old, was Michael Jackson's collection History. I would always steal my mother's Mellon Collie and the Infinite Sadness by Smashing Pumpkins, as well. The Smashing Pumpkins music video for "1979" resonated deep with me, for some unknown reason. I just loved it.
Ryan: I can remember being just a little kid and being extremely fascinated by music. I'm talking like four or five years old -- I have memories of going through my dad's tapes and records and putting on headphones and just absorbing the sounds. I remember spending all my allowance on Rolling Stones and The Doors tapes when I was eight. It's kind of been a furious passion ever since. Art is something that I also have been very aware of since I was a kid, and still am. I'm a senior in the visual technologies program at Dixie. As an adolescent, the marriage between art and music became very clear to me as I began playing in bands and was always the guy making flyers and shirt designs, which progressed into CD layouts and posters. I'm really fascinated by the marriage of art and music and how art can further the concept of what the music is conveying and vice versa.
Gavin: Both of you are graduates of Dixie State. What made you both decide to go there, and what was their program like for you?
Ryan: Haha. Actually, neither of us has graduated yet; I will in spring 2012. I started attending Dixie fresh out of high school about 10 years ago, took a break for about six years to travel and play music, then had a child and got married and figured I'd better finish up! I love Southern Utah, I have since I was kid. It just seems to be the place I always come back to.
Mitchell: As Ryan said, neither of us has actually graduated yet, but I enjoy the college. A lot of people refer to it as "Dixie State High School" but over the past few years, they've stepped up their game to reach university status. I have had a small number of professors that were a little too easy and not very interesting, but I've had plenty of professors the I have been very impressed with as well as inspired by.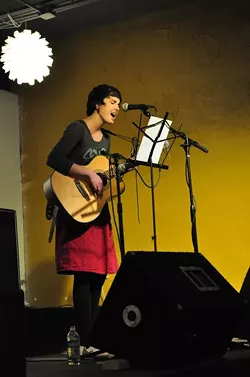 Gavin: When did the two of you first meet each other and become friends?
Ryan: We actually thought about this the other day. We can't actually put a time or a place to when and where we met, but we ran in the same circles of friends for a very long time and eventually as that circle thinned out, as they tend to do over the years, we became closer.
Gavin: How did the idea come about to start up an artspace?
Ryan: Everyone here is constantly unhappy with the lack of nightlife of any kind and the lack of culture of any kind, Mitchell and I included, and after years on the road, when I came back here I thought I would apply everything I had learned over a decade of playing shows and build up a venue/art gallery that would appeal to kids, adults, bands, and artists across the board. We built GoGo to provide a location for everyone in this community to express themselves as well as to participate in and support other creative endeavors; local, as well as regional and national.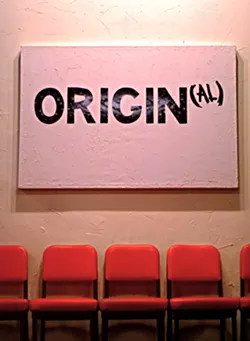 Gavin: What was it like planning out what you were going to do, and how did you come across the location on St. George Blvd?
Ryan: Oh, man, it was a process. We spent about six months planning, shopping for a location, and battling the city for approval. GoGo is located in a strip of buildings at the apex of downtown St. George at the intersection of St. George Blvd. and Main Street. There are a cluster of local business that at the time were trying to revitalize the area and convert it into more of a downtown area, and we thought that went about perfect with what we were trying to do. The location also is the former home of the Blues Barber Shop where I played a lot of shows as a younger man, so there was already a built-in history of music at the location.
Gavin: As you just mentioned, the location itself has had a long history. How was it for you stripping down the place and fitting it for your needs?
Ryan: Well, on top of the six months we spent planning, once we had approval and permits and secured the location, we spent another five months remodeling to get the space up to code as well as to build it out to our specifications. We did most of the labor ourselves; we learned a lot. We had to cut in bathrooms, tear down walls, tear out ceilings, wire all sorts of electrical applications. After that process, we feel fairly versed in most construction trades. Haha.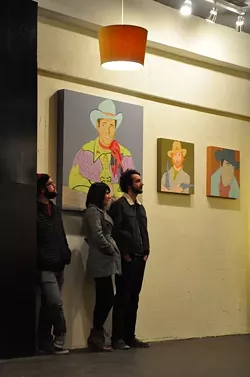 Gavin: You opened the place up late last year. What was the initial response like from the community?
Ryan: I would describe the response as polar. A lot of people in the private and public sector were very vocal about supporting the endeavor and spoke very highly of our place and our objective. Conversely, we were branded out of the gate as a place for youth to indulge in all the excess associated with rock n' roll. But overall, the support seems to have outlasted the criticism, and while we are still, and will be constantly, engaged in multiple uphill battles, the outlook is positive for the future.
Gavin: In a promo video you shot with Ryan Harmon, you said the place was an artspace where people could "do anything and partake in anything of an artistic creative cultural nature." With that in mind, how freely do people walk in and take advantage of that open-minded nature you have set up for the space?
Ryan: We make efforts to uphold that mission statement as often as possible, we change out our art as often as we have someone new who wants to put some stuff up and we have exhibited everything from ceramics to jewelry, to metalwork to installation pieces. We have people approach us all the time about new ideas and we always pursue them; a lot of the time they don't necessarily pan out, but that won't stop us from pursuing them in the future.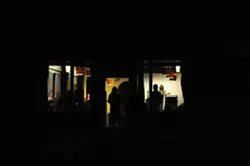 Gavin: From a Northern Utah standpoint, you've gotten comparisons to the now-defunct Collective Loft in Farmington or the old Sego Lily Cafe in Sandy, in that you've become a hub for both the underground culture and all-ages crowd in St. George. What's your take on having that kind of influence in the community?
Ryan: As I said earlier, there are not a lot of options here as far as art and music are concerned. In other cities, including Salt Lake there is a lot of room for specialization of a business and what kind of art and music they exhibit, but here we kind of take everything in as there is no other venue for most music and art here. We are glad that we get to put on as musically diverse a lineup as we do and that we get to represent every niche of the local music community.
Gavin: Is it difficult finding a bigger audience in town with Mesquite and Las Vegas relatively next door, as well as The Electric Theatre putting on bigger shows?
Ryan: I actually think that the Electric Theatre and GoGo should play off each other pretty well. They are a much larger venue, they bring much larger bands, and with that comes much higher ticket costs and a much wider draw. We run a much smaller room, less than half of their capacity, which allows us put shows on for much cheaper and to get away with doing a lot of shows that the theater couldn't afford to do. This also allows for a lot more kids to come out to see the kind bands and artists that historically haven't been able to make stops here. But I will say that I think, across the board, concert attendance is suffering but particularly in smaller towns, which is a bummer, but everything moves in cycles and I think we're in the trough of that show-going recession and the tide of high show attendance will be coming back around before too long.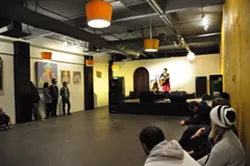 Gavin: What's the process like for you both in deciding who to bring in each month, both artistically and musically?
Mitchell: I generally handle the art side of things. In choosing the art, I try to do a 50/50 mix of local young artists who haven't had a chance to showcase their art yet but definitely deserve some exposure, and more seasoned artists who, because their art is more of an urban/alternative nature, don't have any galleries interested in showcasing their works. There's a decent-size demographic of artists that are urban/alternative in St. George that don't have a place to gather and show their work and I want GoGo to act as a catalyst in building an awareness of that culture.
Ryan: We actually split that, for the most part. Mitchell typically handles all the art in the space and I typically handle all the music. There are a lot of bands that I make the effort to pursue through my own listening because I think they have a good sound and they have something that people here need to see and hear. It takes a while to get on any sort of national or regional radar as far as booking goes, but we seem to be on some radar of some sort and are starting to see a lot more inbound contacting versus outbound contacting, which is awesome. We also have a lot of regulars who feel comfortable enough with us to approach us and say "Hey, there's this rad band you guys should try to bring in." And we do. Which is also awesome to have that kind of direct rapport with your patrons.
Gavin: For those interested, how can people who want to display or perform at the artspace get hold of you?
Ryan: All inquiries go through our email, gogo37gallery@gmail.com. We're not so good at Facebook and phone contact as far as booking goes, so hit us up through email!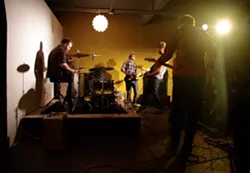 Gavin: Moving on to statewide stuff, what are your thoughts on the Utah music scene, both good and bad?
Ryan: I grew up in Salt Lake and have been playing in Salt Lake since I was a kid, and I have always had a love and respect for the musical and artistic community of Salt Lake. That scene continues to grow and progress and there is never a shortage of stellar local talent. There are a lot of people in Salt Lake that are committed and have been committed for years to the continuation of the Salt Lake scene's growth and progress, and those people are a big reason why Salt Lake has the diversity, talent and support it does. It's also been rad to see a lot of bands coming out of smaller places bringing just as much talent and drive as us city kids. As far as negative, I don't really have much to say about that. There are a few elements of the Utah music scene that have always been around and always will be, but they don't need any mention here.
Gavin: Is there anything you believe could be done to make it more prominent?
Ryan: I think it is definitely on its way. Like I said, Salt Lake and Utah, as a whole, churn out some great bands who are hard-working and do things the right way. With the music industry in total upheaval, Utah bands seem to be thinking ahead of the curve, for the most part, and are taking things back to grass roots ethically while still staying on the technological edge. Promoters and buyers continue to bring great bands to great venues, and with those great locals on those bills, I think you have a pretty dynamite recipe.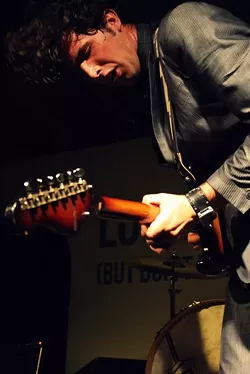 Gavin: Who are your favorite acts performing both in St. George and from around the state?
Ryan: Hmmm, so many. In Southern Utah, I am digging North Sister's Boredom, Love The Lion and Jesse Rodgers. In Utah as a whole, the list gets real long. I am continually impressed with Salt Lake stalwarts Birthquake. Holy Water Buffalo never ceases to impress me. Battle School from Logan is band that not too many people are aware of but are phenomenal nonetheless. Eyes Lips Eyes and Toy Bombs live in LA now, but they're Utah boys and are some of the hardest-working best-sounding bands I've heard this year.
Gavin: What do you think about local labels and the role they play with helping musicians?
Ryan: The label question is a puzzler. I think that grass-roots marketing and local support are going to be increasingly important as the majors continue to die off. It's great to see labels like Kilby and Exigent continue to sign great local bands and giving them the support they need where they need it.
Gavin: What's your opinion on the current airplay on community radio and how it affects local musicians?
Ryan: Having an outlet where local bands can have their stuff heard by a broader audience is huge. The more community radio involvement we can have, the better the music communities in Utah will be.
Gavin: What can we expect from GoGo37 and the two of you over the rest of this year?
Ryan: Well, summer has been a bit slow, but fall is picking up with a vengeance. We have a one-day festival planned for October that is showcasing some awesome bands from across the country, as well as an increasingly busy calendar of shows and exhibits.
Gavin: Is there anything you'd like to promote or plug?
Ryan: GoGo37.com. Go there.



| | | | |
| --- | --- | --- | --- |
| Follow Gavin's Underground: | | | |