I love a fish taco. But, most places, including oceanside eateries I've been to in Baja, Mexico, deep-fry their fish. I prefer to grill mine. --- I think the flavor of the fish shines through better and, of course, there is less fat to worry about than with deep-frying. So here is a pretty good recipe for grilled-fish tacos. You could also saute the tacos on the stove if you'd prefer.
Ingredients: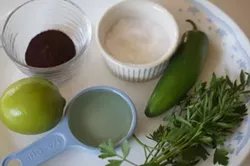 1 pound of firm-fleshed fish, such as mahi mahi, grouper or ono
1/4 cup canola oil
Juice from 1 lime
1 chopped jalapeno
1 tsp. salt
1 tbsp. ancho or pasilla chile powder
1/4 cup chopped cilantro or parsley
8 corn or flour tortillas
Technique:
Whisk together the lime juice, oil, jalapeno, chile powder, cilantro/parsley and salt in a medium-size bowl or dish.
Pour the mixture over the fish and allow it to marinade for 20 minutes.While the fish marinates, heat a grill to medium high.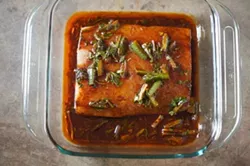 Remove the fish from the marinade and place on the hot grill, skin-side up. Allow the fish to cook for 5 minutes or so, depending on the thickness.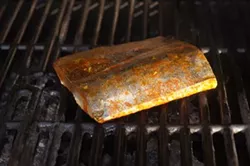 Carefully flip the fish over and cook for another 3 minutes or so, skin-side down.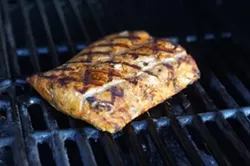 Remove the fish and let it rest for a few minutes. During this time, heat the tortillas on the grill.
If cooked properly, the skin should peel away easily from the fish. Chop the fish up and divide among the tortillas. This recipe makes at least 8 generously sized tacos.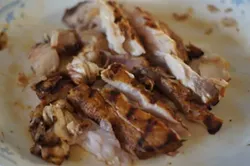 Garnish the tacos with whatever you'd like: shredded cabbage or lettuce, avocado, sliced onion, scallions, chopped tomato, cilantro, sour cream or queso fresca, salsa, etc.