Poetry slams around the state usually leave the mic open for anyone to come up and pontificate to their heart's content. --- They bring the finest thoughts they have to the room and leave everything on the stage where they stood. But for the particular open mic we'll be talking about today, the mic is open to some specific genders.
Inspired by a visiting poetry group thriving on the ideals of the "riot grrrl" movement nearly two decades ago, Stephanie Novak started the women-only open mic "When She Speaks I Hear The Revolution." The event has frequently changed venues and themes over the years, giving a very specific section of the trans/women communities a place to speak their minds, from empowerment to politics to sex, and all points in between. I got a chance to chat with Stephanie about her experiences in working with causes, the formation of the open mic, thoughts on the community and issues within.
Stephanie Novak
http://rebelgrrrl.wordpress.com/
Gavin: Hey, Stephanie. First thing, tell us a little bit about yourself.
Stephanie: I run a local open mic called "When She Speaks I Hear the Revolution." I'm largely inspired by the "riot grrrl" movement of the '90s and bands like Bikini Kill, Heavens To Betsy, L7, 7 Year Bitch, and love finding new artists. I think the "riot grrrl" movement embodies a lot of my personal beliefs in the marriage of punk-rock activism, to standing up and reclaiming one's voice and the do-it-yourself ethic that was such an integral part of the movement. I am also a writer myself and love being part of artistic communities. I love libraries, and my favorite sort of day is one spent at the library with new books and music.
Gavin: How did you first take an interest in activism and what really inspired you to take part in causes?
Stephanie: I first took an interest in activism after coming across the queer/feminist communities in Chapel Hill, North Carolina. Activism was a natural step forward because once you discover inequalities, the only step forward is to DO something about it. I've been involved in different aspects—from the organizing, the marching and even just as a writer. I am young and idealistic enough to think that the world can be changed—we just need to make our voices heard.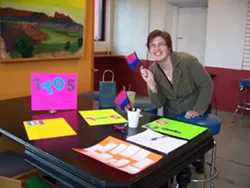 Gavin: You went to the University of North Carolina-Chapel Hill. What made you decide on UNC and how was its program for you there?
Stephanie: I actually transferred to UNC from a community college in North Carolina to study journalism. UNC-CH's journalism program is well-known for being good and I had some amazing experiences within the program. I also wrote for the campus newspaper, The Daily Tarheel, and was published in a few other campus magazines.
Gavin: You mentioned that you got involved with LGBT and feminism groups on campus. What specifically drew you to those causes and what was it like getting involved with their work?
Stephanie: Transferring to UNC-CH was a huge life-changer in many aspects. In terms of activism with the LGBTQ/feminist communities, it was like a light bulb had been turned on. Before UNC-CH, the issues that surround LGBTQ/feminist activism were never a known part of my life. I was happy focusing on school work/family/reading books. But when I moved up to Chapel Hill and found myself involved in a community of passionate activists, I woke up. I took a few courses in gender studies and eventually found my way to learning about the "riot grrrl" movement of the '90s -- which continues to inspire me. I love the fact that it combines both music and political activism, and I'm so happy to see it continuing in so many different ways.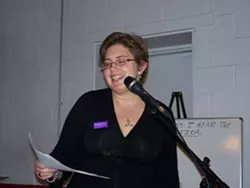 Gavin: You also became heavily involved with the music scene in the area. How was it for you breaking into that scene and what did you take away from that time?
Stephanie: Before Chapel Hill, I had never been to a concert in my life. I was determined to change that, especially since I loved music as much as I did. And the Chapel Hill/Durham scene was THE place to immerse yourself, musically. While I lived in Chapel Hill, I dived into the local music scene headfirst and fell in love with bands like The Midtown Dickens, The Old Ceremony, Beloved Binge, the Ex-Members (which had Melissa York, one of the members of the Butchies lineup), and so many others. The scene there was so exciting to be a part of -- even magical. Bands were working with other bands, and there was an element of cooperation within and between bands. It was so heart-wrenching to leave it, and even now I miss it! I still keep track of my favorite bands online to see how they're doing -- I do want to see the Midtown Dickens come through Salt Lake City, though!
Gavin: After college, what made you decide to move to Utah?
Stephanie: I did what a lot of post-college students do -- I moved in with my parents for a while, until I was ready to move up to Salt Lake City from Utah County.
Gavin: What was it like for you becoming involved with groups in Utah, and how does the atmosphere and community here compare to that in North Carolina?
Stephanie: It was very different, initially. I think anyone experiences it when you move from a college town where everyone is involved and there's something exciting happening almost every night of the week and then into the "real world," where suddenly everything is spread out and not nearly as involved as on college campuses.
Gavin: You've been involved in and managed several events in town, most recently the SlutWalk back in July. How is it for you organizing events and helping bringing them about for different causes?
Stephanie: I love it, being part of all these wonderful local events. I think the biggest thing I've missed since moving here to Salt Lake City is a locally organized group of feminists. You can find meetups of all kinds -- for writers, for musicians, for atheists, humanists, beer drinkers, artists, etc., but outside of the university community, "real world'' feminists are kind of hard to find in groups -- or so I've found. A big part of the events I help organize are directly feminist, from Ladyfest in June to SlutWalk in July, and that's just how I like it! I love helping raise a feminist community here in the city of Salt Lake.
Gavin: How did the idea come about for "When She Speaks I Hear The Revolution?"
Stephanie: When I first moved up to Salt Lake, I went to a lot of open mics and never quite found an open mic that I'd feel comfortable sharing my own work. In 2009, Sister Spit -- a group of queer writers/zinesters/performance artists based in San Francisco -- stopped in Salt Lake and I remember feeling inspired. This was the kind of community of writers/artists I wanted to see at open mics. I was also hugely inspired by the DIY element of the '90s "riot grrrl" movement and wanted to make sure that women/members of the trans community had a place to go to share their work. Too often, open mics are dominated by men, and I wanted to make sure that Salt Lake had a safe space for women/trans artists to share their words. I shared the idea to start an open mic like this with others, and the response was overwhelmingly positive. So I ventured out on a limb and made it happen.
Gavin: What made you choose to make it an open-mic night rather than scheduling specific people to come and talk?
Stephanie: I believe that everyone has a voice and should be able to speak up. The open mic is a chance for us all (and I'm totally including myself) to foster our voices and become stronger people in doing so. Part of the reason the "riot grrrl" movement is so empowering to me is the idea of breaking down boundaries. The movement directly challenged the boy-heavy punk scene by saying "girls can do this, too" and suddenly women were not only at shows, they made up the show, from the band onstage to the people in the audience. I think a lot of times we are terrified to try something new, be it learning a musical instrument or picking up a pen and calling out that voice inside, but we need to break down the boundaries that keep us stuck and rise above them. This open mic is here for everyone on that journey, from the people still terrified of the blank page to the people who have cultivated their voice and their passion into a clear message of revolutionary spirit.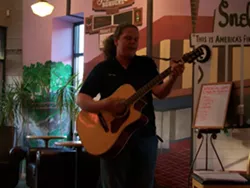 Gavin: What was it like setting the first one up back in 2010 and what was the turnout like?
Stephanie: The first open mic was huge. At the time, we were in the Sugar House Coffee location when it was on 21st South and was two stories. The turnout was far more than I'd expected. The first floor was full of people who were there for the open mic, and people were standing upstairs looking down the stairwell at the performers. It was so beyond my wildest imagination, and I was terrified. I'd never been part of something like that, and being front and center has never been easy for me. But it was so worth the stage fright.
Gavin: The event has moved around and taken on different forms since its inception. What's the process like for you in deciding the location, theme and how frequently they happen?
Stephanie: WSSIHTR open mics happen once a month on every fourth Saturday and are currently based at Mestizo Coffee. I enjoy supporting local businesses that encourage free speech, art, and foster community. The open mics are usually free of theme unless something special is happening. Banned Books Week was one of my favorite themes, and I plan on doing it again for the September open mic. Or when I feel like trying something different -- as we'll be doing this week. I'm also happy to work with local groups and organizations on themes. This past March 1-5, Club Utah's local bisexual/pansexual/fluid group took front and center and it was amazing!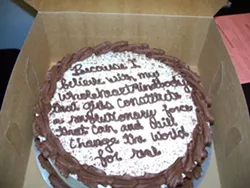 Gavin: Who are some of the more prominent speakers you've had come through so far?
Stephanie: Thus far, the open mic is locally focused, though it would be a dream come true to get performers like Alix Olson, Andrea Gibson, Liza Garza and Staceyann Chin to stop through.
Gavin: Is there an overall goal you have in mind for "When She Speaks ..." or is it simply an ever-changing event that serves more of a purpose of the moment?
Stephanie: The overall goal of WSSIHTR is ultimately to create a community of writers/performers/artists that goes way beyond me and transcends into creating friendships/networking opportunities/and a general forum for people to come to their own as creative individuals. I strive to ensure that the open mic is an inclusive space, and I hope to create more opportunities/events as time goes on.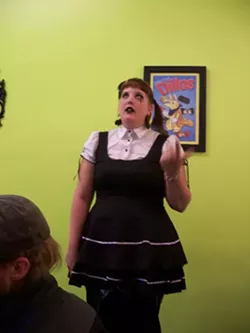 Gavin: For those who may be interested in speaking, what's the format of the evening and what should they bring to the mic?
Stephanie: The most important thing people can bring is themselves. Sign-ups happen at the beginning of the night and then between rounds.
Gavin: Your next event is this Saturday. Tell us about this one and what people can expect to see.
Stephanie: The event this Saturday is going to be something pretty special. I've been following the NYC-based live storytelling series "The Moth" for a little while, and love the idea of bringing a similar event to Salt Lake City. I know that Utah already has a good relationship to storytelling -- given that the Timpanogos Storytelling Festival is an annual event in Utah County -- and I want to see if something akin to "The Moth" would work in Salt Lake City. I believe that we all have stories worth sharing, and I'm excited to hear the stories of the amazing people here in Salt Lake City. The night will open with a general open-mic round, participants can bring anything -- be they poems, short stories, dramatic pieces, musical numbers -- anything share-worthy, and will go into a live storytelling round. People wanting to participate will have between 5-10 minutes to tell their totally true tales. More information about the event can be found on the Facebook event or you can email me at rebelgrrrl.theblog@gmail.com.
Gavin: Going on to more local topics, what's your take on the LGBT community in Utah, both good and bad?
Stephanie: I think that the LGBTQ community has a lot going on and a lot of great leaders within the community. The good thing about having such a small community is that organizations like the Utah Pride Center are great for bringing people together. With bigger cities, like San Francisco/New York/Portland, that sense of community can get lost. I do wish there were creative outlets for the LGBTQ community and opportunities for creating a queer community outside of the Pride Center, the colleges, or the bars.
Gavin: Same questions, but this time on women's groups and localized causes for women?
Stephanie: I think I've barely begun to touch the surface of what's going on with the women's groups/feminist community. I think that there's a lot of work to be done on creating a real, non-organization based feminist community in Salt Lake and I'm excited to be a part of it.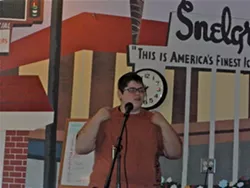 Gavin: Is there anything you believe could be done to make either of them more prominent?
Stephanie: Be part of local organizations, volunteer free time to help causes and share them with friends. And most importantly with either issue, if you see a gap in your community, don't complain about it. Start something. Be part of the solution. That's the most important thing we can do.
Gavin: Speaking on feminism for a moment, do you believe the movement is as important today as it was at its height in the '70s? Or has it become more of a stance against whatever new issues arise as time goes on?
Stephanie: It's definitely relevant, although in different ways than it was in the '70s. The truth is, and a lot of people don't see this, feminism is good for everyone. Feminism is equality for everyone, and while the fight has changed, there are significant inequalities in terms of gender, race, sexual orientation -- and a lot of it isn't acknowledged as inequalities due to positions of privilege/prejudice. A holistic view of feminism acknowledges that all genders are hurt by the society we live in; one where men are discouraged to show feelings and where the "boys will be boys" attitude factors into the way women are taught precautions on how to stay safe to not get raped, but the idea of teaching men "don't rape" is almost inconceivable -- just one example.
Gavin: Regarding gay rights and how things have been turning around such as DADT and Prop. 8, do you believe we're starting to reach equality in this country or is it still a long road?
Stephanie: We definitely have progress! I think that we still have a long way to go. As someone who identifies as bisexual, the emphasis on "gay marriage" can be frustrating. I think the idea that we need to fit in with the hetero-normative standard and place our focus on marriage is wrong when youth are still facing discrimination and queer youth end up so quickly on the streets. There are so many issues that are bigger than the question of marriage. That said, I love seeing people happy, and while marriage is not for me, I think if the option is available for one couple, it should be available for others.
Gavin: Considering how Utah has handled LGBT issues in the past, does it feel as if this will all come to a head at some point, or that it will simply take time for things to change for the better?
Stephanie: I think predicting something like this is impossible. All we can do is be involved in whatever way works best and be there to make a difference.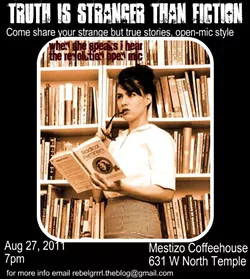 Gavin: What can we expect from both yourself and "When She Speaks ..." over the rest of the year?
Stephanie: Bigger and better! The open mic is far from static -- it's going to grow in scope, and I look forward to being part of that process. Some things you can look forward to: an amazing community of writers and musicians, more When She Speaks … themed events -- both at the open mic and outside events -- and more involvement in larger community events such as Ladyfest SLC 2012, and possibly even the Utah Pride Festival and The Utah Arts Festival!
Gavin: Aside from the obvious, is there anything you'd like to promote or plug?
Stephanie: I'm part of a great local writers' group here called the Salt Lake City Writers' Group, and it's a great way to start really working on writing as a serious hobby. People in the group are great to work with, and everyone's coming from the perspective of wanting to be published -- so for people that are serious about writing and getting their works read by a larger audience, don't be afraid to send an email to slc_writers_group@vegawriters.com! A good writers' group can keep a writer sane.



| | | | |
| --- | --- | --- | --- |
| Follow Gavin's Underground: | | | |