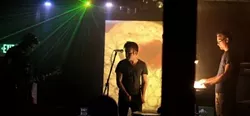 We're closing out the month of August with five new releases to talk about, two bands of which have shows set for the weekend. --- We'll start with that ol' technology the kids are raving about: cassette -- specifically, the newest release from both Jonathan Boulay and Timothy Boulanger, who have a new self-titled split cassette out on Chthonic Records this week. Eleven songs in total between the two for just $5, which you can purchase on the label's Website.
While you're there, you might want to check out the other release this week from Chthonic, dBpm's cassette EP entitled Music To Fuck By. The release is just two songs on a short tape, but each one comes in a collector's box made out of old cigarette cases. This release is also just $5.
Since we're on the topic of split albums, we've got one more for you from YNFB Records. This CD is a three-way (I know, go on, giggle) between Cootie Catcher, Change To Fire and Wake Up Nebula. To catch up with all three, Cootie Catcher had their debut self-titled EP hit back in January, Wake Up Nebula released their debut self-titled full-length in February, and Change To Fire released their debut album Hurts Like The Devil back in June. Needless to say, it has been a busy year YNFB. All three contributed two songs to the appropriately titled Spilt, acting as a sampler album for all involved at a cheap price. It's worth checking out.
Next up on the list is the debut release from The Saintanne -- a Western shoegaze duo (seen above, photo by Ryan Jones) comprised of Travis Adamick on guitar and bass with Tom Bennett on vocals/harmonica and percussion, along with a mix of guest musicians and computers for live performances. The live show itself is a little hard to put into words, and even the few photos you can see on their Facebook page don't quite seem to do it justice. The duo are set to release their debut EP titled Living With The Chills this week, which sounds pretty cool but is definitely on the border of too experimental. I suggest going to the release show and checking them out, at least, which happens tonight at Bar Deluxe along with The Suicycles, The Last Look and Dirty Blonde. We don't have a ticket price, but odds are the show will start at 9 p.m.
And then tomorrow night, we'll see the latest from Honest Soul. Or... is it, Colin Robinson's Honest Soul. Truthfully, we can't tell which they prefer, but at least we know who's running the band. I'll be honest with you, I don't know a hell of a lot about this group, other than the fact that they play soul music and that most of their gigs have consisted of outdoor concerts in the afternoon. Beyond that description, you'll have to go check them out to see what they're all about. They've got a new album out this week titled The Call Of Crow, with free samples on their Website. Not too shabby, but a little too Coldplay in certain spots, the album clearly caters to a specific audience. You can catch them tomorrow night for their release show at The Urban Lounge, playing alongside Puddle Mountain Ramblers and The Old World. Just $6 starting at 10 p.m.
Head out, love music, buy local!