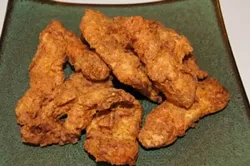 Like most kids, my 11-year-old son, Hank, loves chicken fingers and nuggets. And, truthfully, so do I. --- So when Hank requested chicken fingers for dinner recently, I decided to experiment with making my own, from scratch. If I do say so myself, the result was delicious. The chicken comes out really crispy and crunchy using this recipe.
I decided to kick things up a notch, as Emeril would say, by creating a chicken-finger coating with Maryland-style spices -- the type you frequently find when eating shrimp and blue crabs while sailing around the Chesapeake Bay.
Here is my recipe. Feel free to experiment with different spices and make the recipe your own. My son found the fingers pretty spicy, but I thought they were just mild-to-medium-hot. You can increase or decrease the spiciness to your satisfaction.
Ingredients:
1 lb. boneless chicken breast
1 egg
1 cup buttermilk
1 tsp. Louisiana hot sauce (or your favorite)
2 cups all-purpose flour
2 tbsp. Old Bay seasoning
1 tsp. paprika
1 tsp. black pepper
1 tsp. onion powder
1 tsp. salt
Oil for deep-frying -- peanut oil is preferred
Technique:
Heat oil for frying to 360 F.
Cut the boneless chicken into strips (fingers) or nuggets.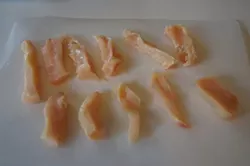 In a bowl, combine the flour, Old Bay, paprika, pepper, onion powder and salt. Mix well. Then, separate the flour/spice mixture onto two plates or into two shallow bowls.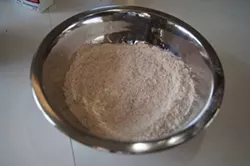 In a bowl, mix together the egg, hot sauce and buttermilk.
Set up a work station for coating the chicken by lining up a plate of flour, the bowl of egg/buttermilk mixture and second plate of flour.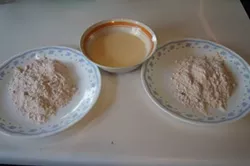 Working with 2 or 3 pieces of chicken at a time, toss the chicken in the first plate of flour to coat lightly. Then toss the chicken in the egg/buttermilk mixture and, finally, coat the chicken with the flour in the second plate and set aside on a clean plate. This is a messy process, so try keeping one hand dry and use the other to do the coating. The result will look like this.
Carefully place the chicken into the hot oil and fry until crisp and golden -- about 6-8 minutes, depending on the thickness of the chicken.
Remove the chicken fingers from the oil and drain on a rack over paper towels. Allow the chicken to cool a few minutes.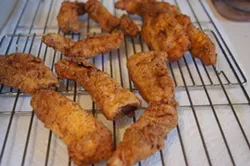 Serve the chicken fingers with your favorite dipping sauce or all by themselves.