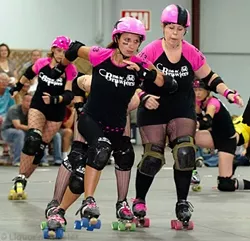 Saturday, Aug. 27: Believe it or not, there was something
besides
that Beer Festival going on last Saturday—like the O-Town Derby Dames hosting the Salt City Derby Girls at Golden Spike Arena in Ogden.---
Golden Spike was nearly as warm as the great outdoors when SCDG's Shakers travel team toed the line against OTDD's 25th Street Brawlers at 7 p.m.; "hot as balls" is the phrase that comes to mind. Which could explain the slower skating speeds of the bout—most of the time, the pace dragged like Salt City's conversion to banked-track play (new estimated arrival time: 2012). O-Town jammers No Name Dame and Carnage Kitten put their team on the scoreboard first, but the Shakers soon roared back with insurmountable point blitzes by Hera Ticked, Bunz Bunny and RollHer Kitty. Score at halftime: SCDG Shakers 76, OTDD Brawlers 17.
Both teams ratcheted up the rough trade in the second half, sending many a player off the track repeatedly for penalties—or "the naughty box," as Salt City announcer Boba Fat refers to it. O-Town's jammers, most notably the impressive Carnage Kitten, gave their all but could barely gain an inch nor point for the rest of the bout, smacking up against Salt City's defensive wall of yellow at every turn. By the time the Shakers' Bunz Bunny cracked the 100 mark with a blazing 15-point jam, it was all but over for the Brawlers—not that it stopped SCDG from, as the league slogan goes, "rubbing salt in open wounds" by driving up the score even higher. Final score: SCDG Shakers 181, OTDD Brawlers 44.
Next O-Town Derby Dames bout: Saturday, Sept. 24 at Ogden's Marshall White Center (222 28th Street); tickets and info: OTownDerbyDames.com. Next Salt City Derby Girls bout: Their invitational Mountain Throwdown is scheduled for Saturday, Oct. 8 (venue TBA), as well as a mixed-teams bout on Saturday, Oct. 15 (The Complex), and there's a rumored September game somewhere in SLC; best check SLCDerby.com and the SCDG Facebook page.
Shots from Saturday's bout by Liquor'n Shooter (SCDG in yellow, OTDD in pink):