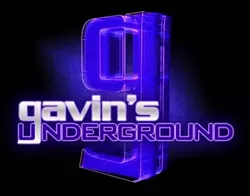 As we've learned over the years from interviews on this blog, there seem to be three different challenge levels that artists will take on in their career. --- The first is Expert, where the artist becomes fully immersed in a single form of art and strives to master it. The second is Juggler, those who take on two or three different artforms and become proficient in each. But the third is the rarest and often most challenging: Virtuoso -- those who take on multiple subjects at once and are somehow able to switch between them without struggle.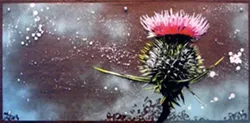 Mason Fetzer has become an artistic virtuoso of sorts, having a hand in Spy Hop while earning his bachelor's, learning several genres of art from graffiti to photography to Web design, teaching the skills he's attained to students at Higher Ground Learning and all while becoming one of Utah's most prominent artists. Today, we chat with Mason about his career and his various works, educating through art and the work he's doing now, plus his thoughts on the local art scene and the work coming out of it.
Mason Fetzer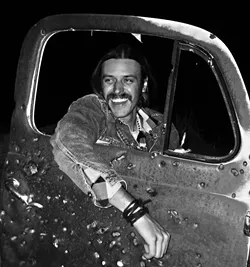 Gavin: Hey, Mason. First off, tell us a bit about yourself.
Mason: Well, I just finished my most important piece of work to date: an 8-pound baby boy. We named him Townes, after the folk musician Townes Van Zandt. I found a great old photo of Townes and turned it into my latest stencil on a vinyl record. The finished product is hanging in the little dude's nursery.
Gavin: What first got you interested in art in general, and what were some of your early inspirations?
Mason: I've always loved to draw, but I had no plans to become an artist. I spent lots of after-school hours painting with my grandma, so I would consider her one of my inspirations. I also come from a long line of architects, so art was in my blood.
Gavin: You went to to the University of Utah and got your BFA in painting and drawing, as well as graphic design. What made you choose the U and what was its program like for you?
Mason: I went to the U of U to be a surgeon. They have an excellent medical school, which I never attended. After two years of pre-med, I realized my heart wasn't in it and I registered for a few art classes, just to test the waters. I finished my prerequisites and was accepted into the graphic-design program, but left it a year later. In my opinion -- and no offense to anyone -- I didn't feel like the program was really giving me what I needed to be a professional designer. I mean, we were drawing fonts by hand instead of learning Photoshop. I decided to focus on my classical-art training and switched to painting and drawing instead. It was a good move.
Gavin: During college, how did the opportunity to work for Spy Hop Productions come about, and what was it like working with them as a media lab manager?
Mason: I think I just answered a want ad, but it turned out to be such an important stepping stone into what I really wanted to be doing. I was hired to be their Mac lab guru, but pretty soon, I was designing film posters, DVD menus, marketing materials and eventually the logo/branding that they still use today. It also generated my passion for teaching art to the local youth.
Gavin: Skill-wise, you seem to dabble in a bit of everything -- painting, design, photography, Websites, graffiti. What made you decide to become so fluent in various artforms rather than master a particular one?
Mason: In part, it was out of necessity. I had design clients that needed Websites, Website clients that needed photography, and so on. I never said "No, I don't do that." I learned film- and sound-editing software because I had to. The same goes for different mediums of art—people would ask me to do charcoal portraits and graffiti murals, and I just said, "Yes." There really hasn't been anything that I told myself I couldn't do. I am now able to use all of these skills to make each piece into viral art forms, like with my time-lapse videos that show the art being made. I did a large peacock piece for the Utah Arts Festival this year and they ended up using the video on their homepage to promote the festival. Turning actual pieces into digital forms gives the entire world access to my art.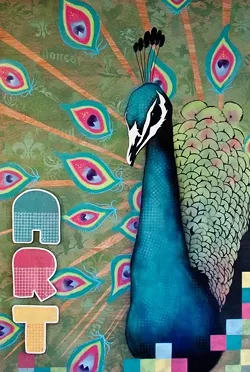 Gavin: What influenced you to create the pop-culture-oriented artwork you've become known for?
Mason: Oh no, is that what I'm known for? Unfortunately, all of my pop art was very much profit-driven. I enjoy making it, and people enjoy buying it.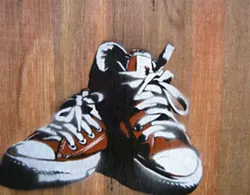 Gavin: What's the process like for you when creating a new piece, from initial concept to final product?
Mason: The designer in me needs a plan of attack. Stencils are very mathematical in nature, and I enjoy the intellectual approach to making art. Even if a piece incorporates some free-hand graffiti, that is still a calculated part of the overall end result.
Gavin: Do you usually have an idea of what you want a particular piece to look like?
Mason: Yes, definitely. I'm way too OCD to leave anything entirely up to fate. If a piece ends up looking different from what I envisioned, I tend to feel like I didn't get it right. That being said, some unpredictability can be fun.
Gavin: I know this probably isn't an easy question to answer, but of all the different genres of art you create, what one do you prefer doing the most and why?
Mason: Anytime I get to make art instead of designing a business card is preferable, regardless of the genre. If I had to pick a favorite, it would be multilayer plexiglass pieces that incorporate stencils, graffiti, and carpentry. I call them "plexis."
Gavin: How did the idea come about to start up your own freelance Website, rather than work with companies or be hired out as a contractor?
Mason: Who doesn't want to be their own boss? I've had a few contractor-type positions over the last few years, but thanks to happy clients, I'm now flying solo.
Gavin: What made you decide to join Higher Ground Learning as an instructor, and what is it like for you teaching the skills you have to a younger generation?
Mason: Teaching science to kids is one thing, but teaching graffiti and stencil cutting…come on. The kids are stoked. The parents? Not so much. Being with the Urban Arts students and showing off our skills at the Utah Arts Festival is the best part of my year.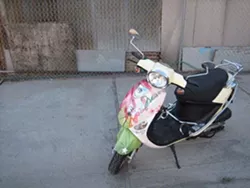 Gavin: You've also become a leading designer for Wakeology Wakeboards and Black Chandelier. How did those two opportunities come about, and how has it been for you working with them?
Mason: To get the Wakeology gig, I answered a Craigslist ad and beat out 100 other designers. Wakeology is my coolest client. Imagine seeing something you drew strapped to a pro wakeboarder, 20 feet in the air. I'm working on their line of 2012 boards this week. Black Chandelier is a super-new client, so I haven't done a ton with them yet, but I'm pumped to have a foot in the local fashion world.
Gavin: Aside working with businesses, do you do any commissioned work?
Mason: Yes. If you can dream it up, I can do it. I love making pieces that have personal meaning for people. I've done everything from custom bedroom murals to children's portraits to wedding presents. I've even custom painted a scooter and beer-pong table. Just e-mail me your idea: mason@masonfetzer.com or visit the Website and steal ideas from other people.
Gavin: Moving onto local stuff, what are your thoughts on our art scene, both good and bad?
Mason: One of the bigger outlets for local arts is the Utah Arts Festival that just wrapped up at the end of June. I was an accepted artist and had my own booth for the 2008 festival, but since then, have gotten more involved with the Urban Art Yard—you know, the best spot at the festival with the graffiti cube and DJ booth. This year, we conquered the first "community collaboration mural" in festival history: 100 random festivalgoers each painted a square of an unknown image, and by the end of the festival, those 100 squares built a 20-foot-tall mosaic mural. People got really invested, spent lots of time on their squares and were so excited to see the finished product on Sunday. It was a ton of work and hours up on scary scaffolding, but very worth it.
Gavin: Is there anything you believe could be done to make the scene more prominent?
Mason: What we need are collectors. We have plenty of outstanding artists and plenty of "art lovers"; what separates us from the big art cities is a community of buyers willing to pay for great art.
Gavin: I see you have some Obama pieces. What about using art in politics?
Mason: I think the political arena as a great place for artists to get involved and help stir the pot. I started making Obama art because he was a person I wanted to get behind; it was my way of showing support, and it allowed others to become emotionally invested. Art is a powerful tool in this regard and artists love to share their opinions. My Obama art ended up taking me to Washington, D.C., for the inauguration as part of the Manifest Hope Art show orchestrated to Shepard Fairey, the Obama art poster child. It was one of the most significant experiences I've had as an artist. It also led to my involvement with the Peter Corroon for Governor campaign. I painted a 6-foot-tall portrait of Peter that followed him along the campaign trail, and created over 100 stenciled records for campaign volunteers.
Gavin: What's your take on Gallery Stroll as a whole and how it's doing today?
Mason: Gallery Stroll is awesome, it gives people reason to come out and enjoy the local art scene. It is also a great social event for hipsters just wanting to be out in their kick-ass city.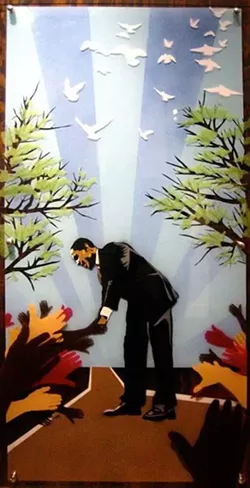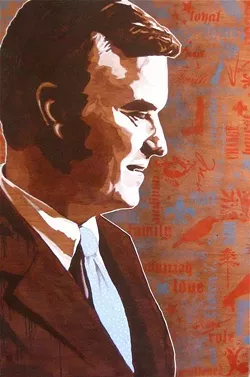 Gavin: What can we expect from both yourself and your various projects over the rest of the year?
Mason: I am always working on new ideas, so I guess you'll just have to stay tuned. The Arts Festival cleaned out my inventory so I am busy making a bunch of new stuff this fall.
Gavin: Is there anything you'd like to plug or promote?
Mason: Ah, the shameless self promo: Check the Website and hit me up for some custom art! You can also give my music a listen, folksy guitar with my hot wife on vocals. Thanks, Gavin.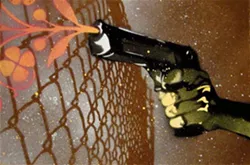 | | | | |
| --- | --- | --- | --- |
| Follow Gavin's Underground: | | | |