As the performing-arts season gears up for the fall, many organizations and troupes look for a place to practice and rehearse, even seeking out a formal stage to test out their latest creations. --- But a lot of those spaces dedicated to various crafts are booked year-round by single entities, and rarely give way for outside organizations to utilize, which has increased the need for both funding and available resources for upstart arts programs. Thankfully, some people have taken the charge to provide space, like the one we'll chat about today.
For over four years, Sugar Space has provided an art space, rehearsal and performance hall for independent and underground events ranging from dance to theatre to musicians -- even some of riskiest and risque-est attractions to be seen in Utah, all located in the heart of Sugar House on Wilmington Avenue. I got a chance to chat with founder Brittany Reese about her career, starting up the space, the impact they've had on the community and thoughts on local performing arts. (Some photos by John Brandon)
Brittany Reese
Gavin: Hey, Brittany. First thing, tell us a little bit about yourself.
Brittany: Hey, Gavin. Well, I am a dancer, arts lover, business owner, mother of two young boys, dreamer and I love to travel. I was born and raised in Utah and have lived in Los Angeles and spent 17 years in New York City.
Gavin: How did you first take an interest in dancing and performing, and what were some early influences on you?
Brittany: I started dancing by mistake when I was about 10. I basically wanted to do what my friend was doing and became quickly addicted with the help of an amazing teacher, Melissa Graehl, at a small studio called Judy's Dance in Sandy. I started participating in dance competitions, ballet, jazz, tap and later focused on modern dance. When I was about 15, I was approached by an inspiring talent agent, Julie McDonald, who solidified the addiction, and I've never stopped being excited by it.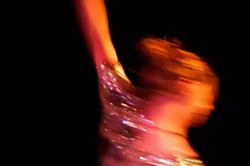 Gavin: Prior to college, how did you break into dancing and what was it like for you learning the craft and performing at a young age?
Brittany: I quickly improved when I was younger and started winning a lot of competitions and doors started opening up. I couldn't touch my toes when I began, but my teacher's motto was "no pain, no gain" and I took it to heart. I danced in grocery aisles, stretched while watching TV, used my kitchen counter as a barre, etc. Dancing helped me through some unhappy high school years and helped shape my personality. Around the age of 15, a talent agent saw me perform in Utah and invited me to move to LA to work and that led me to attend at Los Angeles County High School for the Arts (LACHSA). Later, I was awarded scholarships to NYU's Tisch School of the Arts and from there I got to work with some great people and travel around the world performing and teaching. I started investigating and becoming very interested in other art forms, as well.
Gavin: What made you choose NYU and that particular program, and what was it like for you going there and perfecting your craft while earning a degree?
Brittany: I was not familiar with NYU at the time and had never been to New York. One of my teachers at LACHSA suggested NYU as a good fit for me and thought I would do well there. Since I loved to travel and NYC was the "unknown," I thought it was the perfect place for me -- I am, and was always, up for an adventure. I went to San Francisco for the audition with some friends and was accepted. I had also gotten into the Alvin Ailey school but wanted to get a college degree, as well -- as opposed to attending a conservatory -- so chose NYU not knowing much about it at all.
Gavin: After college, you started performing full-time with several dance companies. What was your favorite one to perform with during these years and why?
Brittany: I loved almost all of the choreographers that I was lucky enough to work with but my favorites were Sarah Skaggs and Neta Pulvermacher. Both choreographers had small, intimate companies that were very collaborative and the dancers had a lot of input into the choreography. There was a lot of improvisation in creating a new work and the work relied heavily on the personalities and physicality of the cast. There was very little "repertory" that I learned. I felt integral to the experience and the companies were like family. I also got to travel to Belarus, Dominican Republic, Taiwan, Poland, Brazil, Costa Rica and did month-long residencies in Hawaii, D.C., Northern California, Alaska, Florida and more. I got to perform at festivals and places like Jacob's Pillow and nearly every major dance venue in New York City and many small off-the-wall venues. I did a month-long teaching residency in a town of 100 in an Inuqpiat Indian village in Alaska called Shaktoolik. My most memorable projects were dancing with Neta and Sarah.
Gavin: During this time, you traveled the world and performed in many different countries. What's the reception like for American groups around the world?
Brittany: I had amazing experiences! Oftentimes we were treated like some version of modern-dance royalty -- if there is such a thing, haha -- and shown all the best places around and had private tours of amazing local places. In southern Taiwan, we had banners advertising our show as we drove into town and must have had 20 enormous flower bouquets outside the theater for us. It may have helped that it was the choreographer's hometown. More importantly, though, I learned so much from the people in the places I visited and the experiences I had. I got to see other amazing artists from around the world at different festivals and had interpreters helping us, which personalized the experience. I also had a lot of free time and was able to visit historical places I had never dreamed of seeing, and learn about the local culture.
Gavin: You were based in NYC for many years but eventually moved to Utah. What brought you to Utah and why did you choose to stay here full-time rather than move around with other companies?
Brittany: I got to a point where I wanted to have a family and quickly realized that I wanted a bit more space and some nature while raising kids. When my first son was about 18 months old, we moved back to Utah to be close to family, nature and for a reduction in living expenses. I was ready for a change and I wanted to see where the new path would take me, and embraced it.
Gavin: How did the idea come about to start up a studio space?
Brittany: I was always a bit of an entrepreneur and took after my parents in that way. I was inspired by a handful of friends/acquaintances in NYC. One had opened a business with a $10k line of credit. The business idea was to buy and sell hip used clothing, and it later turned into a huge success called Beacon's Closet. She was good at recognizing what would sell and enjoyed her job. She took a risk and it changed her life forever. She was successful in doing what she wanted to do. A few other friends/acquaintances/mentors had opened small art/dance spaces that later turned into staples of the community. The spaces were so vibrant and I had such good memories attending and participating in events there and it was amazing to see them grow. Those experiences solidified my own vision of bringing a multidisciplinary art space to fruition. I also felt that when I moved back to Utah, it was lacking a central community space for artists that was for more experimental work but still had some of the bells and whistles of a larger, more established venue. I had no idea how I would pull it off but took the risk and have enjoyed almost every minute of it.
Gavin: When looking for a location, what made you choose Sugar House and how did you come across the building on Wilmington Avenue?
Brittany: My realtor!! Luckily, he knew more than I did about what I would need. Who knew parking would be so important? Who knew how happy I would be that cleaning was included in the rental fee! Basically, I knew I wanted high ceilings and a fairly central location, but really it was cost I was after. I would have taken a cardboard box and tried to make it into something as long as it fit in my projected budget. Not the best plan from a business perspective but I was really driven by desire more than knowledge -- a bit naive. Our space at Wilmington Avenue was originally a bunch of office cubicles so you really had to use your imagination before we gutted it. I was not ecstatic about the strip-mall feel of the outside of the building but I began to embrace it as a sort of an "Art Mall" in an "it's so bad it's almost good" sort of way. I still have a love/hate relationship with the physical structure of the building, but it always inspires me to try and turn it into something better, by being creative, so that is good.
Gavin: What was it like for you planning the space out and transforming it into a studio? And what difficulties did you come across along the way?
Brittany: I knew I wanted a sprung floor to protect dancer's bodies and I knew I wanted some kind of simple lighting plot. I knew it had to be versatile and inviting. I have amazing landlords and they were extremely supportive and helpful in letting me experiment and be creative with the space. The biggest difficulty was lack of money and staff, which continue to be the biggest challenges to date.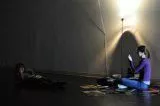 Gavin: You opened the space up in 2007. What was the initial reaction like from the community, and what was it like for you during that first year seeing the space utilized?
Brittany: I think the initial reaction was both excitement, support and apprehension. I think a few spaces had previously popped up and not turned out to be the "perfect" space, if there is such a thing. I think a lot of people in the community have their own visions of what they would like to see happen in a community art space. Thankfully, I feel confident that we fulfilled some of the needs of the community; however, I am certain that there are still plenty of other needs and wants out there and holes to be filled. It was nerve-wracking the first year as I basically had to work three other jobs to pay for the space as we developed programs. I was, and still am, excited about the potential so that made it all worth it.
Gavin: Since opening, you've had an array of performances from various performing-arts crews. What have been some of your favorites to date?
Brittany: We have had the opportunity to work with so many amazing artists of all disciplines and this is what makes my job worth it. I can't even begin to name them all, but I will try to name a few. This is definitely not a complete list: Juan Aldape, GoGoVertigoat, Stephen Brown, Ashley Anderson, inFluxdance, Laura Blakely, Chantal Downing, Pinnacle Acting Company, Monica Campbell, ToySoup Comedy, Zara Shallbetter, Christian Arial, Aerial Arts of Utah, Jefferson Montoya, Yasamina Roque, Compass Dance, Samba Fogo, Andra Harbold, Erin Kaser Romero, Hillary VanMoorleghem, Andrea Dispenziere, Movement Forum, Brandin Steffinson, Craig Berman, Elise Williams, Joan Mann, Sam Hanson, Sofia Gorder, Steve Smith, John Brandon, Open Door Transformative Arts, Julia Hill, Camille Litalien, Cecile Paskett, Kate Law, Katie Meehan, Margaret Willis, Mattson McFarland, Julianna Hane, Rachel Nelson, Julia Hill, Regina Rocke, Riot Act Kari Hoaas, Sarah Skaggs, Neta Pulvermacher, Nancy Carter, Hive Theater Company and many, many more. That doesn't even include all the performers, dancers, technical directors, teachers, visiting artists and other extremely talented people we have had the pleasure to work with.
Gavin: A lot of people simply think of it as a dance space, but in reality it's a center for several arts programs like aerial arts, theatre and yoga. How is it for you balancing all the classes and performances and giving proper studio time to everyone who needs it?
Brittany: This is an impossible task. We really had to make some decisions early on. I keep Thursday-Saturday nights free of ongoing classes so that we can have events and performances. We have a dedicated room for artists to display work. The one thing I think we are missing is a class space vs. performance space. It is hard to find rehearsal and tech time because we fill so many hours with amazing classes, which keep the space vibrant but also keep it occupied. It is a tricky balance. My dream would be to have 1,000-1,500 more square feet with a backstage, storage, dedicated rehearsal/class space and changing rooms. It is complicated but somehow we manage the chaos. I would like to continue to work on improving the way it all flows together and improving our day-to-day operations.
Gavin: You've also opened up the space to be an art gallery for local artists to display their work. What made you decide to do that, and who have you had in the studio?
Brittany: We have had some great artists show in our space, like Zara Shallbetter, Margaret Willis, Julia Hill, Cecile Paskett, Christian Arial, and Open Door Transformative Arts, to name a few. We have had photography exhibits, one-night shows, shows on the outside of the building, craft boutiques with local food and vendors and more. This is a fairly new program so it is still in its infancy stage, but we have high hopes and many ideas for future opportunities and are working on trying to get funding to expand the programs. I wanted to do this because I really think all the arts fit together incredibly well. A painting on the wall can dance and dance can definitely be visual art. Theater can be just another representation of a poem in a book. I find inspiration in all of the art forms pressed up against each other.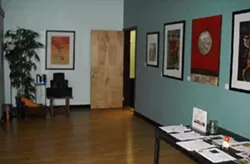 Gavin: Are there any plans in mind at this point to expand beyond what you're doing now or bring in more groups for performances, or are you looking to keep things as they are for now?
Brittany: We have many ideas to bring in more outside artists and improve current programs. These ideas are all in process. We have extremely limited staff so changes are small, but they do come and we have exciting physical changes coming in the next month. We just built a second-floor loft/storage/DJ hangout, "call it what you will"-type space and we have some things planned for new and improved seating and for the exterior of the building. The space is an adventure that takes on a life of its own.
Gavin: You also rent the studio out for anyone else who may wish to do classes. For those interested, what kinds of classes do you take and how can get someone rent the space?
Brittany: Call or e-mail us with any idea. Period. If you told us you wanted to open the ceiling and put a lightning bolt through it on Sept. 21st at 8:30 p.m., we would brainstorm with you to see if it would be possible to make it happen. We have a really fluid open-door policy and try not to put too many restraints on what can and cannot go on in the space. We are open 24 hours a day, 7 days a week and if you want to hold a meeting in our storage unit out back, we would probably try and clear it out for you.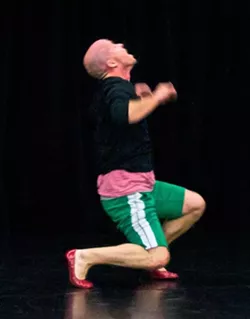 Gavin: Going local, what's your take on the Utah dance scene, both good and bad?
Brittany: Well, my only real complaint is I never have any time to attend anything outside of what goes on in our space because of the amount of time there is in the day and the amount I have on my plate. I always hope there are 50 events in a weekend because that is what makes things exciting. My biggest wish is always that there is more experimentation and more audience, myself included.
Gavin: Is there anything you believe could be done to make it more prominent?
Brittany: Yes, I do. I keep thinking that when my kids are in college I'll have the time to work on that part or when I miraculously get that grant to pay that non-existent staff of 10.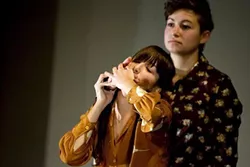 Gavin: What are your thoughts on other local dance companies and the work they're doing to promote the art?
Brittany: I think there is a lot of great work being done, but I also think there are a lot of resources that go unused and that is a shame. I think more people should take advantage of what we have to offer. Nothing is worse than to see the space sit empty on a weekend.
Gavin: What advice do you have for anyone looking to get into professional dancing for a career?
Brittany: Do what you want. Do it a lot -- whenever and wherever you can. Be an explorer of life and of all the art forms. Question, experiment and study. Take care of your body, mind and soul and be supportive and thoughtful of other artists. Be appreciative, generous and humble. Just my two cents.
Gavin: What can we expect from both yourself and Sugar Space over the rest of the year?
Brittany: I think this is a transition and building year for us. We had a big expansion when we nearly doubled the size of the space over a year ago. There have been huge personal transitions in my life and a turnover in classes/renters, which has caused us to kind of dig in and work on re-strengthening our foundation. I am excited about changes that are coming, though, as we move into the next stage.
Gavin: Aside from the obvious, is there anything you'd like to promote or plug?
Brittany: Come to our show Sept. 9th called After Dark! There are two shows that night, so come and then go out after or vice versa. We do this a couple of times a year and it is pure fun. You will not leave disappointed with comedy from Levi Rounds, dance, aerial, food, other performances from Chad Rockstar and Heidi Lyn Butterfly, DJ RadBoy and more. There will also be Uruguayan food available for purchase from Bakery & Brews. It is a great introduction to the space and a variety of performers. Also, join our mailing list at our Website. Use our space for your next artistic invention. We like to be challenged. Lastly, if you feel so inclined to be a guardian angel, please consider volunteering time, making a donation, becoming an intern, spreading the word, painting a wall, donating a speaker, saying hello, sending us an e-mail, giving us feedback, etc. We are extremely grateful to be part of this community and the artistic greatness that is Salt Lake.



| | | | |
| --- | --- | --- | --- |
| Follow Gavin's Underground: | | | |