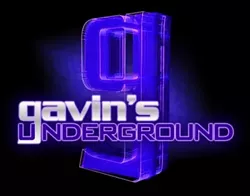 While a couple of localized stations do their best to promote local music, the truth is there's a lot of underground and indie material from the US and the World that get just as little attention. --- Every day some new band somewhere around the globe is putting out new music, that for all we know could blow everything away and change the game entirely. But with thousands of musicians fighting for a single spot just to get their name out, being a filter for what deserves airplay and doesn't can be a daunting task.
Local artist Derek Mellus has had experience in this department, being a former writer in the Utah music scene as well as a DJ on KRCL in the '90s, Mellus has had an extensive career listening to music and writing about musical trends before they became "trends." Recently Mellus took over a spot on UtahFM with his show "In Case You Hadn't Heard," playing the latest in new independent music from all parts of the world, exposing local audiences to bands they would have never heard otherwise. I got a chance to chat with Mellus about his career, his current show, thoughts on local music and a few other topics. All with a bunch of pics of his artwork for you to check out.
Derek Mellus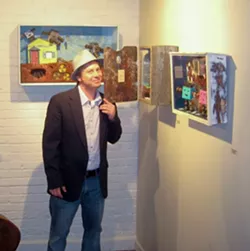 Gavin: Hey Derek, first off, tell us a little about yourselves.
Derek: I think my Twitter profile sums me up the best: Artist, film buff, music junkie. Host of "In Case You Hadn't Heard" on UtahFM.org.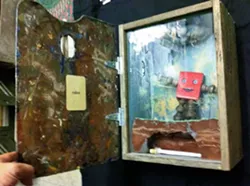 Gavin: What drew you into music in general, and what are some of your favorite artists?
Derek: Great question. One of my earliest recollections of listening to music (besides my parent's) was when I received a boombox for a birthday present as a kid. I used to sit in bed at night listening to the radio, waiting for my favorite songs to come on so that I could record them onto a cassette. Shortly after that, I sent off an offer to one of those clubs, like Columbia House or BMI where you could get like twenty albums for a penny, as long as you promised to buy twenty more at their special club price over the next two years, or whatever the deal was. At the time I was into all of the classic stuff; The Beatles and the Stones, Hendrix, Pink Floyd, and Led Zeppelin. After a brief stint as a rocker- Metallica's ...And Justice For All and Guns & Roses' Appetite For Destruction were two of my favorite albums -I started getting into the alternative music of the time. The Cure, The Pixies, Bauhaus, Tones On Tail, The Smiths, early U2 and INXS, Oingo Boingo, etc. When the grunge scene hit, I was definitely lapping it up. Some of the bands had more staying power than others but I couldn't get enough of Nirvana, Stone Temple Pilots, Pearl Jam, Alice & Chains and the rest. Jane's Addiction's Nothing's Shocking and Red Hot Chili Peppers' Mother's Milk were also a big part of that time for me. And then the UK answered. Some of the bands that blew me away back then were Ride, Swervedriver, My Bloody Valentine, Catherine Wheel, House Of Love, Radiohead, Spiritualized and The Verve. Later The Flaming Lips' Soft Bulletin, Elliott Smith, Luna, Acetone, Neutral Milk Hotel, Pavement, Belle And Sebastian, The White Stripes, Cat Power, The Black Keys, Yo La Tengo, Low, The Shins, Modest Mouse and Iron & Wine. As of late, artists like Caribou, Nicolai Dunger, The Black Angels, Dr. Dog, Fruit Bats, Vetiver, Heartless Bastards, Midlake, Autolux, Snowden, Radio Dept., Deerhunter, Wye Oak, Grizzly Bear, The Dodos and Washed Out are doing it for me.
Gavin: How did you first take an interest in radio, and how did you get involved with KRCL early on?
Derek: Back in the early '90s I had a friend who's older brother DJ'd a show on Tuesday nights from 10p.m. to Midnight on KRCL. My friend had gotten into a bit of trouble and had to serve some community service hours so we would hang out with his older brother and help him with his show. We would cue up discs and PSAs, hunt down obscure tracks from the station's vinyl collection, write down the songs for the playlist and other it was to play music and you know, have that connection with people.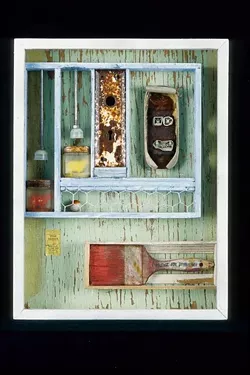 Gavin: What was it like for you working on that show at a time where music was really picking back up with grunge?
Derek: It was exciting. Tuesday was the day that the new releases would come in, so I used to scour through the albums and sometimes one would catch my eye and I would give it a quick listen, kind of skimming through the tracks. I still remember grabbing Smashing Pumpkin's Gish off the rack and playing Rhinoceros for the first time in Salt Lake.
Gavin: Over the years you've done some work with local papers including the Chronicle and SLUG. What persuaded you to start writing about music?
Derek: It happened sort of organically. I was really into photography while in college so I took a job with the Chronicle to hone my skills. Since I was working full time and had full a school schedule, I usually ended up taking the night assignments like Jazz and Grizzlies games or U of U basketball or gymnastics meets. The Chrony also had a music and art weekly called Twitch and those assignments were my favorite. I got to cover a lot of different bands at some of the great venues back then like the Zephyr, the Deadgoat and the Cinema Bar. Occasionally, the writer might not show up and I would be asked to write a review in order for my photos to be printed. It was a few years later that I approached Angela Brown about writing album reviews occasionally for SLUG. I think she saw right through my ploy to get my hands on some free music, but she allowed me to review them none the less.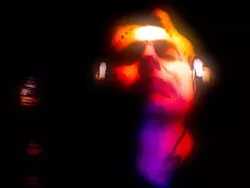 Gavin: Prior to this interview you mentioned having some interesting experiences, including playing golf with Mickey from Ween, and dancing in a bunny suit at the Zephyr for Flaming Lips. What's been your favorite experience with a musician while you were writing?
Derek: I once interviewed Dean Wareham from Galaxy 500 and Luna over the phone and learned that he was going to be playing a private event during Sundance. I was a huge fan at the time and so a few of us headed up to see if we could crash the party in order to see them play. We were denied at the door when my friend ran into a liquor rep. she knew. He offered bring us in the back way if we would pass around shots as if we were part of his staff. We got in, passed out his shots, and watched the show. Most of the people, with the party were not even paying attention to the band, so when they got on stage and played it was like it was just for us.
Gavin: What persuaded you to start creating found-object construction art, and what's it like for you putting together one of your works?
Derek: That was also an organic process. I was living at and working for ArtSpace when Pierpont was the nexus of the monthly gallery stroll. I was still into photography at the time but a job at a photolab had made me sick of film, so of course my medium of choice was Polaroid. This was back when Polaroid was making those little band-aid sized exposures called Izones. I was shooting a lot of Polaroid back then, Izone, Joycam, SX70, 600...you name it. I wanted to show my work during the stroll but a Polaroid in a frame was just too plain, so I started adding embellishments- things that I had collected thrift store shopping, at yard sales, or rusted things found in the street. I had all of these strange objects that I had held onto for years hanging around in drawers and on shelves in my studio. Before long, the objects were the part of my art that told the story. The arrangement of the objects- their relationships to one another, the associations and memories that were held by them and their juxtaposition- it created this language that was all my own. I've found that the whole process is very cyclical. I'll spend a long time collecting and gathering the things I find. I'll then spend months arranging them, usually in old wooden boxes or drawers, trying to decipher what it is I'm trying to say, the emotion or feeling that I am trying to draw from the viewer.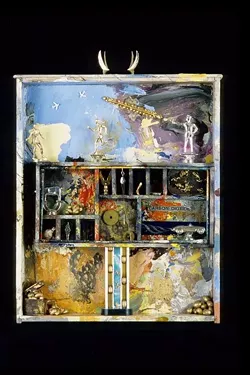 Gavin: What was it like for you breaking into our art scene and putting on exhibitions?
Derek: Originally, I felt like a bit of an outsider. When I first moved into ArtSpace but before I discovered found-object art, I used to paint in acrylic. Around that same time I had approached a couple of galleries naively by showing up with my paintings in hand unannounced (they LOVE that) only to be turned down for exhibition. With the prodding of my then girlfriend and now wife Mariah, and permission from the manager, I set up all of my paintings in the common area off the breezeway at Artspace during gallery stroll. My work had always been really personal to me and I really didn't expect anyone else to get it, let alone like it. I sold a piece that night and I received this unexpected thrill eavesdropping on people's reaction to my work. I was hooked. I wanted to show every month. As I got to know some of the other artists in the building I started hanging their art up too. Before long I was curating shows. We'd turned this crummy low-lit space into a monthly attraction. The shows started growing and we started adding themes to them. Soon hey had a life of their own and we called them 'happenings.' We'd spend all month planning and making the art to show for this one night a month. A particular happening called 'The Broadened Boardwalk' was one of my favorites. To help with sales, we created all of these different art themed games where participants could win tickets that they could then redeem for art in the show. We had Pin the Ear on Van Gogh, and this crazy metal and found-object sculpture where you would try and bounce a ping pong ball into various targets. We served Sno-cones and popcorn and at one point some fire dancers and street performers showed up. It was pretty crazy looking back on it, actually. Eventually, a few of us took over one of the studios on Pierpont. We named the space The Walk Of Shame and kept up the monthly shows paring them down a bit from happenings to more traditional exhibitions and installations. The space was booked out for months in advance and all proceeds from the show's art sales went directly back to the artists.
Gavin: Along with art and music, you broke into film working on several locally made movies as well as the TV series "Everwood." What made you want to do that, and what was it like working in that industry for a time?
Derek: Film has always been a passion of mine but it was out of pure luck and necessity that I found employment in the film industry. A friend of mine that I had worked with at the photolab happened to call me the day I found out I was no longer going to be working for my employer at the time. He knew that the Art Department on the show he was working was looking for help and put in a good word for me. Most people think it's pretty glamorous to work in film, but it is a lot of 'hurry up and wait' usually for 12-14 hours a day. Not for everybody, but I absolutely loved it. The people that choose the film industry as their career are a special breed- amazing people. There is something special about working on a creative collaborative project, everybody in each department doing their part to bring a writer or director's vision to the screen. Somedays you start before the sun comes up and come home long after it's set only to wake up early and do it again. A lot of hard work, but it is definitely very rewarding.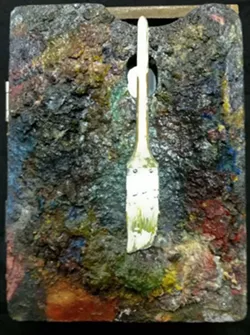 Gavin: With all the various mediums you've tackled, what made you want to try all these different fields out rather than stay with one as a formal career?
Derek: I don't feel like I have tackled anything, and maybe that's just it. I've always wanted to be well read, experienced, well rounded, to contribute to society and to my community, to be a self made man. I like the challenges of learning something new, of trying to take on something I've never done before. It may be in different fields, but if you look close enough at it, it is all art.
Gavin: What eventually led to you picking up the gig at UtahFM?
Derek: The opportunity pre-of mine, Levi Elder. He had remembered that we shared the same passion for music and was looking for someone to co-host and sometimes cover for him on his show. I realized I really enjoyed it and when a slot opened up on Fridays, I applied for my own show.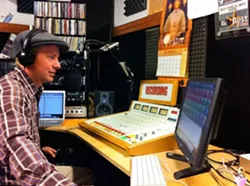 Gavin: Did you have an idea of what you'd be doing with your shift when you came in, or was it more impromptu playlists?
Derek: I wish I could just wing it. No, I spend a great deal of time trying to find new or more obscure music each week. I try and match the music to the time of day, and keep each song cohesive to each twenty minute set.
Gavin: How did the idea come about for you to start playing indie and relatively new underground music?
Derek: With all of the other shows and music choices out there I wanted to be relevant, to be different. I'm trying to reach the discerning audiophile, an under served demographic. I feel like what I play is not what you are going to be able to find readily on the radio or even most internet sources. There are a lot of amazing musical artists out there but they are not often recognized. Commercial radio is going to play what the masses want, it's what sells ads and gets the teens to buy albums. I get it, but I don't want to listen to it and I don't think I am alone.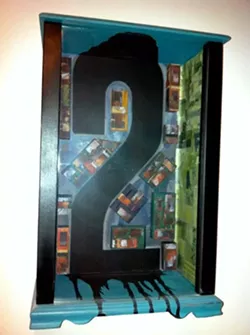 Gavin: What's the process for you in picking what you'll play on the air each week?
Derek: Research. I try and keep up on new releases with recommendations from friends and internet sites like GrooveMine and AllMusic. I try and stop in to my local brick and mortar, Slowtrain when I can and peruse their listening stations. During the week I try and listen to as much music as I can. In the car it's KRCL, at home I throw my iTunes on shuffle and bounce around until I find something that fits my mood. I usually spend a few hours the night before creating the playlist from what I have gathered throughout the week.
Gavin: You've been on the air for nearly a year at this point, what's your goal for the show and are there any plans to change what you're doing now?
Derek: Funny you should ask. A few months ago I brought on a co-host, Quentin Hughes or as I like to call him DJQ. He has really helped me to step up my game. He's another fellow audiophile and we share a lot the same taste in music. I have him come up with half of the show and then we each play our alternately "dueling sets." I think what he brings to the show makes it twice as good. One recent change, effective September 8th the show's time slot will now be Thursday nights 6-9p.m. As far as a goal for the show goes, I want to keep building our audience. I think as long as we still stay passionate about what it is we play people will tune in and tell their friends to tune in, etc.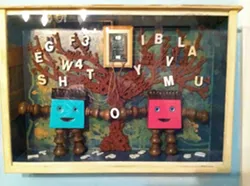 Gavin: Moving onto local stuff, what are your thoughts on the local music scene, both good and bad?
Derek: I think the local music scene is amazing. I am always impressed by the talent we have here. Great bands seem to sprout up all of the time. The bad is that a lot of them feel like in order to "make it" they have to move to Portland, or Seattle, or L.A.
Gavin: Same question, this time on the local art scene in Utah.
Derek: I am friends with and really admire many of the local artists and I think the local art community is great. Some of the shows you find monthly in places like Kayo, Blonde Grizzly and The Salt Lake Art Center rival that of galleries in cities twice our size. There are a lot of great collective studios, too. Places like Captain Captain, Poor Yoorick, the Copper Palate Press- all really cool. The bad is that the general population as a whole is not as supportive as they should be.
Gavin: Is there anything you believe could be done to make either or both of them more prominent?
Derek: Yes. As a community, we need to be more supportive of our local artists and musicians by attending their shows and by buying their art and their music.
Gavin: What's your overall feeling on local radio, both corporate and community?
Derek: I'm a big fan of KRCL. I know it upset a lot of people when they changed their format three years ago, but I think that they couldn't have done better. Jamie, Ebay and Brad bring it each and everyday. "Radio Active" is amazing and most of the weekend and evening shows are great too. The corporate stations are doing what they do: playing for the masses. And you know the quote- "You can please some of the people some of the time...." I do enjoy "Radio From Hell" when I tune in.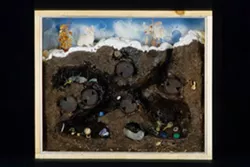 Gavin: In your opinion, where do you see music in general heading over the next few years, and how will that impact broadcasting and webcasting down the road?
Derek: I think we will see a big change in the next few years. It seems to be changing daily. With all of the newer ways to listen to music; iPod, smartphone, satellite, internet streaming, podcast, etc. the music is getting out there. It is out there for whomever wants to listen. Having as many different sources and easy access should inspire more artists to get their music heard. The distribution channels have changed. It is a lot easier, especially for an established band to forgo a major label and self produce and distribute their own music. Record stores and music sections in box stores are shrinking. I mean how many kids do you see buying actual CDs? They stream and share and if they want to own it they'll download it. I think we will see fewer larger labels and they will probably scale back on the number of artists they sign investing more in a few bigger names and acts. Similar to what you see happening in the movie industry as studios create fewer films opting for bigger, or "tentpole" movies. What I'm really curious about is the effect Spotify is going to have once it catches on.
Gavin: What can we expect from you the rest of the year?
Derek: More of the same. Just trying to keep the show interesting and relevant.
Gavin: Aside the obvious, is there anything you'd like to plug or promote?
Derek: Yes. If you made it this far down in the article I would like to promote you, the reader. Thanks for taking the time to read this and supporting Gavin's Underground's efforts to promote what's going on just under most people's radar. You deserve a pat on the back. Also, you should like my show's Facebook page and let me know you learned about it here. Also, go out and buy a an album from a brick and mortar. You deserve it.
| | | | |
| --- | --- | --- | --- |
| Follow Gavin's Underground: | | | |