A Willie Nelson concert in 2011 is as comfy as a well-worn pair of cowboy boots, and probably just as smelly.---
That's no knock on the hygiene of the Red-Headed Stranger's fans, but simply an acknowledgment of the skunky scents that waft through the air whenever the weed-friendly country crooner takes a stage, even in the heart of downtown Salt Lake City.
The Gallivan Center was packed for Nelson's show Tuesday night, and the audience was rewarded with a more energetic and fluid performance than the solid-if-chilly Red Butte Garden show last September. As long-time fans have come to expect, the concert was a rapid-fire run through American music history, from covers of the so-called Great American Songbook to versions of songs by Willie's heroes like Hank Williams and the Carter Family to Nelson originals that make up a major part of the American music canon of the past, oh, 40 years or so.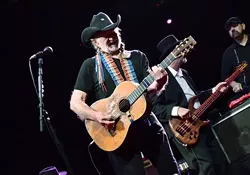 From the opening salvo of "Whiskey River" and "Still is Still Moving to Me," Nelson and his Family Band were in fine form. His sister Bobbie's roadhouse piano plucking cut through the air, as did harmonica man Mickey Raphael's hyperactive blasts on his instrument; they were both excellent throughout the night.
As per usual, Nelson kept the between-song chit-chat to a minimum, preferring to let his guitar Trigger do the talking through a series of inventive, jazz-inspired solos on songs like "Crazy," "Me and Paul" and "If You've Got the Money (I've Got the Time)." Not surprisingly, Nelson's take on "To All the Girls I've Loved Before" is actually better without his original duet partner on the tune, Julio Iglesias.
Nelson likes to organize his shows in short, themed sections, and it works surprisingly well. At one point, he dives into a min-set of Hank Williams covers, including "Hey Good Lookin'" and "Move It On Over." Then he'll dive into some old classics like the Carter Family's take on "Will The Circle Be Unbroken," the 1929 hymn "I'll Fly Away" and "Rollin' in My Sweet Baby's Arms," a tune bluegrass king Bill Monroe made his own.
Combined with a perfect, serene night and surrounded by the SLC downtown skyline, Willie's show proved an ideal capper for the summer concert season, even if we have a few straggler shows still to come in outdoor venues. And the best part is that, despite his age—Willie is now 78—we can probably plan on seeing Nelson and his Family Band coming back around next year.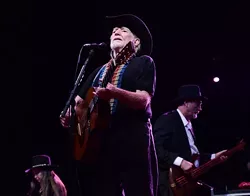 (All photos by Meredith Newsome)