With so many shiny new restaurants opening in our city, it's easy to overlook the tried-and-true classics. Bambara in the Hotel Monaco definitely is one of those. --- Having not dined there in quite some time, I dropped in last weekend for a pre-show dinner, prior to seeing Mary Poppins at the Capitol Theatre. I was impressed by both the musical and the meal.
Classic starters like blue cheese house-cut potato chips or the crispy fried calamari with chipotle tartar sauce will probably always be on the menu. They're crowd-pleasers. And, my 11-year-old son thoroughly enjoyed his perfectly cooked (medium-rare) dry-aged New York steak, accompanied by perfect French fries, seasoned with fresh herbs. This is a signature dish of chef Powers and, in my opinion, the best example of steak frites in our town.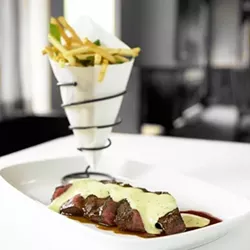 I also loved a plate of local organic chicken served with ham hock macaroni and cheese and grilled baby asparagus. The chicken was moist and tender, with crispy skin - no sous vide techniques necessary at Bambara; chef Powers knows how to cook with real fire.
New menu items include golden potato gnocchi accompanied by Jane's baby summer squashes, basil, fried garlic, chili flakes, cherry tomato coulis and local goat cheese. Another new dish is a delightful version of Caprese salad featuring local heirloom tomatoes with fresh buffalo mozzarella and arugula. Hawaiian tuna seared in a cast iron skillet was another revelation: cool and pink in the middle, with a crunchy crust, served with summer sweet corn succotash, smoky bacon, garlic-chive mashed potatoes and arugula pesto.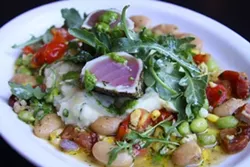 Service, under the watchful eye of new Bambara general manager Guy Wheelwright, was impeccable - just as it's always been. And, the ambiance at Bambara always makes me feel like I've escaped Zion for an evening.
If you haven't been to Bambara lately -- or ever -- I suggest checking it out soon, perhaps during the upcoming Downtown Dine O' Round, which kicks off on Sept. 16.