Hello to all you street-strolling, tent-peeking, craft-buying, food-munching, entertainment-viewing, gonna-get-in-the-last-few-festivals-before-the-snow-hits enthusiasts. --- As I write this, there's a certain festival happening in ... let's call it "Northern" Salt Lake City, where people are currently selling goods with food and music around them. I'd love to tell you about it, but last year when I made a Saturday post promoting the event, I got an angry anonymous e-mail from a supposed "organizer" of said event, who was ever-so-pissed that I had the gall to promote the event for free on my blog "without asking their permission first." So we'll skip over them and they can promote themselves however they wish. In lieu of a 337 update, here's some random art from the streets of SLC.
In the news department, if you hadn't caught wind yet, The Deathstar in Provo is officially dead. Continuing the time-honored tradition of Provo city officials not liking certain kinds of music, the venue was shut down after nearly 10 months of business due to a combination of demands from city officials and lack of attendance. The rumor mill has already started up that there are plans underway for a Deathstar 2, possibly in SLC. Whether or not it will actually happen is another question, but it is indeed a sad loss to the 100 Block in downtown Provo. Who will open the next hard rock venue in Utah County?
Moving onto events, tomorrow is due to be a somber day for many, but others would rather have you pop out and enjoy yourselves. And we'll start with a very different event marking a 10-year occasion: Pagan Pride Day. Crones Hollow will play host to the day-long event complete with workshops about pagan rituals and history, live music from Lady Of The Lake and Windwood, plus events for the kids like Mother Goose storytelling. All you need to bring for admissions is a non-perishable food item that will be donated to the AIDS Foundation.
If you're more into the flea-market setting, the next installment of the Urban Flea Market happens tomorrow at Washington Square. Each month, the event gets bigger and bigger with added booths from around the state, not to mention music being spun all day by KRCL's Bad Brad Wheeler. Go check it out and score some goods of your own.
And across the street at the Main Library is September's Craft Sabbath. With all the artists it's brought on board, not to mention the co-op show of SLCitizen at the front door, this short craft fest completely dominates the Library for four hours, bringing you the finest in hand-made goods and art from select vendors. Soap, chocolate, paintings, toys, jewelry and more are to be found. Spread some local love between the two events tomorrow.
With the exception of Gallery Stroll this Friday (which we'll discuss more of later on), the rest of next week takes a bit of a snooze except for a couple of concerts. It picks back up on the art front, however, starting at ... Whole Foods? The downtown location of Whole Foods has opened up a section of its store to display local art with a featured artist every month. It will kick the event off on Sept. 21 with Bethany Fischer of Patiri Photography. Artists have been scheduled out the rest of the year, as you can see from the flyer below, with a formal display night each month.
Meanwhile that same night, if you're more into local film, The Tower Theater is the place to be for the next installment of its Open Screen Night series. Hosted by the SLC Film Society, starting at 9 p.m. the theater will play short films made by local directors, then at the end of the night, the audience will vote for their favorite along with other awards to be handed out. It's completely free to view, but if you'd like to submit your own film for viewing, bring $5 and a DVD copy to the Tower before the event. Good luck to all who enter!
Next up, we head down south to Lake Powell for Powellapalooza 2011! Bid farewell to the summer in style with three days of music and sporting, not to mention the dozens of unofficial side-parties that are bound to happen. Local bands on the bill include GeorgeLife, Pig Pen, Fizzy Form, The Future Of The Ghost, Funk & Gonzo, Spell Talk, Holy Water Buffalo, Scenic Byway, Burnell Washburn, Roots Rawka, Wasnatch and Red Dog Revival. The event goes from Sept. 22-25; hit up their Website for more details of how you can get in on the festival.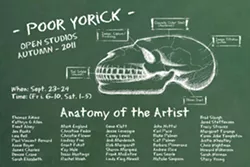 On Friday Sept. 23, we'll see the autumn open house for Poor Yorick Studios. Dozens of artists will open their studio doors at the massive artspace for you to come in and browse their work, completely free, along with the opportunity to buy some of their stuff. If you want to see some of the best up-and-coming artists in the valley mixed with established names, this is the place to do it. Friday night they'll be open 6-10 p.m. and then 1-5 p.m. on Saturday.
Then, two weeks from now is another Saturday packed with events, and we're going to skip right to the Utah Undie Run. Think the Zombie Crawl, only with no blood and less clothing. This run will have two meanings: the first, a protest against the state for having such an "uptight" approach to everything; and the second, the group behind it will be trying to set a Guinness World Record! The head count for the record will begin at 5 p.m. at the Gallivan Plaza, with the run starting at 6 followed by an afterparty at 10 p.m. You can get full details about the run on their Facebook page!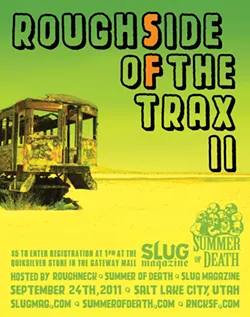 Meanwhile, over at Quicksilver at the Gateway Mall, SLUG Magazine will present the next Summer Of Death event: Rough Side Of The Trax II. Starting at 1 p.m., an entry fee of $5 will get you into the competition. There aren't a lot of details coming out about it yet, but considering the series itself, it's bound to be badass. Totally free to check out if you're not competing.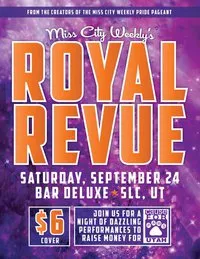 And then finally at the end of the night, just to wrap up the cheap plugs for stuff we're doing, City Weekly presents Miss City Weekly's Royal Review -- a variety show fundraiser for Nikki James's (2011 Miss City Weekly) chosen organization, Cause for Paws Utah, a pro-animal adoption group. Hosted by James and Gorgeous Jared with music by TiDy, we'll see performances from Portia, Britta Bandit, Jew Bear, Indi Skies and Shahravar, plus hypnotism from Jake Shannon. The event is being held at Bar Deluxe, $6 will get you in and you can get more details from the Facebook event listing.
As for the blog: The past few weeks have been rough getting stuff on board -- a lot of cancellations and changing plans, but the next couple weeks have some interesting topics. We'll be covering a local concert, talking with a recycling artist, chat comedy with a rising comic, visit Gallery Stroll (the official one this time), make a second attempt to chat with a local brewery and check out the latest online show. At least, that's the plan; as always, we'll see what happens.