For Labor Day this year, I made lobster rolls and put up photos on Facebook. The response and requests for recipes was so overwhelming that I thought I'd share my method here. ---
In New England -- and especially in Maine, where the best lobsters come from -- lobster rolls are as common during summer as hot dogs at a ball game. If you've never had one, a lobster roll is essentially lobster salad stuffed into a toasted hot dog-type bun.
But, just as with cheesesteaks in Philly, people are militant about their lobster rolls and what should go into them. Here is a recipe I like very much, but feel free to improvise and make it your own.
Serves 4 - you could easily double this recipe to serve more
Ingredients
1 lb. cooked lobster meat (shelled)
1 small celery stick, minced (some people like to use cucumber)
2-3 tbsp. mayonnaise, to taste
1 tbsp. chopped fresh tarragon (dill is also commonly used)
1 tbsp. chopped chives or scallions
1 tsp. kosher salt
1 tsp. black pepper
4 New England-style hot dog buns (see note below) 
2 tbsp. unsalted butter
Technique
Remove the shells from 3-4 (depending on their size) cooked lobsters, saving the lobster meat.
Chop the lobster meat into chunky pieces, but not too finely. You want to be able to see pieces of claw, tail, etc. Place the lobster meat into a mixing bowl.
Using a spatula or large spoon, gently fold in the mayonnaise, celery, tarragon, chives, salt and pepper. I am very judicious in my use of mayo. I want to taste lobster, not mayonnaise. Use as much or as little mayo as you prefer. You can do this well ahead of serving time to allow the flavors to come together. Cover and refrigerate at least one hour until ready to assemble the rolls.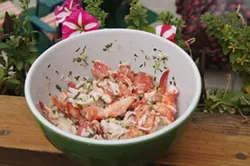 *A note about the buns: In New England, it's de rigueur to use "top-loading" hot dog buns. These are buns that are sliced on the top, rather than the sides, allowing the lobster roll to stand upright -- they're typically served in a rectangular cardboard container. Pepperidge Farm makes a good top-loader bun, but I haven't been able to find them here. So, I just buy unsliced hot dog buns (these ones came from Smith's bakery).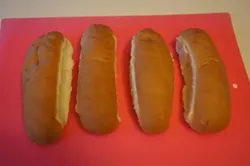 Using a pairing knife, I slice the tops to make pockets for the lobster.
Melt one tablespoon of butter in a large, heavy skillet over medium heat. Then, toast the buns on three sides (excluding the top), adding the additional tablespoon of butter if the pan gets too dry, until they are a bit crisp and buttery, about 6-8 minutes.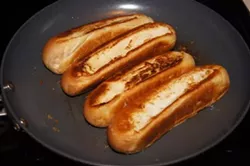 Then, simply stuff the buns with lobster and enjoy. It's common to serve lobster rolls with pickles and potato chips on the side.
Bonus: If you have leftover lobster, like I did, it makes for a great salad the next day.