I'm very frequently asked where I like to eat lunch. Well, that's a difficult question to answer; there are lots and lots of good lunch spots around. One place, though, that doesn't always come to mind is The New Yorker. --- And, that's a shame, because lunch at the New Yorker or New Yorker Cafe is always a very enjoyable experience. It's a sophisticated (although not necessarily high-priced) escape from the mundane.
The New Yorker -- which has been thriving since 1978 -- is one of the few places where people still dress up for lunch. Sure, there are lots of blue- and gray-hairs dining there. But then, I've got a few gray hairs myself. I like the cosmopolitan and classic feel of The New Yorker. And, longtime executive chef Will Pliler's cuisine is always dependable and delicious.
In addition to the regular New Yorker lunch menu, there is also a two-course prix-fixe option for $10 that includes a Caesar or mixed-green salad or bowl of homemade soup or dessert. When I visited for lunch this week, soup options included a chilled cantaloupe soup and a creamy tomato soup. Prix-fixe lunch entrees range from "Kick-Ass Chili," which is some of the best, chunkiest, beefy chili in town, and Colorado lamb ribs to Seafood Fettuccine with shrimp, calamari and mussels in a spicy tomato sauce with fresh fettuccine. Why, you can even get chicken-fried steak, or a classic Cobb Royale salad topped with Maine lobster.
I took some food photos of my tasty New Yorker lunch. (My apologies for the less-than-ideal photo quality; I brought the wrong lens with me and so they have a little bit of a yellowish hue.) The actual dishes are much more appealing looking and colorful than these pictures demonstrate. Stop in for lunch sometime and see for yourself!
Panko-crusted crab cakes with curry-avocado-mango salsa ($14)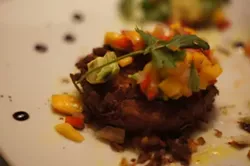 Chilled cantaloupe soup with creme fraiche ($7)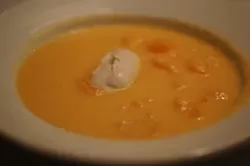 Onion soup gratinee ($8)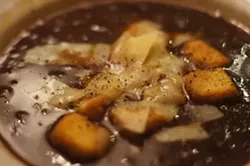 Chopped salad with roasted chicken breast on risotto (from the $10 prix-fixe lunch menu)
Lobster rolls sliders with heirloom tomatoes and Kennebec fries ($16)
Filet of Atlantic salmon with chive-butter sauce (from the $10 prix-fixe lunch menu)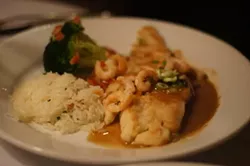 Grilled New York Steak salad ($16)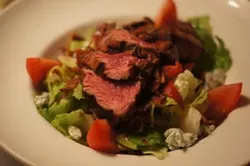 The New Yorker
60 West Market Street
Salt Lake City
801-363-0166
www.gastronomyinc.com/newyorker/