Gather 'round, children. It's time for another edition of Uncle Gavin's Story-Time. This week's tale: Red Rock Tumble. --- Over two years ago, I had set up an interview with the owners of Red Rock Brewing for the blog, the goal being to talk about the company's history and the brewpub as I was starting to get into the groove of chatting with breweries. Everything had been set up, their marketing staff was more than helpful --  I even went in and took pictures of the downtown location. Then, two days before the interview was to happen, they both backed out and gave absolutely no reason why. In fact, aside from their head marketing guy, who was extremely friendly and apologetic, I've never heard from either owner to this day why they chose not to do it. Being the vengeful fuck I am whenever someone bails on me, I posted an entry letting people know that they refused to do the interview and haven't dropped a single dime of my own money into their product since. (I'm sure Squatters thanks them for all my dates and interviews held at their establishment.) Needless to say, the experience turned me off from interviewing breweries in general and has taken me some time to come back to doing it.
Fast forward to the 2011 Utah Beer Festival, where I had the opportunity to talk with Red Rock's head brewer, Kevin Templin, who was displaying their Reve brew in the VIP tent along with a discussion behind the brewing process. After drinking a few samples and talking about the company, I explained the situation from 2009, to which he replied, "I will give you an interview anytime!" So I took him up on the offer. Today, we'll be chatting with Templin briefly about his career in brewing, joining Red Rock, thoughts on the company today, Utah beer in general and a few other topics.
Kevin Templin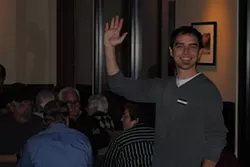 http://www.redrockbrewing.com/
Gavin: Hey, Kevin. First off, tell us a little bit about yourself.
Kevin: My name is Kevin Templin, I am married with two amazing kids: Porter and Haile. I am head brewer at Red Rock Brewing Company.
Gavin: What first got you interested in brewing and what were some of your favorite brews early on?
Kevin: I like beer -- especially craft beer. Some of favorites include Sammy Smith's and Sierra Nevada Pale Ale.
Gavin: What was your first venture into home brewing like, and what lessons did you learn?
Kevin: First home brew was when I was living at Alta. It was a Dunkle Weisse. I learned that cleanliness is everything.
Gavin: What made you decide to take the leap into professional brewing?
Kevin: I realized I could turn my passion into making a living.
Gavin: You started out by volunteering at Desert Edge. How did you get into that gig, and how was it starting off as a volunteer?
Kevin: I bugged Al Dieffenbach until he finally said I could help. It sucked. All work and no glory. All I could do was watch as he made beer. He made me do the dirty work.
Gavin: What was it like for you being hired on and officially becoming a brewer?
Kevin: It was a pivotal moment in my life. I was doing something I loved. I could create something people really enjoy.
Gavin: What kind of brews did you make while at Desert Edge, and how were you offered the job at Red Rock?
Kevin: I made Hefe, Pale, Stout ... and common, specialty or what was on the beer list they had at that time. I was employed at Alta. Eric Dunlap called me and asked me if I wanted the job. I quit Alta the next day -- which was a very hard thing to do -- and started working for Red Rock. Turned out to be the best decision in my life.
Gavin: What was it like taking over that position, and what changes did you make when you started up as head brewer?
Kevin: It was hard. I was nervous -- didn't want to mess any beers up. I didn't change anything, only wanted to add something special that was already good.
Gavin: Being the head brewer and brewing manager, how much time do you put into crafting the beers yourself and how much do you leave to the rest of the staff?
Kevin: We all work together. Everyone needs to be on the same page. We all need to agree on the beer, or we won't do it. I am very involved in the entire process, from grain to glass.
Gavin: What's the process like for you when creating a new brew, from the idea to the final product?
Kevin: Inspiration is all around, whether it be from other craft brewers or just an idea for something new and different.
Gavin: At the pub, is it a challenge brewing beer on a daily basis to keep everything the same, day-to-day?
Kevin: It can be a challenge, but not with the great staff at Red Rock. Everyone loves great beer, and making great beer. That diligence leads to great work.
Gavin: How do you decide on making specialty brews that are only served in the pub?
Kevin: We come up with ideas for something new, an experimental beer, and give it a try. Ultimately, the customers decide if it stays or if it goes.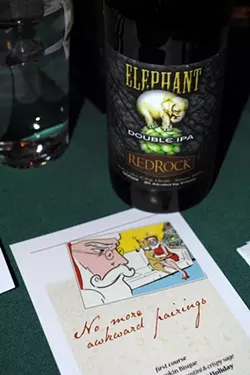 Gavin: Has there ever been a beer from the pub that was eventually put into mass production?
Kevin: Over the last few years, we've had a lot of success experimenting with different styles. Our Red Rock Reve is a barrel-aged triple that stays in French oak for a year before it's ready. Our Paardebloem is a dandelion-based beer that was created in conjunction with Chris McCombs at New Belgium Brewing. Most recently, our Saison proved popular on tap, so we bottled it as Le Quatre and have been very happy with customer response.
Gavin: How have people from out of state taken to the place?
Kevin: Our local customers are our main focus, of course, but we have a lot of people who follow us around the world. We even grabbed a couple of medals at the Australian International Beer Awards in 2009.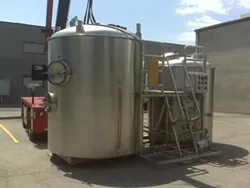 Gavin: Are there any upcoming places, changes or additions coming to either the brewery or the pub, or will you be sticking to how things how are for now?
Kevin: We recently opened our third restaurant at the Fashion Place Mall. The brewery was expanded a couple of years ago to prepare for that. We've been bottling more and more, especially with the success we've had with our Elephino Double IPA and Le Quatre Saison.
Gavin: Going a little statewide, what's your take on the current liquor laws, both good and bad?
Kevin: The best you can do in Utah is keep your head up and follow the rules. They'll change again soon enough.
Gavin: What's your relationship like with other breweries and brewpubs around the city?
Kevin: The other brewers in town are among my best friends. It's a close-knit community; very collaborative. Red Rock has an open-door policy for any brewers in the state.
Gavin: Being a local business in downtown, how is it running the place in this current economy?
Kevin: It presents challenges. But we live and die by the philosophy of providing a quality product at a good price. It's served us well for almost 18 years now.
Gavin: What can we expect from both you and Red Rock over the rest of the year?
Kevin: We're going to be launching a new beer, Secale, that has been a collaboration with High West Distillery. It's a lager that is aged in their rye-whiskey barrels. We'll also have a new version of our Golden Halo blonde ale. And, for the holidays, the return of our popular Griswald's Big Holiday.
Gavin: Besides the obvious, is there anything you'd like to plug or promote?
Kevin: Over the last couple of years, we've been heavily involved in becoming more environmentally responsible. We participate in glass-recycling programs. The spent grain from the brewery is donated to local farmers. Wind power has become increasingly important to our business, as well. There's always more that can be done, and we're working on continuing that.



| | | | |
| --- | --- | --- | --- |
| Follow Gavin's Underground: | | | |