Probably one of the strangest imports we've seen in a long while has been the tiny "blind box" toys. --- If you haven't seen them, a trip to your nearest comic-book shop would be suggested, but essentially they're small vinyl figurines that barely move, which come inside boxes that you don't know what's inside. The craze has since caught on with pop culture and has become a game for many to collect complete sets.

On a local level, the Tiny Robot Factory was founded back in 2008, cranking out small handmade figurines with a technical twist: each one being a unique creation, made with the single purpose of delivering love to its owner whenever needed. The stand-alone toys have caught on big with kids and adults, becoming a hit at local art and craft festivals. I got a chance to chat with creator Sunny Tellone about her little friends and the business in general, plus her thoughts on local crafts.
Sunny Tellone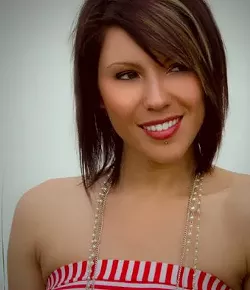 http://www.tinyrobotfactory.com
Gavin: Hey, Sunny. First thing, tell us a little about yourself.
Sunny: Hi, Gavin. Well, I'm a freelance illustrator, and when I'm not drawing I spend my time making tiny robots and writing/playing music. I'm fairly new to Salt Lake City, but have been spending a lot of time traveling around a little bit lately, since being self-employed allows me to take my work with me wherever I go.
Gavin: What first got you interested in art and design, and what were some early influences on you?
Sunny: I've been told that, for a 4 year old, I was pretty good at drawing and I guess I just never stopped. In junior high, I began sculpting for fun. I was naturally good at crafty things, so they were fun for me to do, and I have a mom who encouraged every illustration, sculpture or project I could come up with. My earliest influence would undoubtedly be old Disney animation. Sleeping Beauty's sharp edges and depth blew my mind even as a seven year old. I loved the stories and magic of it all, but mostly I was interested -- and still am -- in the behind the scenes and how it's all made, from beginning to end. Then I saw Tim Burton's The Nightmare Before Christmas when I was 12 and it changed me forever. I love creepy things, Halloween and stop-motion, so, needless to say, it opened my eyes to a new universe of creativity and expression.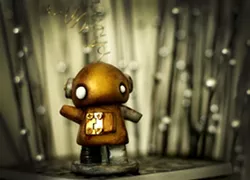 Gavin: You received your bachelor's degree in digital art and design from Full Sail University. What made you choose its program and what was that time like for you?
Sunny: I have interests in a lot of different areas of entertainment and art, so I wrestled with the thought of going for either their film or computer-animation degrees. During my deliberation, I found that their digital art and design program had a pretty good mix of digital-video classes, along with design, traditional art and more. When I found that, I made the decision to take that course, which was well-rounded and touched on my different interests. My time at Full Sail was pretty great. While I was there, I learned a lot and met some pretty amazing and talented people.
Gavin: Shortly after you got your degree, you started teaching classes at the school, and for a time worked for Full Sail as an online-content developer. What made you decide to continue working with the school after you were finished?
Sunny: I don't currently do any work for Full Sail, but enjoyed working there while I did. I learned so much and, similarly to being a student, met some really wonderful and inspiring people. It was an experience I wouldn't trade for anything.
Gavin: How was it for you breaking in as a freelance artist, and how did you manage to land the gigs with PUSH and iStock?
Sunny: Breaking in as a freelance artist was a little difficult at first because I was working a full-time job. I was afraid to actually land a real project because I was so busy with my day job and TRF. Mostly I did small projects here and there, for clients who wanted a little avatar for their site or a doodle for a T-shirt. I was also building up a portfolio for iStock in any free time I had, so that helped me gain a little bit of credibility, as well. Anyone can contribute to iStock if their work meets certain guidelines and requirements. I highly suggest it for illustrators out there who don't know what to do with their free time. It's a great way to contribute your artwork and make some money. As for PUSH, I personally knew quite a few of their employees at the time. They needed an illustrator and contacted me, so despite my fear of not having enough hours in a day, I took on the project. I was excited to have them as a client, so the late nights weren't so bad after all.
Gavin: How did the idea come about to make the tiny robots?
Sunny: The entire thing was quite literally an accident. I was trying to redesign my resume, and as any designer or artist knows, branding for yourself is a daunting task. Frustrated and starting over for a third time, I doodled some odd rectangular shapes and gave them asymmetrical blank "eyes," and before I knew it, had drawn several of these worrisome little robots all along the bottom of my page. They were holding hands "Red Rover" style, with every other one being a panda, for some reason. I thought the robots were kind of cute, though, and in the coming days thought of them again and how I hadn't sculpted anything in a long time. The shapes seemed simple enough, so I thought I would get some clay and make a couple, just for fun. It's hard to deny yourself a project once you think of it, so I really had no choice.
Gavin: How did you start putting them together, and what were the first few robots you created?
Sunny: After I purchased all of the supplies I needed, I immediately got to work. First, I made two little silver robots who now, when I look at them, are so off kilter and funny to me. They have buggier eyes than the robots today and aren't quite as grungy, but I love them so much for being the start of it all. Others I made had painted circuit boards, some were tall or chunky or even had an eye popped out on a spring.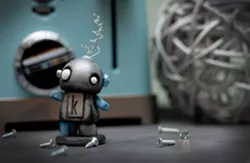 Gavin: What made you decide to start up a business around them?
Sunny: I was getting really great feedback from the first set I'd made and pretty soon was hearing some lighthearted requests to make more. I did just that. I made several, all different but along the same creepy white-eyed style. A few friends, mostly designers with vinyl toys on their desks, started requesting them for their homes and work-spaces. I sold them at $25 each and gave some as gifts here and there. As time went on, I got kind of addicted to making them. They were gradually becoming more elaborate and the time I was putting into them was adding up. It just made sense to me to start this company and attempt to at least make back what I was spending on clay, paint and my other odds and ends of supplies.
Gavin: What's the process that goes into making each one and how do you decide on how they'll look?
Sunny: When I first started out, I would begin with a sketch, and then I would begin molding it, but now that I've made so many over the years, I just think of what I'm going to do and go for it. I'll sculpt it, and then bake it in the oven to harden the clay. Then when they cool, I can sand them or do any carving -- that's necessary when tiny doors are involved -- and then finally paint them. The painting is done in multiple stages, followed by a protecting clear coat and a final glossy coat over the eyes to give a little life. It's quite time-consuming but a lot of fun to see how I can make each one a unique piece of art with its own personality.
Gavin: Early on, you made the decision to make each one individual and not repeat. Why did you choose to do that, and what kind of challenge is it for you to come up with new designs?
Sunny: When I first started the robots, I was overwhelmed with ideas, so each of them were different and I was always excited to make a new one with a new look. The ideas were coming to me faster than I could make them, so I think that's why I started sketching them out. Like a "to do" list so I wouldn't forget what I wanted to create. Now I literally write out notes for the ones I want to make that I don't want to forget about. It's not really a challenge yet to come up with new designs. I feel that I have such a long list in the back of my mind of different themed robots that I want to make that the possibilities are really endless. It never hurts that I have friends who get really excited and request customs that they've thought of. It's a lot of fun to see other people getting as excited as I do about something I love so much.
Gavin: What was it like for you breaking out onto the local craft scene and taking part in local festivals?
Sunny: At first, it was a little nerve-wracking, strictly because I'd been trying to develop this company while working a full-time job. Now I'm a freelance illustrator, so I make my own hours, but am often juggling multiple projects with multiple deadlines. I have to be really organized and careful with how I spend my time, so when I have to prepare for a craft festival things get a little hectic for me. However, it's totally worth it after meeting new artists and people who want to support me in what I do. It's very encouraging and I can't wait to dive into the next one.
Gavin: Beyond Utah, you're currently marketing on Etsy with robots on display that haven't gone on sale yet. What made you decide to sell them that way, and how has it worked out for you since starting up your online shop?
Sunny: I decided to sell on Etsy because it's such a well-known site and I like to be able to find and connect with other artists. I haven't made a whole lot of sales on Etsy, however, as most of them come from people I meet in person who want to order a custom as a gift for someone. At the very least, it's a URL I can give someone so they can see what I have available.
Gavin: Considering the size and the function of the robots, are there any plans to possibly sell them the way of the "blind box" toys from Japan? Or possibly just selling them at local shops, as is?
Sunny: Yes to both! It's my goal for TRF to come out with vinyl robots very soon. I've already developed a prototype for my first vinyl design. It will be a limited edition and then once that design is sold out, it'll be gone forever. I love the idea of something being kind of rare, so I think that will be fun. I am also very much interested in selling the handmade figures in local shops. It's something I've looked into and am still pursuing.
Gavin: Have you thought of expanding the line with different products yet, or are you concentrating on just making the robots for now?
Sunny: I am currently making things like Plush-bots, Baby Voodoos (a little plush voodoo doll robot), little robot magnets, and tiny robot paintings on 2"x3" stretched canvases--but for now everything is a robot. I've considered other creatures and things, but I really have my hands full with what I'm working on so far.
Gavin: Moving onto local topics, what's your take on the Utah craft scene, both good and bad?
Sunny: I'm so new to the Salt Lake area that I haven't had much experience yet in the craft scene. The only thing I've had the chance to be a part of so far has been Craft Lake City and it was a really great experience. I met some wonderful artists and got really positive feedback from people I met throughout the day. I can't count how many times I was told to check out Craft Sabbath and that TRF would do well there, so I'm looking forward to checking it out soon.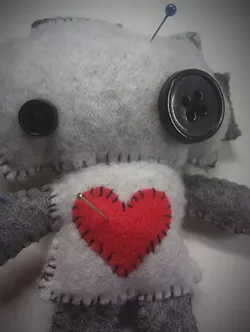 Gavin: Is there anything you believe could be done to make things more prominent?
Sunny: I think in a smaller city it's tougher to find buyers, or people who are willing to -- if they can, of course -- support the art they love by making a purchase. Sometimes I wonder if they're aware of all the work, time and effort that goes into handmade items.
Gavin: What's your opinion on the rise of craft fairs such as Craft Sabbath, Craft Lake City and the Beehive Bazaar, and the work they've done to promote local artists?
Sunny: From what I've seen so far, it seems like these craft fairs are doing a really great thing. I'm such an advocate of good craftsmanship and seeing local artists be able to thrive and do what they love and be able to share that with the community. It's so rewarding as an artist to be promoted and have the opportunity to gain exposure through such an outlet.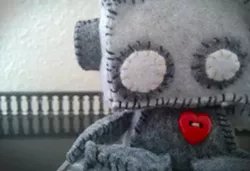 Gavin: Who are some crafters that you've been checking out lately, or like to buy items from?
Sunny: I'm a huge fan of Kit Lane's work and her needle felted "Little Oddjects," as she calls them. They are literally the cutest things I've ever seen. If you want your heart to melt from cuteness, check out her work. Another favorite is Cotton Bird Designs. One of Angela's handcrafted birds was given to me as a gift and I was so impressed with even the packaging alone. It was beautifully wrapped with great care, and then I got to the actual gift. Standing on black twisted-wire feet was a satiny olive-green bird perfectly stitched and stuffed with a little wooden heart hanging from its beak. It was a beautiful product and the perfect gift.
Gavin: What can we expect from you and the Tiny Robot Factory the rest of the year?
Sunny: For the rest of this year, I'd really like to focus on holiday-themed robots. It's something I try to get around to doing every year since I started making them, but am really hoping to get the spooky ones made in time for Halloween. Also, as I mentioned earlier, I'm working on the first vinyl model, so, hopefully, I can get that done sooner than later! Keep an eye out!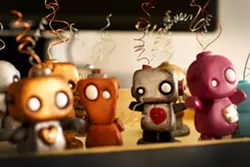 Gavin: Aside from the obvious, is there anything you'd like to promote or plug?
Sunny: Well, since I made such a big fuss about being a freelance illustrator, I just might have to take this time to promote my work. I can be found at SunnyTellone.com, and have a sketch blog I post to more frequently. Thanks, Gavin.



| | | | |
| --- | --- | --- | --- |
| Follow Gavin's Underground: | | | |