Hello to all you drum-beating, march-stepping, sign-raising, chant-writing, cause-supporting, we've-taken-over-Pioneer-Park-and-turned-it-into-The-Occupy-Quarter enthusiasts! --- Chances are, if you're a part of the Occupy SLC movement, you're either reading this in the cold from your smart phone, or you went home and showered for when you'll be going back on Sunday after The Farmers Market leaves. Surprisingly, at least at the time of this blog post, it has been pretty peaceful at the park, with little to no confrontations or hassles. Not even the homeless are giving the protestors shit, and they're super-territorial. If you keep your eyes peeled on our News Blog, you'll see City Weekly's Lexie Levitt is doing daily reports from the makeshift township, which currently has a school and a kitchen, among other fixtures. Come to think of it, if you're unemployed and support the cause and are looking for something to pass the time, you might wanna take your skills to the park and chip in. In lieu of a 337 Wall update, here's a picture of those protesters taking a march today on downtown SLC.
In recent developments, we'll be starting with the formation of Totally Rad Comics. Derek Hunter, creator of Pirate Club and Derek Hunter Is A F**k, teamed with his wife, Rachel, to post material that they've created. But that quickly changed as they wanted to highlight the comics coming out of the talent pool we have here in SLC, so the couple opened their Website to more artists. So far the Website has been used to promote their own work, such as the Skid Marks Mini Comic Collection (seen below) and the action comic Lobster Ladd, but it appears that the door is open for comic-book artists to join up. This is something we've needed in the comic-book community for a while now, and if you're a creator looking for a spot to show off your skills, I'd recommend hitting them up.
Moving onto events, tomorrow we'll see the last edition of the Urban Flea Market for 2011. The Market has been growing and flourishing every month since starting a few months ago, which has sparked some new life in downtown on the occasional Sundays and sold off a lot of goods that normally wouldn't have been found in local shops and other markets. It may be slightly cold out tomorrow, but do yourself a favor and go browse the market before it goes away for the year.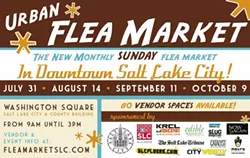 Skipping down the week to Friday, The Boys & Girls Club of South Valley will be presenting All For One -- an urban-sport competition unlike most you see throughout the year as the club takes over the We Are One skatepark in Midvale for a multi-event competition. As indicated by the poster below, bring your board, bike, skates or even scooters to compete for prizes and top honors. Check out the flyer or ring the number below for more details.
Next Saturday, we'll see two different events. The first kicking off at 11 a.m. will be the Night Of The Running Dead, wherein the Utah State Fairpark turns into the apocalyptic registration point for the second-annual 5K race for your life -- or lives, depending on which side you choose. The fun part about the event is that you can register as Zombie or Human: If you join the living, you're given a two-minute head start to "survive," and if you join the undead, you get to dress up with fake blood and go after your next meal. There will be a Creep & Crawl and a costume contest before the event, followed by the actual 5K at 3 p.m., and if that weren't enough, they're trying to achieve a world record with the event! Come on out and support the cause and the efforts.
When you're done racing, head on over to Sam Weller's for its final artistic showcase before the staff packs up shop off Main Street and heads over to Trolley Square. "Passage: A Tribute To Place" will kick off at 7 p.m. featuring works from Jared Clark, Cara Despain, Tessa Lindsey, Brian Patterson, Claire Taylor and Patrick Weeks. The exhibition is in tribute to the bookstore holding court on Main for 50 years, which includes a spectacular fire, reconstructions and downtown redesigns, Trax installation and many other trials it's had to endure as a business. Come check out the event and the art and bid Sam Weller's current location farewell in style.
On Monday, Oct. 17, The Hive Gallery will play host to a Halloween photo contest. For $15 ( $10 for students) you can enter the contest and submit two photos on the theme "A Dance With Death." These monthly competitions have become a staple of The Hive Gallery over 2011 and tend to bring out some of the most creative artists, specifically from local colleges, which gives a lot of hope to the future of our art scene. The winners will be showcased at the Dead Artists Ball at Fat's Grill (check back in 2 weeks) with a grand prize going out to the winner. For more details, check out the gallery's Facebook listing for the event.
To wrap it up, a little event not a part of Gallery Stroll this month is the "This Nerd Is Nerdy" exhibition at Copper Palate Press. Pop-culture artist Dave Styer will be showcasing new works for his first solo show at the back-alley artist collective on Friday, Oct. 21. You're never quite sure what to expect from Styer, whether it's his take on Star Wars or The Office, Ghostbusters or Little House On The Prairie, He-Man, Mork & Mindy, Logan's Run, etc. This is definitely one show you will want to peep out, and possibly end up walking away with something from.
As for the blog ... we'll check out what's happening with the next AMF event, look at the work coming from a T-shirt company, preview the next season opener for a theatre company, interview the latest winner of Open Screen Night, hit up a local concert and get the details on a roller derby championship game! At least, that's the plan as of today -- who knows what the next couple of weeks will bring? As always, we'll see what happens.



| | | | |
| --- | --- | --- | --- |
| Follow Gavin's Underground: | | | |