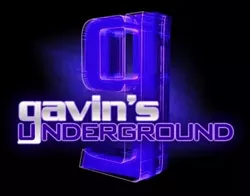 For two straight years, the Art Meets Fashion series has tied together two major aspects of the local entertainment scene to benefit some good causes. --- Created by Anne Cummings-Anderson and Heidi Gress of the now brick-and-mortar-less (a)perture Marketing, the single-night event brings together top names in local fashion with some of the most creative minds from the Utah art scene, with all the proceeds from the evening going to a specific group or cause -- essentially, a night of partying that benefits.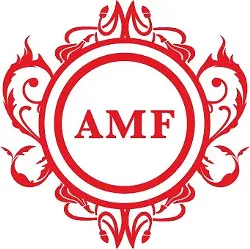 This year, the duo return with the third installment of AMF, moving the growing festivities over to 404 West and 700 South where they'll take over the entire building. The runway will feature new works from designers Shelly Huynh, Andrea Hansen, Roberto Leone, DesNeiges Gregory, Danny Nappi, Andrea Black, Mary Rino and SLCC Fashion Institute. On the art side is an array of musicians, photographers, video installations and fine artists, some of who haven't been named yet to keep the night a surprise. Tickets are currently on sale at $50 per person ($25 for students) with all proceeds going to the YWCA. To give you a preview of this Saturday's extravaganza, we chat with artist Camilla Taylor and fashion designer Roberto Leone about their respective works and the event, plus a few other topics along the way.
Camilla Taylor
http://horsefleshproductions.com/
Gavin: Hey, Camilla. First thing, tell us a little bit about yourself.
Camilla: I recently moved into a loft space in the garment district in downtown LA after graduating with my MFA in printmaking from Cal State Long Beach. I'm working at Josephine Press in Santa Monica, a press which specializes in intaglio. For my own personal work, I primarily work in relief and screenprint to make sculpture/printmaking hybrids using fabric and steel, but the work I'm sending to AMF is from a series of screenprinted portraits I'm doing of friends and relatives.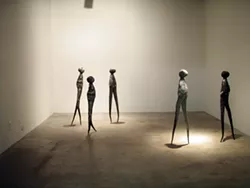 Gavin: How did you first take an interest in art and what were some of your early inspirations?
Camilla: I used to love scientific illustrations; I feel that precision is still evident in my own work, but maybe what I think of as precision is really just anal retentiveness. I started printmaking in high school because my high school art teacher, Jamie Rees, is also a printmaker. That's also how my little sister, Claire Taylor, got into printmaking.
Gavin: You originally received your BFA at the University of Utah before going on to California. What made you choose the U and what was its program like for you?
Camilla: I chose the University of Utah largely because I couldn't afford to go out of state, and it seemed like a pretty good school. I couldn't afford to shop around much, but I think it worked out all right. The program there is small but supportive, and Justin Diggle, head of printmaking at the U, is still one of the best and most involved professors I've ever had.
Gavin: While earning your degree, what drew you toward printmaking?
Camilla: I had already decided I wanted to be a printmaker when I was in high school. It was perhaps a little too singleminded of me, but I entered the university with my specific focus in mind. Both my little sister and I had a high school art teacher who introduced us to printmaking, so that could be why we both ended up going into it.
Gavin: How was it for you breaking into our art scene at the time and doing exhibitions?
Camilla: I lucked out because I had a class with Kenny Riches as an undergrad and he then went on to found Kayo Gallery. And since then, most of the exhibiting I've done in Salt Lake has been through Kayo. But I also did little shows with friends in weird places, like Kilby Court, a show in the warehouse I used to live in, and one time Trent Call, Russell Daniels, and I organized a big Xerox art show at Monk's House of Jazz. Maybe the big difference between then and now is that I just don't have the personal time or energy to organize big weird shows anymore like I used to, let alone the interconnected community that Salt Lake has that made things like that so much more easy and possible.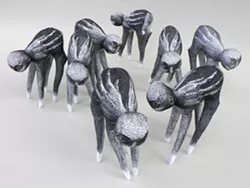 Gavin: During your time here, you received a lot of press, and even picked up a couple Arty awards. What's your take on receiving that kind of recognition and exposure during that period of your career?
Camilla: It was fantastic; I can't lie. One thing I still miss about SLC is how supportive the arts community is. Maybe because you can easily walk between the biggest concentration of galleries, but it seemed really effortless to meet everyone and get into some great group shows. The Artys I received were after I had moved to Phoenix, so I never even got to attend the parties! If I ever manage to get a third, I will need to bribe someone in the office to let me know with enough advance notice to be able to fly out for it.
Gavin: Why did you choose Cal State for your MFA rather than head back to the U? And how does its program differ from the U?
Camilla: I moved to Phoenix and lived there for two years before I applied to an MFA program. At that point, I didn't consider the U at all as I didn't have a financial benefit to returning, as I wouldn't be a resident anymore. But mostly, I think it's important to get a variety of perspectives from different professors and instructors. While I loved the U, I had already had classes from there and wanted a fresh viewpoint, both from the local culture and from the institution. CSULB just had a huge printmaking department and accomplished instructors. Their arts college is the largest at a public university in the States, so the critical feedback was vast and varied. One of the great benefits of the program is that it's right next to LA and many of the part time instructors are critics and working artists whom I wouldn't normally get a chance to meet. I wanted to go to graduate school so that I could get more informed and better critical feedback, so I wanted to avoid redundancy by attending a school where I already knew the teachers.
Gavin: You've branched out into other areas such as crafts. What drew your interest toward that?
Camilla: Like most artists, I'd like to be able to just live off of the things I make, though it's sometimes difficult to find buyers for larger sculptures, and I'd still like to be able to sell things that I create. Crafting is a way for me to still create things and sell them to a wider audience. If I view the crafty boutique objects as separate from what I consider my art, then I don't feel conflicted about charging $50 for one thing and $2,500 for the other. But I still worry about dilution of my image as an artist. I don't know if someone will necessarily make those same distinctions I make when they see the two things.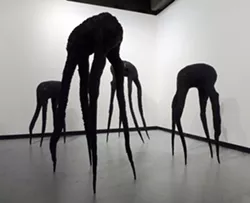 Gavin: What made you join Art Meets Fashion this year, and what can we expect to see from you at the event?
Camilla: I hadn't heard of the event until Anne invited me. I wish I had a better response, because now I'm really excited to be a part of it, but when I first got the invitation, I thought that it sounded legit enough to give it a try.
Gavin: Moving on to local stuff, what are your thoughts on the Utah art scene today?
Camilla: I haven't had a solo show in Utah for about 6 years, so I don't really have a great feel for what it's like to be a working artist in Utah anymore. In the group shows I've been in and the print exchanges I've put together, it seems very much like I remember it: People come out, are very supportive and wonderful, and it feels a bit like a reunion because the community is so tight-knit and close.
Gavin: Having been slightly removed from it for some time, what differences have you seen from the time you were here to now?
Camilla: The emergence of Captain Captain, Copper Palate Press, and the now defunct Garfo have all been interesting. And occasionally, I must admit, I've been a little peeved with SLC that many of these remarkable things start happening after I left. The arts in SLC seem to be growing in scope as well as maturing from what it was when I was living there.
Gavin: Is there anything you believe could be done to make things more prominent?
Camilla: I don't ever see SLC or Utah galleries at any of the national art fairs, and I wonder what it could do to just have one great gallery show up with a booth full of the contemporary work that's being made right now. People that I meet seem surprised that I came out of Utah, but it's because they just don't have any other expectations besides skiing and Mormons. Is it possible that the economy could sustain a real blue chip gallery in Utah? I don't know, but I think something like that could make a huge difference.
Gavin: Being a crafter, what's your take on the rise of the craft movement in Utah and the works coming out of it?
Camilla: Besides selling things at Frosty Darling, I haven't been around for much of it. I haven't had a chance yet to attend Craft Lake City, sadly, but I'm hoping I see it eventually.
Gavin: What can we expect from you over the rest of this year?
Camilla: I've started working at Josephine Press in Santa Monica, so, hopefully, by the time this interview posts I'll have my workshop schedule for the year up. Besides that, I'm planning on making bigger work since I just moved into a huge beautiful new studio and need to cram it up with stuff soon.
Gavin: Is there anything you'd like to plug or promote?
Camilla: I'm teaching a workshop at SaltGrass Press, Alternative Surfaces, on Oct. 15 and 16. I'm also showing work, some of my sculptural prints, at SaltGrass, with an opening reception on the 14th, 6-9 p.m.
Roberto Leone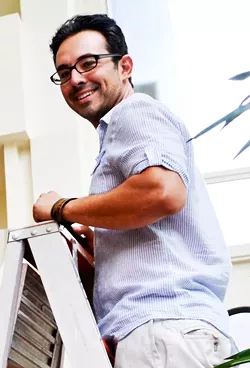 http://www.leonescollection.com/
Gavin: Hey, Roberto. First off, tell us a bit about yourself.
Roberto: I am born and raised in Salt Lake City. My parents are both immigrants from Italy. I own a dry cleaners called Leone's and design suits for Leone's Collection.
Gavin: What first got you interested in design work and fashion, and what were some early influences on you?
Roberto: My very first influence for tailoring was my father. He is a master tailor, trained in Italy. I grew up with his clients coming to our home when I was just a young boy. As far as fashion goes, I have always been very interested in fashion. Italian culture is very focused on fashion. I guess you could say I have that "Italian-design gene"
Gavin: Did you seek out any education in fashion or were you more self-taught?
Roberto: As far as formal education goes, I have never had any formal training. Most of my education is from my father and self-taught. I definitely have had a lot of trial and error. When you are passionate about something, you don't give up.
Gavin: What drew you to creating suits and creating more tailored looks for men?
Roberto: I think that most men have been under the assumption that fashion is strictly for women. I disagree. Typically, men buy suits out of necessity. Most stores sell men's suits that are ill-fitting and boring. I wanted to give men the chance to design and create a unique look that they are comfortable wearing and stand out in.
Gavin: How did the idea come about to start up Leone's Collection?
Roberto: I was not happy with menswear in Utah. I traveled to Italy several times and came back to Utah to find similar styles and never found anything close. I decided that I was not the only one in search of great menswear and started Leone's Collection.
Gavin: What was it like for you starting your own line and getting the company up and running?
Roberto: It has been a lot of work and continues to improve and grow. I am always making changes to create a better business.
Gavin: What was the experience like releasing your first collection and hearing feedback from the public and your peers?
Roberto: I was very excited to share my passion with others, yet nervous to see if others understood my take on menswear. I was pleasantly surprised with the response I got. We now make suits for all ranges of men, from very conservative businessmen to very fashion-forward men. That is why it is custom -- we design and tailor it exactly for you.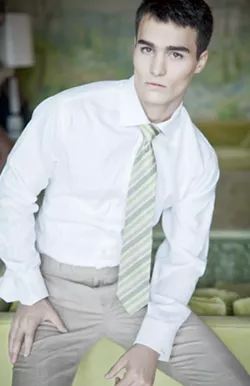 Gavin: Was it a challenge developing your brand over the years or did it come easier with time to define it?
Roberto: It has been challenging over the last few years, especially. Fashion for most people is not a necessity.
Gavin: What's the process like for you in creating a new design, from sketch to final product?
Roberto: The first step is to decide what color of material the customer is looking for. Then we move to texture and then to details. The details are what really make the whole custom-suit experience one of a kind. The customer, along with my guidance, chooses their lapel style, lining options, saddle stitching, real working buttons and name embroidery. The best part of the whole process is seeing the final product come together!
Gavin: Do you usually stick to what you've created from the start, or are you constantly tinkering with it until you feel it's right?
Roberto: I am constantly getting inspiration, so my designs are always changing. I will get an idea and think it is great and the next morning change a few things until I get it perfect.
Gavin: What made you join Art Meets Fashion this year, and what can we expect to see from you at the event?
Roberto: We were approached by Heidi to do AMF, and after meeting with her and realizing how genius and professional she was, we knew we could not pass up this opportunity. AMF is definitely a one-of-a-kind event in Utah that we are proud to be a part of. You can expect to see a lot of very European looks -- shorter pants, lots of color and great prints!
Gavin: Going on to local stuff, what are your thoughts on our fashion scene, both good and bad?
Roberto: Even just in the last couple of years, I feel like Utah is really catching up with other big cities like NYC and LA. I go to the park or the mall and I am constantly impressed with the style I see, from teenagers to grown men. I will admit that a lot of Utahns are stuck in their ways with fashion, and men especially are intimidated with new trends.
Gavin: Is there anything you believe could be done to make it more prominent?
Roberto: AMF if great event for the community to come out and support up-and-coming designers and get a firsthand look at what Utah has to offer.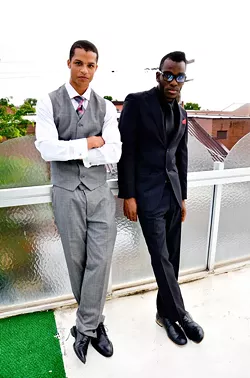 Gavin: What are your thoughts about local retailers and how they deal with local products?
Roberto: I think that it is hard for local retailers at times because big retail stores are usually a lot cheaper. Their garments are made in masses and made overseas. I think it is important to support local businesses because that is what stimulates more design growth in Utah from Utahns.
Gavin: Do you have any favorite shops you like to work with or shop from?
Roberto: We love Zurrich Shoes and are very excited to work with them for AMF!
Gavin: What's your take on Fashion Stroll and the part it plays in supporting local fashion?
Roberto: Once again, it brings more attention to local fashion designers and encourages young up-and-coming designers to continue with their passion of love for fashion.
Gavin: What can we expect from both Leone's Collection and yourself the rest of the year?
Roberto: More cutting-edge suits and menswear fashion. Great colors, prints and perfectly tailored trousers and jackets.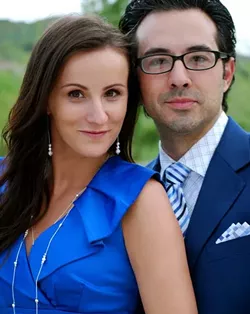 Gavin: Is there anything you'd like to promote or plug?
Roberto: Leone's Dry Cleaning and Alterations. We have two locations, the first at 8745 S. 700 East., Suite 3 in Sandy, and the second at 3667 S. Highland Drive in Holiday. As well as Leone's Cafe at 8745 S. 700 East, Suite 2.



| | | | |
| --- | --- | --- | --- |
| Follow Gavin's Underground: | | | |