Of all the art making its way around the city, the biggest boom from 2011 has to be in the form of T-shirts. --- Prints and original works definitely play to certain crowds, but some of the more overwhelming sales from local art came in the form screen-printed shirts from both professional companies and artistic collectives. Fine examples over the past year would be the "Jerry" shirts out of Blonde Grizzly or the Poor Yorick Studio brand logo T's made by Copper Palate Press during its open house.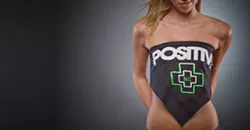 One of the local companies that made a major impact this year was Positive SLC. Founded in 2009, the company has forged on to create friendlier logos and designer wear at affordable prices, while also keeping itself stocked in several local retailers and galleries. The company has also become one of the few to incorporate fellow localized artists designs into the fold, creating unique designs that have sold well. Today, we chat with founder and artist Jordon Madison about his work and the line, thoughts on local art and more.
Jordon Madison
Gavin: Hey, Jordon! First thing, tell us a little bit about yourself.
Jordon: Hello, Gavin. My name is Jordon Madison and I am 21 years old. Born and raised here in the Salt Lake City. I am pretty much just your average dude.
Gavin: When did you first take an interest in illustration, and what were some early influences on you?
Jordon: I have always been a fan of drawing and art, but I never took it seriously until after high school. My early influences were pretty cliche, brands and artists like Obey (Shepard Fairey), Johnny Cupcakes, The Hundreds, 10 Deep, Rebel 8 (Mike Giant), etc.
Gavin: Rather than take on college, you jumped into doing illustration work for companies right of high school. What made you decide to do that, and what did you learn early on?
Jordon: Honestly? I was just sick of traditional school. I did look into some art/illustration specific institutes, but I did not want to rack up a mad amount of debt on student loans and I slacked too much in high school to score any scholarships. Do well in high school, kids, it is worth it! I learned a lot early on. Jumping right into it definitely made me learn the ropes quickly. Not only was I continuing to learn about design, illustration, and printing but I got a crash course in customer service, management, meeting deadlines and, in short, how to run a business.
Gavin: As a freelance artist, you currently do work for Discrete, as well as Sugar Streak Apparel. How did you land both of those gigs, and how is it contributing your artwork to local companies?
Jordon: I got linked up with Sugar Steak Apparel because I am a friend of the owner, Kyle Creek, and his family. Kyle's younger brother is one of my best friends and we grew up together. So that just kind of fell into place. Shout out to the Creek family. I got lined up with Discrete through basic networking. I ended up moving in with a guy I had done some print work for. He used to run a clothing company called Amicus Clothing. Later, he put Amicus aside and started working for Julian Car over at Discrete. Skyler pitched the idea to Julian about me doing some printing for him and later some T-shirt designs. I have been printing and doing some design here and there for Discrete ever since. Those two clients definitely jump-started my freelance career.
Gavin: What was it like for you first setting up, and where did you get the name Positive SLC?
Jordon: When I first had the idea I was clueless. It was a mess. I should have done a lot more research. But at that point, it was really just for the fun of it and I was testing the waters. The initial idea started between me and two other kids. We went through a few different names and decided to go for Positive Apparel. Later on, things did not work out with the other two partners so I made Positive my solo project and switched the name to Positive SLC.
Gavin: You've talked about spreading a positive message through urban apparel. What was the personal influence for you behind that mantra?
Jordon: I used to be a pretty angry and depressed kid. I got into trouble and did a lot of stupid stuff. When I first started the line, it was really just a name, but it quickly turned into the type of lifestyle I wanted to push myself to live. Being a tough guy angry bro is way overrated.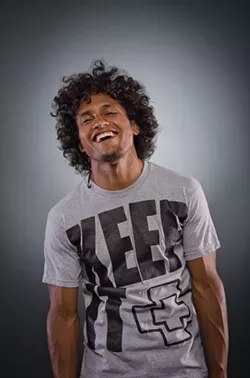 Gavin: You officially started up in early 2009. What was your first line of designs like, and what was the public reaction to them during the first few months?
Jordon: When I officially started early '09, I had only printed two items: a bandana and a T-shirt. Both designs were very basic but had a great response. In 2010, I printed another small run with some new designs and those got an even bigger response. Things have been growing ever since.
Gavin: One of the goals you set for the company was to support the art scene and work with other artists. How did you go about deciding who to work with, and what has it been like working with other designers?
Jordon: I am still tweaking this process, but for now I am pretty much down to help support ANY artist if they show some talent and are down with the cause. I have not worked with too many other artists/illustrators at this point, but I do have some big things lined up for the future. I have had a great response in the music community, and I have had the privilege to work with Burnell Washurn, Pat Maine, Malev MC, Dopethought & Worth, and Nightfreq.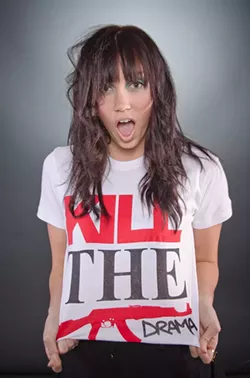 Gavin: What's the process for you in deciding what designs will go on a shirt, and how long do you keep them in circulation before pulling them out for new ones?
Jordon: I usually start with doodles on paper. If I like the way something is going, I move along with the design and finish it up in Adobe Illustrator. After that, the design is plugged into a bunch of different mockups, shirt styles, and color schemes. If it makes the cut then I move forward with printing. I like to keep things in circulation with the seasons. Some designs will be available longer than others and some are a lot more limited.
Gavin: You recently created a limited-edition bandana for the line. Are there any plans to expand beyond T-shirts on a full-time basis?
Jordon: Absolutely! I want to start pushing limited-edition runs a lot more. As far as expanding beyond T-shirts, you should be seeing hats, beanies, hoodies, tanks and a lot of accessories within this next year. Long-term, I would love to get into shoes and sunglasses, but I am a little ways out on something like that.
Gavin: Your shirts have started making their way around to locally owned clothing stores in SLC. What made you decide to work with retailers, and where can people find your shirts?
Jordon: At first, I was hesitant to work with retailers. I think going that route can make or break a brand. So, I am selective on what retailers I am willing to work with. I want to do business with companies that I think will represent the brand properly and give future customers the full positive experience. Positive SLC is currently available at Blonde Grizzly, located at 15 E. 400 South in Salt Lake City, and on our Website.
Gavin: Being a message-driven company, what kind of impact are you aiming to have on the community as a whole?
Jordon: I hope to strengthen and bring the community together. Locals supporting locals --that is what it is all about.
Gavin: Moving on to local matters, what's your take on the Utah art scene, both good and bad?
Jordon: Utah has some crazy talent and awesome galleries. We have some cool things going on all the time at the Salt Lake Art Center and the monthly Gallery Stroll. I am by no means an art guru, but I think if we amped the community up and showed some more support, we could really put more Utah artists on the map.
Gavin: Is there anything you believe could be done to make it more prominent?
Jordon: More support. Artists and fans alike.
Gavin: Who are some of the local designers and illustrators you've been checking out and digging recently?
Jordon: I am a big fan of Trent Call, Casey Kawaguchi, and Chris Le of Grand Forte Clothing.
Gavin: Being somewhat a part of the fashion scene, what are your thoughts on the designs coming out this year?
Jordon: Clothing companies keep outdoing themselves. It is making my job a lot harder! There is so much fresh gear out there, locally and worldwide.
Gavin: What's your opinion on local retailers working with artists to sell and promote their work, and what changes do you wish you could make to the way the system works today?
Jordon: I think if done correctly it can be great! It benefits both parties involved, for sure. To be honest, I cannot complain about the current system. Hard work pays off, in my experience.
Gavin: What can we expect from both yourself and Positive SLC over the rest of the year?
Jordon: I have a small winter line lined up, as well as a few other releases. But that stuff is top secret for now. Look for us at local events!
Gavin: Aside from the obvious, is there anything you'd like to plug or promote?
Jordon: Just a shout out to everyone that has been supporting. My family and friends and everyone at the 802 House. Use the promo code "GAVINSUNDERGROUND" for 50% off all orders for the month of October!



| | | | |
| --- | --- | --- | --- |
| Follow Gavin's Underground: | | | |