There are varying stories and theories about the origin of pasta alla carbonara, which I won't get into here. What I will say is this: If I had to choose a last supper, it would include spaghetti alla carbonara. --- This, for me, is the ultimate comfort food. It's essentially bacon and eggs, with pasta. What could be better?
An important note about carbonara: Correctly made, this dish includes raw or nearly-raw eggs. If you're squeamish about that sort of thing, don't make it or eat it. As most restaurant menus warn: "The consumption of raw or undercooked eggs, meat, poultry, seafood or shellfish may increase your risk of food-borne illness."
I have never had any problems with raw eggs, and when I make carbonara, I usually just use store-bought supermarket eggs.
A couple of notes about ingredients: I prefer dried pasta to fresh, for this dish. Fresh pasta tends to fall apart due to the vigorous mixing of the spaghetti and the sauce. Also, guanciale is the traditional meat for carbonara, but pancetta or bacon can also be used. Frankly, I actually prefer good old American bacon for its slightly smoky flavor. Finally, don't substitute inferior parmesan cheese for Parmigiano-Reggiano; the real thing is key here.
I don't add cream to my carbonara. However, many people do, and a splash of cream added to the sauce or even a handful of peas is fairly common. Do as you please. The following recipe is for my unadulterated version.
Ingredients:
1/4 cup extra-virgin olive oil
1/2 lb. guanciale, pancetta or bacon, diced
1 lb. dried spaghetti (or your favorite pasta shape)
1 cup grated Parmigiano-Reggiano, plus additional to serve with the pasta
4 large eggs, whites separated from yolks
Freshly ground black pepper
Salt for the pasta water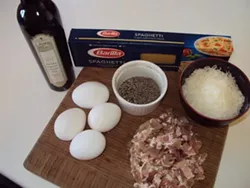 Technique:
Place the olive oil and pork into a large skillet or saute pan over medium heat.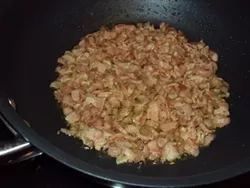 Cook the meat until it has rendered its fat and turned crisp, about 10 minutes. Don't drain the oil, just set the pan aside.
While the pork is cooking, bring a big pot of water with a couple tablespoons of salt to a boil. Add the spaghetti (or other pasta) and cook, according to package directions, until al dente.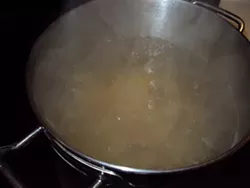 Scoop out about a quarter cup of the pasta water for use later.
Drain the pasta.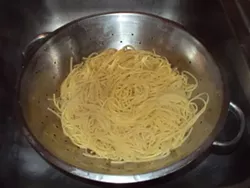 Add the reserved pasta water to the pan with the olive oil and the pork, then toss the pasta into the mixture.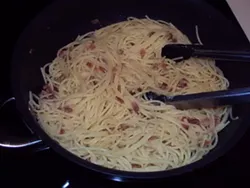 Next, turn off the heat, add 1 cup of Parmigiano-Reggiano, the egg whites, and black pepper to taste to the pasta. Toss vigorously, until well mixed. The key here is for the egg whites to coat the pasta, but not to cook so much that they get scrambled. That's why you want to do this step off the heat. The egg whites will "cook" slightly in the warm pasta.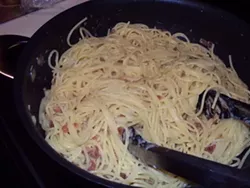 Divide the pasta among four large, warmed serving bowls. You can heat bowls in a warm oven or dishwasher; I just nuke mine for a couple of minutes in the microwave.
Make a little nest in the center of each bowl of pasta and gently drop an egg yolk into each nest.
Season the egg yolks with an additional sprinkle of Parmigiano and a pinch of black pepper.
Serve immediately and allow each guests to stir the raw yolk into his/her pasta.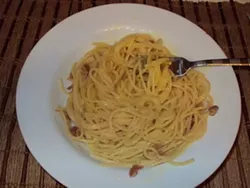 Photos by Ted Scheffler