Theater season is officially in full swing, which means the opening plays have set the tone and now the provocative material starts to shine. --- Doesn't matter what company you're talking about, plays in the mid-season are often the ones that hit closest to home or graze strangely interesting topics.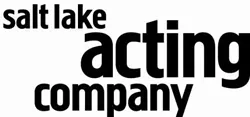 Salt Lake Acting Company will take the first plunge with (a man enters), a semi-autobiographical production about a returning Nobel Prize winner with the "perfect" wife and children he hasn't seen in two decades, and the impending predicaments of life during his homecoming. Today, we chat with four of the actors, as well as the two playwrights and director of the play, about the production before it opens tomorrow.
Jesse Peery, Amanda Mahoney, Deena Marie Manzanares, Joyce Cohen, Andra Harbold Murray, Kate Jarvik Birch & Elaine Jarvik
http://www.saltlakeactingcompany.com/
Gavin: Hey, everyone! First thing, tell us a little bit about yourselves.
Elaine: I'm a long-time journalist (Deseret News; now free-lancing) and theater-goer who stumbled into playwriting 10 years ago when I decided I'd like to write a musical to showcase the talents of two composer friends of mine. I had no idea what I was doing, and the musical is still sitting in a filing cabinet.
Kate: I have a BFA in painting and drawing from the University of Utah and work as a visual artist. I live with my husband and three kids on my make-believe farm in Sugar House with my two dogs, two chickens, bunny, and two hedgehogs. I'm working on getting my own mini horse, but my husband still needs some convincing, as does the zoning committee.

Joyce: I've been in the business over 30 years. I live here in Salt Lake and also spend time in NYC pounding the pavement auditioning and networking.
Amanda: I am originally from Idaho, but haven't lived in the West for about 10 years, so it's great to be back! My passions are vegan cooking, reading and yoga. I live in South Jordan with my best friend, Ben, who I married a year and a half ago in San Diego, and our kitty cat, Starlyn. She's named after Chicago Cubs shortstop Starlin Castro.
Deena: I'm Deena Marie Manzanares and you know me from local professional theater, a weekly video I create and appear in on this very City Weekly site, YouTube or a number of other things.
Andra: Hi, I'm Andra Harbold, and I'm the director of (a man enters).
Gavin: How did each of you become involved with theater and how did find your way to SLAC?
Amanda: I grew up dancing in a children's ballet company, which got me performing at a very young age. '80s buffs will remember  Safety Kids and I played Freddy in a production that toured around South Eastern Idaho. In middle school/high school, I was acting nonstop and went on to earn degrees in acting from Idaho State University and Wayne State in Detroit. For the last six years, I've been acting regionally around the country. When I moved to Salt Lake, I was thrilled and delightfully surprised to discover such a vibrant theater scene. I was especially intrigued with SLAC. I remember visiting the Website and reading SLAC's mission statement and almost lurching out of my chair in excitement. So, when I saw auditions pop up for (a man enters), I knew I had to be there.
Andra: My husband and I moved to Salt Lake City from the East Coast several years ago. We heard about SLAC and went to see J.T. Rogers' Madagascar with Anne Cullimore Decker, Brenda Sue Cowley and Joe Cronin. The work was stunning. And from the moment we walked in the door, we felt welcome. I knew I wanted to be a part of SLAC's work and community. My first SLAC show was Ice Glen in 2006. Later that season, Cynthia hired me to work in the box office. Last season, Keven and Cyn made me an Artistic & Literary Associate, which is an honor and allows me to collaborate with incredibly creative playwrights, actors, directors, designers, and stage managers on an ongoing basis.
Kate: My mom started taking me to productions at SLAC when I was a little girl. I think I must be benefiting from some powerful good karma to have my first play produced by SLAC.
Elaine: Little by little -- and with the help of writing workshops at SLAC and Plan-B theatres -- I became addicted to playwriting. I started with 10-minute plays and worried for a long time that I'd never graduate to 11 minutes. Then, in 2008, one of those10-minute plays was produced at the Humana Festival of New American Plays in Louisville; and while I was there I began writing sort of a sequel, which became a full-length play called The Coming Ice Age, produced last fall by Pygmalion Theatre Company. This past winter, SLAC asked if I had a script I wanted read during their New Play Sounding Series, so Kate and I hurried to finish the first draft of (a man enters). Then the theater gods smiled on us and SLAC chose it for their 2011-12 season.
Deena: I have performed in some form or another since I was three. I am originally from SLC, but trained and lived in NYC on and off for five years. I came back home to do a show in early 2005 with the intention to go right back, but I kept working steadily here, doing at least a couple of plays each year, so I figured if it ain't broke, don't fix it! I've appeared at SLAC in plays and readings here and there over the last five years. I absolutely love working here. Every experience has been nothing but positive and wonderful.

Joyce: I always wanted to be an actor -- the bug bit early. But I thought of it as a fantasy that would never be a reality. I went to college and got a Bachelor of Science and for 3 years worked in Boston and in Washington, D.C., as a registered nurse. Wild, right? The desire to be an actor never went away -- the whole time I was in college, I acted in plays, and once out and working, I arranged my schedule to take acting lessons. It finally hurt too much to go see plays and not be in them. I quit my job as a nurse at Georgetown Hospital, and auditioned to become a member of an avant-garde theatre company, The Washington Theatre Lab. I was with them for about 2 years, and then friends from college who had written a show that was being taken to NYC -- Diamond Studs, a country western musical -- asked me to audition for it. I did. I got the show. I moved to NYC. The play was a huge hit -- ran for 9 months. I got an agent and I was launched! Though I had some lean times, I never had to fall back on nursing to earn my living. I am here in Salt Lake because 27 years ago, my husband became artistic director of the Pioneer Theatre Company. It was a career move for him and, to my surprise, a wonderful career move for me. Lots of theater, TV and film opportunities -- who knew?
Gavin: Elaine and Kate, how did the two of you start collaborating as playwrights?
Elaine: I've been trying to convince Kate to collaborate on a play for several years. Finally, last fall, a family event convinced her it was time. We also enlisted my son, Tyler, and his wife, Tanya, to help, so it's really been a family project.
Kate: I've always loved writing, but for the past 15 years, I've focused mainly on fiction and creative non-fiction. My mom's enthusiasm for playwriting must have eventually rubbed off on me, and one day we decided to actually write a play together, something we'd been threatening to do for a while. We knew we had the basis for a great story that we could pluck right out of our own lives. We sat down on my couch one afternoon and plotted out what would become (a man enters) in one sitting. From there, the writing of the actual script happened quite organically. We'd meet together frequently to discuss what we wanted to happen in the play and then go home to our own work spaces to write. Later, we'd meet back together to see what genius, or in many cases, drivel, we'd each come up with and then we'd set about marrying the two drafts together. This was much less painless than you'd imagine. Both of us were happy to find value in the other's words and, for the most part, we were never too attached to our own.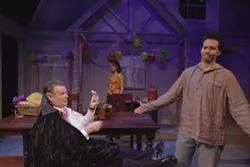 Gavin: How did the idea come about for (a man enters), and what was it like for you both writing it?
Elaine: In real life, Kate and Tyler's father has chosen for two decades to not have any contact with them. We've tried for years to solve the riddle of his absence, and we occasionally fantasize about running into him. When he didn't come to Salt Lake for his mother's 95th birthday party last fall, we began exploring that event -- and non-event -- as a play. With the true story as a foundation, we then let our imaginations take over.
Gavin: Since the play is semi-autobiographical, what kind of challenge was it keeping your own experiences in it without making it too personal or unrelatable to the audience?
Kate: The challenge was never going to be the initial idea behind (a man enters), because in this case, real life was definitely stranger than fiction. The real trick was keeping enough of our own story in the play to make it ring true, while adding enough fiction to make our story something that would amount to more than just some sentimental naval gazing during the course of an hour and a half. In the end, we hope that (a man enters) is more than just one family's story. Something really interesting happens when you get a group of people in one room watching the same scene unfold, when each viewer brings their own personal humor and tragedy to what they're watching. I've noticed that (a man enters) can act as a sort of Rorschach test, often revealing more about the person viewing the play than about the bits of ourselves that we've put into it.
Elaine: The difficult task, we discovered, was not allowing our desire to tell our story get in the way of writing a compelling, cohesive play. We ultimately had to create characters and situations that were sort of like us and our lives but in many important ways were not. Although our particular story is personal, we feel that the play's themes -- loss, parental vs. romantic love, the "rules" of marriage -- are universal.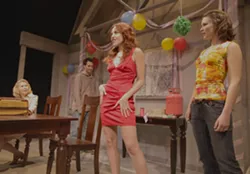 Gavin: Andra, what did you first think of the play and what made you decide to take on the director role for it?
Andra: I got to play with Elaine on two previous projects; last year, I directed the Plan-B "Script-In-Hand Series" reading of Self Storage, and worked on SLAC's "New Play Sounding Series" reading of (a man enters). Getting to direct Elaine and Kate's play and work with this cast has been a huge gift. Thank you, Cyn and Keven, for the opportunity to fuse forces! When I first read the play, I was struck by its elegant balancing act of emotion and humor, fantasy and reality. It gets under your skin. And it's magical.
Gavin: What kind of a challenge was it for you adapting the play for SLAC?
Andra: One of my favorite challenges working on (a man enters) has been creating the play's fantasies with Amanda, Deena, Jesse, Joyce, Terence, Elaine and Kate.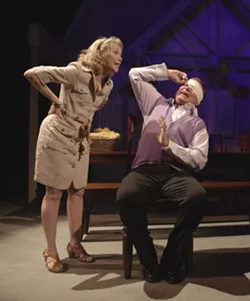 Gavin: For the actors, when did you first find out about the play, and what were your thoughts after reading it?
Jesse: When I approach a role, I first explore the similarities between me and my character -- not the differences. But with this character, the differences in morality and humor were so glaringly different that I found myself holding my breath as I read the script! "Who the hell is this guy?" It wasn't until we were on our feet in the rehearsal space that Andra and I began to discover how this character operated.

Joyce: I read about the auditions on the SLAC Website. Since roles for women "of a certain age" are hard to come by, I thought I should read the play and see if I was interested in auditioning. I found the play intriguing and compelling. I knew I wanted a shot at it.
Deena: I saw the staged reading at SLAC at the beginning of the year and thought it was interesting, surprising and well written. I was intrigued. I knew from personal experience of being involved in a reading that is still a work in progress that the script was going to change over the next few months, so I was curious to see where it would go from there. That's always a remarkable part of the process, when you're lucky enough to be part of a new work. You get to read different versions of the script along the way and it makes for a more personal and full experience of creating the character you're playing and where the play ultimately ends up. You're there every step of the way as it grows.
Amanda: Reading this play was visceral. It makes you laugh, while at the same time, shakes your heart around and then sticks it back in your body. I fell in love with each of the characters.
Gavin: What was it like for each of you auditioning and eventually getting the part?
Amanda: When I read the play, I felt this kinship with "Rosie." There was something there that I couldn't put my finger on that I just understood and I thought, "I must play her. I have to discover what she is all about. I want to know her world." When I got the part, I was completely geeked, thrilled to jump in, and then scared. Acting takes courage to go to those places in yourself to bring a character to life.
Deena: It's funny, because when I saw the reading, I wasn't sure there was a role for me. I was a little unclear on the age ranges and thought that some of the roles were going to be cast a little older. When the auditions came around I went, but read for Rosie. The whole time I had a feeling I should be reading for Dana -- even when I left the audition; I just knew I should have read the other role. I was a little bummed out after that because I thought I'd blown my chance at being part of this show. But then I called back for Dana, and it was a huge sigh of relief. I didn't know what was going to happen once I got to the callback, but it just felt right to at least have a shot at playing her.

Joyce: By the time you audition, you've invested in the play -- in your role -- and, of course, you want it. It was fun to read scenes with the others auditioning. But you know that the director is casting a family, so even if you are a brilliant actor, you might not "fit" with the family that is chosen. One tries to stay realistic despite wanting the job.
Gavin: How has it been for each of you fitting into these roles and interacting with each other?
Deena: It's definitely a different role than I usually get to do onstage, and from what I've previously done at SLAC. Instead of a wonderful tragic character where the stakes are life or death, this time it's the wonderful sexy and fun Dana, who's what I like to think of as a "glamorous hippie."
Jesse: Referring to a play as a certain "style" is dangerous for an actor, because you can easily fall away from playing the truth of a scene and suddenly find yourself playing a caricature. But since there are nods to farce in this show, Andra has been instrumental in guiding us back to what our characters' objectives are and, at the same time, challenged us to find those lighter moments by clowning with each other -- and I mean actually acting like a clown! It's been a process of trials and discoveries from day one.
Amanda: From working with each other in auditions, and our first week of table work to now, it's such a giving group of people. Everyone brings all they have at each moment.
Gavin: What has it been like for all of you working with this production and adapting it to the SLAC stage?
Elaine: There are many obvious differences between journalism and playwriting -- accuracy vs. making stuff up, for starters. But the most striking for me lately has been how solitary newspaper writing is -- even though you're always interviewing people and always banging out stories in a room full of other reporters -- and how collaborative and playful the theater is. Keven Myhre and Cynthia Fleming, executive producers of SLAC, and director Andra Harbold have been very generous in letting Kate and me be an integral part of the production of this new work. For several months before rehearsals started, Andra began amassing images, text and music that summed up her vision for the play, and she has continued to build the show from that same sense of wonder and delight. She and our amazing cast have added layers of wackiness and depth to the script. We feel so lucky!

Joyce: It is a great challenge and privilege to work on a new play. We are finding with the playwrights what makes sense dramatically. It's a tricky and exciting process.



Amanda: Thrilling. Cathartic. Sanguine ... One of the things I love is having Elaine and Kate with us as we build this show. There is so much detective work that goes into the process of acting, and to have them in the room as a first hand source is incredible.
Deena: A nice change of pace. A new kind of challenge. A deeper experience than I'd anticipated and a real joy.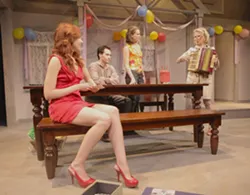 Gavin: What are your thoughts going into opening night?
Kate: Pure excitement! I truly feel that I couldn't have found more perfect stewards for this play. Everyone at SLAC has treated our words with such care. Quite often through this production, I've felt that they love and understand it more than my mom and I do.
Deena: It will be exciting to be up and running! I am looking forward to people getting a chance to see it. Everyone should. You will relate. If you're a spouse, parent, sibling or child ... you'll want to see this magical piece.
Amanda: I am excited to bring the visions of Andra, Kate, and Elaine to an audience and to share this gift that has been incubating all this time. At least, I hope that's what happens. The "Rosie" side of my brain is hoping that I don't let go of a balloon so that it's stuck on the ceiling for the rest of the play, or that I don't develop botulism the night before, you know, stuff like that.
Andra: I am excited for the cast to have an audience and for people to experience the ride of this show! I will miss being in the rehearsal room -- the challenge of 'hold on tightly, let go lightly'!
Gavin: What can we expect from all of you over the rest of the year and going into next?
Jesse: Working with some amazing directors over the last two seasons has inspired me. I'm entering the arena as a director this season with the Page-To-Stage Festival in December and Taming Of The Shrew for Utah-Idaho Performing Arts Company in the spring.
Andra: I look forward to directing Harold Pinter's Betrayal for Pinnacle Acting Company in the spring.
Elaine: I have several new plays in the works, including a collaboration with Kate. My one-act play Self Storage will be a part of Wasatch Theatre Company's Page-To-Stage Festival in December.
Amanda: Well, I hope I won't be a stranger on Salt Lake stages! I also have a one-woman show that is currently in development that focuses on the life of baseball player Jackie Mitchell. It was written at the Hopscotch House Retreat in Louisville, has had two staged readings, and now I'm at the point where I need to dust it off and revise, revise, revise.
Deena: The Third Crossing with Plan-B in March of 2012. It's a beautiful new piece by Debora Threedy exploring themes of prejudice and acceptance. It jumps from the past to the present and I get to play multiple roles, including Thomas Jefferson's daughter.

Joyce: Ah ... the life of an actor. Sometimes we know what's ahead and sometimes we don't. I will be auditioning for things coming up in SLC. Happily, I have an offer to do Laughing Stock at Pioneer Theatre Co. this spring. I will be spending time in NYC auditioning there for television, TV/radio commercials, theater,  as well as auditioning for work for other regional theaters. They all come to NYC to cast.
Gavin: Aside from the obvious, is there anything you'd like to promote or plug?
Deena: My current projects and all links to more info are at DeenaMarie.biz.



| | | | |
| --- | --- | --- | --- |
| Follow Gavin's Underground: | | | |