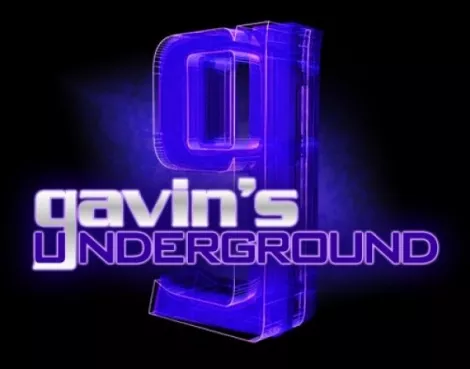 Usually when you see a work of art, for whatever intention the artist may have had behind it, there's often a effort to make whatever it is self-explanatory --- the idea that a single piece says it all without having a second piece of the puzzle for you to get it. However, there are some who like to take their work to a different level and have individual pieces, while alone in their own right, tell a bigger story than what's laid out before you.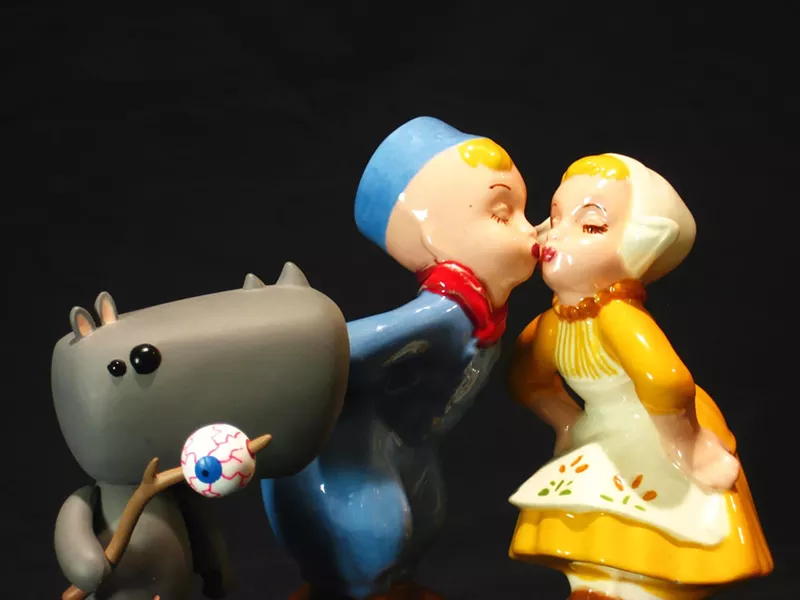 Jennica Sheets has been producing unique assembled works designed to do just that, creating themed photographed works that both serve a singular purpose while expanding into a greater project. And while her stories have garenered much attention from local art critics, her photography has been speaking for itself in unconventional galleries and online. Today, we chat we Sheets about her career and work, as well as her thoughts on local art.
Jennica Sheets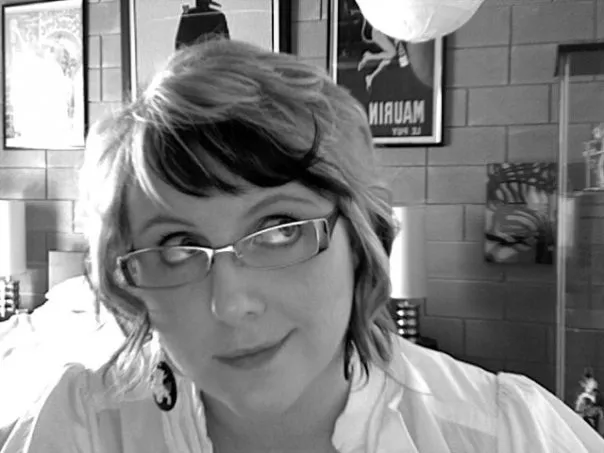 Gavin: Hey, Jennica. First thing, tell us a little bit about yourself.
Jennica: Well, my good friend calls me the Viking. I'm six feet tall and decorated with tattoos. I recently became an ordained minister. I'm easy to spot in a crowd. And I really like robots, video games and zombie-apocalypse debates. So, I guess you could say I'm a giant nerd.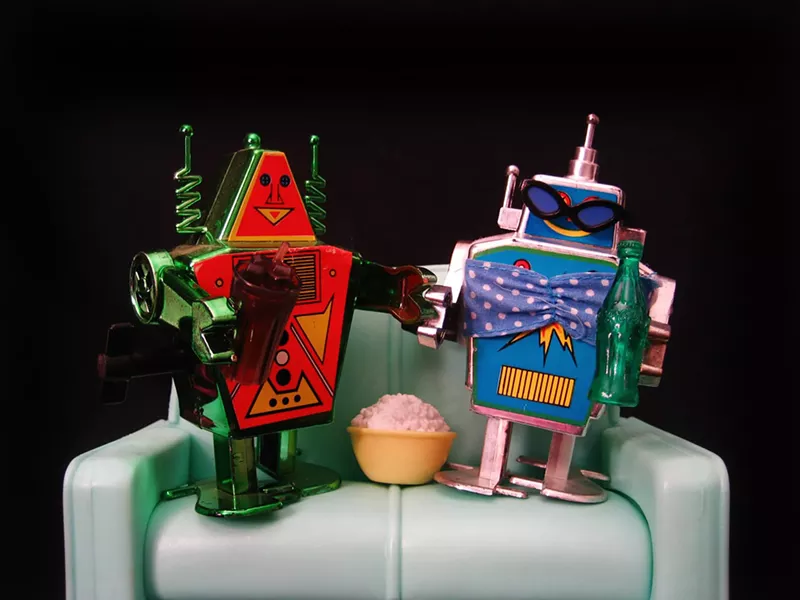 Gavin: What first got you interested in art and what were some of your early influences?
Jennica: My babysitter taught me how to draw my own paper dolls when I was about 10, I think that's where it started --drawing lots and lots of paper dolls and awesome mid-'90s outfits for them. As a teenager, I mimicked other famous artists, trying to draw like Norman Rockwell and paint like Monet. In junior high, I learned how to draw Beavis & Butthead perfectly. So I naturally made Beavis & Butthead paper dolls and sold them at lunch. I'm a product of pop-culture. I learned how to draw from a cartoon on MTV.
Gavin: You attended Westminster University and received your BFA in an array of subjects. What made you choose Westminster and what was its program like for you?
Jennica: I chose Westminster because the small class size really appealed to me. I had come from Florida State University, where my classes usually had 20-30 students. I never established real connections with my professors because there were just too many of us. At Westminster, I would say the average size for art classes was about 10 students. I got to know my professors very well and because of that, I was given some amazing opportunities while I was there that I don't think I would have been given had I been part of a larger program.
Gavin: You touched base in several areas, specifically drawing, photography and painting. Why did you experiment with various mediums rather than master a single genre?
Jennica: I'd like to say it's because I'm a Gemini and I am wired to try a little bit of everything. And in a way, that's the truth. I love working with different mediums. I tend to find something that I obsess over for a while, and then I move on to my next idea. It keeps things interesting. And it tests you as an artist. I know some will argue that you should find one medium and work to master it as best you can, but I love getting my hands on new tools and paints, new cameras and gadgets. You could call me a jack-of-all-trades, master of some.
Gavin: Of everything you've learned to do in art, what is your favorite medium and why?
Jennica: If I had to pick a favorite, I'd say mixed-media assemblage. You have total freedom with that medium. There are virtually no parameters. Find stuff. Glue it to other stuff. Paint that stuff. Destroy that stuff. It's all gravy. I can't really explain it, but I just love gluing samurai swords to teddy bears, and this medium lets me do just that.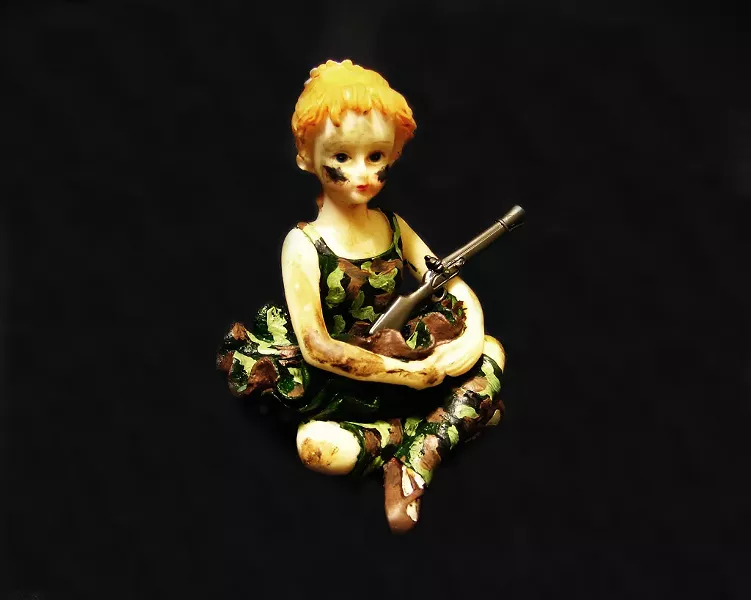 Gavin: Around this time you started up Delightfully Twisted, a brand name under which to release your artwork. What made you decide on the brand name rather than your own, and where did the name come from?
Jennica: That name came from something one of my professors said about my senior exhibit. David Badley, the head of the photography department, called my art "delightfully twisted." Senior year, every piece I created had some underlying dark humor attached to it. Not all of my art falls into the description of "delightfully twisted," but I love that phrase, so I adopted it as my brand.
Gavin: What's the process like for you when creating a new piece, from first thoughts and designs to the final product?
Jennica: Most times, my ideas for photographs and assemblages come from finding some cool vintage toy. I go to Cobwebs in Sugar House, the D.I. and Cabin Fever and stock up on things like doll heads, action figures, robots and the like. I dig through my old dollhouse and Barbie stuff. I borrow knickknacks from my mom's curio with the promise of putting them back unharmed. Then it's a matter of figuring out what goes with what. I spend a lot of time visualizing my process so that I can sit down and create a piece in eight to ten hours. I don't like undoing hours of work because I didn't account for something before I started. I tend to work in quick bursts. I don't spend weeks or months on a piece. I like to start and finish a piece in one sitting.
Gavin: Do you tend to play around with those designs a lot or are you pretty set on what it will be once you start?
Jennica: For my assemblages, I have those visualized from the beginning. There's a lot of glue involved, and undoing glued things makes me want to throw my piece against the wall, so I try to avoid that as much as I can. I do play around with my photographs a lot, though. I move the scenes around, and play with lighting. I can take 50 shots with my digital camera in a fairly short time, so it relieves some pressure of feeling like I have to get it right the first time.
Gavin: For some of the mixed-media works, you've created complete series of displays, some even in a story-structure mode. What influenced those pieces and what kind of a challenge is it conveying that?
Jennica: It was somewhat challenging, but I found that the titles I included offered some insight to the storyline, and even though I had an elaborate plot in my head, I tried to make each piece stand on its own. They were part of a whole, but a viewer could look at one piece and make up an entirely different story. I didn't expect everyone to know what was going on in my head when I thought of this series. I just hoped to get a reaction. As long as I saw them smile, smirk or whisper, I considered it a success.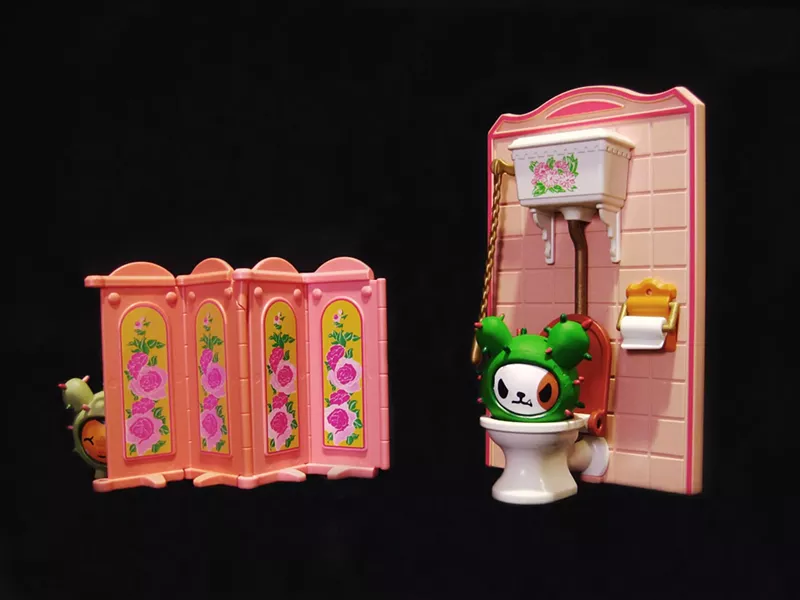 Gavin: For a time, you shared a studio space with Trent Alvey at Captain Captain Studios. How did you first met Alvey and become friends?
Jennica: I actually met Trent through Westminster. I was part of the Alumni Mentoring Program, where selected students were set up with a mentor who worked in the field they were studying. They set me up with Trent, and we instantly bonded. I still feel so lucky and am so grateful that I met her. She has been an amazing mentor to me, and she's introduced me to so many people in the local art community. In my last semester at Westminster, I shared a studio with her. Captain Captain was such a great place to work on my senior exhibit. The amount of talent that resides in that building is astonishing.
Gavin: What was your time like working with her in the same studio and what did you learn working with her?
Jennica: Working in the same studio with Trent was such a great experience. We have completely different styles, but I could always go to her for honest feedback, and she was very encouraging. I feel like I gained so much confidence as an artist just being around her. It seems there's never a moment when she doesn't have a solo exhibit or a piece in a group exhibit at one of the many galleries in Salt Lake. She's definitely an inspiration to me.
Gavin: Rather than start up your own Website or do formal showings, you've taken a more underground approach to selling your work via music venues and email. What made you decide to sell your art this way?
Jennica: To be honest, I have worked full time since I graduated from Westminster, and showing my work at places like Bar Deluxe is a great way for me to just put my art out there. I have a job that I love, so I don't need to sell my art to survive. If someone wants to buy a piece or commission something, I am happy to oblige. But mainly, I just want people to see it.
Gavin: It seems your artwork has shifted more towards photography than your other mediums. Is that the direction you plan to go or is that just what you're into for the time being?
Jennica: I've been stuck on photography for a while now. It's a great medium for someone like me. I'm sort of an "instant satisfaction" kinda gal, and a camera gives that to me. I picture two robots sitting on a couch eating popcorn, so I set up a miniature studio, and I have myself a little photo shoot. Even though I shoot digitally, I don't really manipulate my photos. I do some color correction, and then I'm done. Boom -- awesome robot photo in one hour or less. I'm sure I'll move on to another medium eventually. I have more assemblage ideas stirring in my head right this minute!
Gavin: Moving on to local art, what are your thoughts on our art scene, both good and bad?
Jennica: I think artists in Salt Lake are pretty supportive of one another. The smaller size of the community allows for that. It seems everyone knows everyone, which is both good and bad. If you're the new kid on the block, it can be tough getting your foot in the door. But you just have to be persistent, so everyone sees you have no intention of going away.
Gavin: Is there anything you believe could be done to make things more prominent?
Jennica: I'm not sure. I just got back from Burning Man a few months ago. And if 55,000 weirdoes in sarongs and steam-punk costumes can create a great art community, I feel like we can, too. Maybe we just need to let our freak flags fly a bit more, ya know?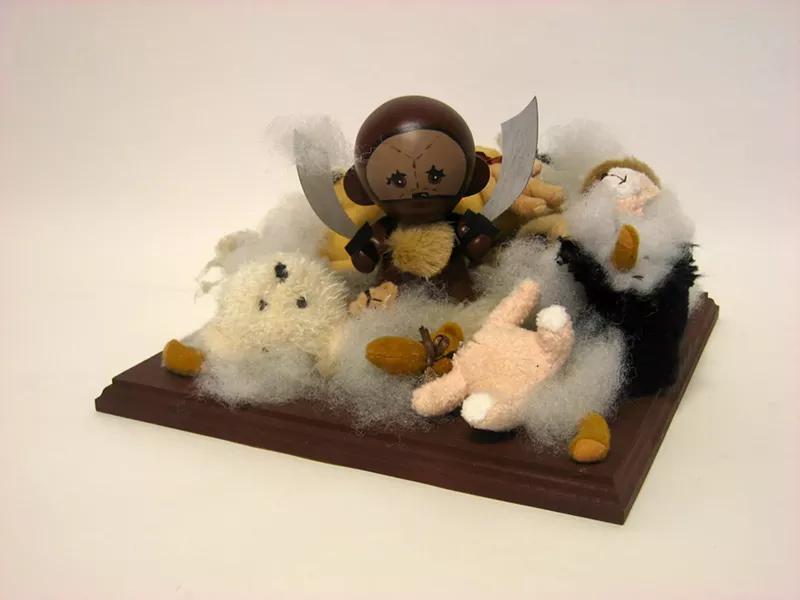 Gavin: Aside from yourself, who are some local artists you feel people should be checking out?
Jennica: I love Dave Laub's work, because he seems like a fellow nerd who appreciates the awesomeness of the robot. That, and I think his work is really diverse and innovative.
Gavin: What's your take on the galleries around the city and the work they're doing to promote local art?
Jennica: I think some cool things are happening right now. The SLC Photo Collective is a great new community of photographers, and they've had some big events to promote local artists, like Art Meets Fashion that was held in October, and the I Am Equal Photo Campaign.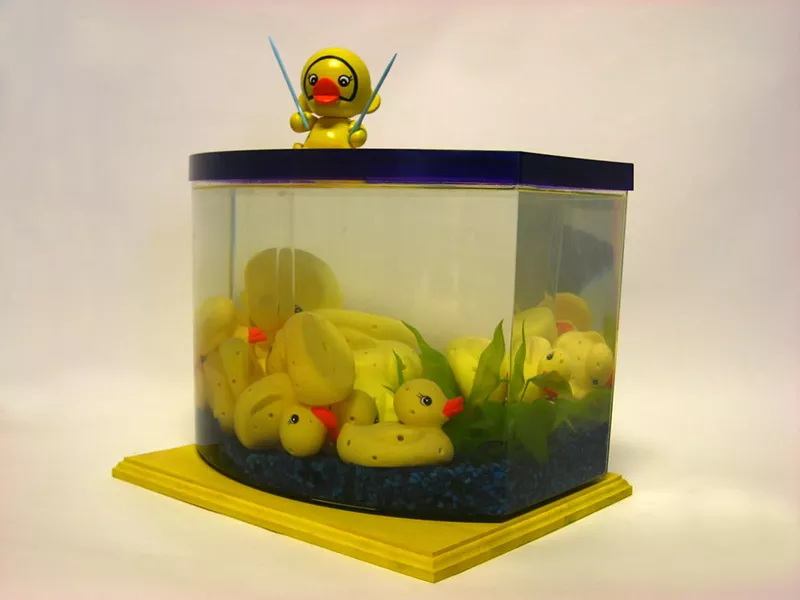 Gavin: What's your opinion on Gallery Stroll today and the work being displayed each month?
Jennica: Gallery Stroll is a great way for the greater public to see what's going on in our art community. Kayo Gallery and Art Access in particular always have really unique and progressive artists exhibiting work.
Gavin: What can we expect from you over the rest of this year and going into next?
Jennica: I can't say for certain. I have a new photo series that's marinating right now, and I'm still out collecting odds and ends, so I'm bound to glue some more stuff together at some point. And hopefully, I'll find a coffee shop, bar or gallery that will want to show off my little musings.
Gavin: Is there anything you'd like to plug or promote?
Jennica: I have a new project that I've been working on with two of my friends called TheSceneSLC. We put out a video on YouTube every Wednesday, and we talk about the local happenings, music, art, culture and otherwise. We tend to hit the sauce pretty hard, so if you don't mind mildly intoxicated ramblings, send us a message on Facebook and we'll talk about your show, event, public disturbance and the like. We also have extra content on our Website.
| | | | |
| --- | --- | --- | --- |
| Follow Gavin's Underground: | | | |