Hello, all you light-hanging, popcorn-stringing, fake-snow-inhaling, tree-cutting, package-wrapping, stocking-stuffing, nearly run-me-the-fuck-down-last-Friday enthusiasts. --- Every year brings about two things: I get to play "Hit Me, I Sue" with the downtown traffic who think it's fine to drive 70 in a 35; and I continue my one-man crusade that Christmas shouldn't be shoved up our collective asses until three weeks before the actual holiday. It will never happen, I know this, but that's my dying wish, and I believe somewhere in the future there will be a politician so fed up with the holiday that it will reach Congress as a bill. But, of course, it is Congress, so it'll sit there for six years and eventually be vetoed. Before we dive into some random tidbits let's take a look at the latest addition to the 337 Memorial Wall.
Looking at sports for a second, if you didn't catch the news a few weeks ago, let's put the good news on front street. The O-Town Derby Dames and the Junction City Roller Dolls have decided to merge into one league! The already WFTDA-established Dolls have been running as a smaller group for the past few years compared to once dominant Salt City Roller Girls, but now this merger (officially made public with this press release) will help the league expand in new ways as it becomes the largest in the state. The deal is only a few weeks old, and it's unclear at this time whether O-Town will simply become a team of its own or if new teams will be created from the larger roster. In any case, the 2012 season will be pretty interesting to see.
Going into events, there are a few things of note happening the day this is posted that came up last minute. First up is the grand opening of%uFFFDMusicGarage.com's physical studio and performance space. The youth-oriented musical-performance program just opened up a brand-new space at 389 W. 1700 South, offering an array of classes and workshops, as well as the ability to do showcases and videos, record music and work with a staff of local musicians to perform with others and create music. To celebrate, it's been holding live shows since yesterday night and continuing into today. Go check out the place and catch some free music (with a suggested $5 donation).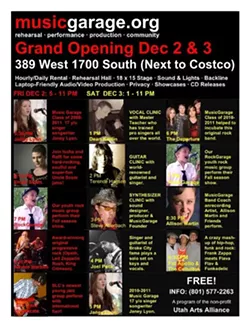 If music isn't your thing tonight, perhaps art will be, as Captain Captain Studios opens its doors again for another open studio! The studio boasts some of SLC's finest talented hands including Trent Call, Steven Larson, Tessa Lindsay, Trent Alvey and more. The studio itself hasn't has had an evening like this for a while due to the comings and goings of various artists over the past year. The night is totally free, and usually some of the art is on sale, so head over and check out some of the work on display.
Tomorrow at the Main Library begins the Craft Sabbath Holiday Boutique for 2011. The artists and crafters will take over the main promenade the next two Sundays (Dec. 4 and 11) with the usual array of works, guest designers and secret names yet to be announced, all to help you with your holiday shopping for unique gifts. And word is St. Nicholas will be around for the kiddies. Pop on by tomorrow and see what they've got.
The week looks a little dull beyond some "Prohibition Ends" party behind held at the Bourbon House, but they really aren't doing much of a party or promotion for it, so we'll skip to The Beehive Bazaar down in Provo. Three days of crafts and handigoods for the holidays kicks off on Dec. 8 from the Bazaar's new location -- the Bell Room, located on the corner of University Avenue and Center Street in downtown Provo. Check out the event's Website for details of the over 50 artists on display and the goods it'll have for sale.
Next up, %uFFFDKRCL's Polar Jubilee this Friday! Our old buddy Circus Brown will be ringmaster for the three-ring rock show. The evening boasts KRCL-crafted R&R legend and tribute bands, Utah Aerial Arts, holiday photos with Circus himself as Santa, Bad Brad Wheeler's Grand Hanukkah Harmonica Army, prizes and a silent auction. This whole event will be over at the Salt Lake Hardware Building (105 N. 400 West) for just $30. All proceeds will go to support KRCL.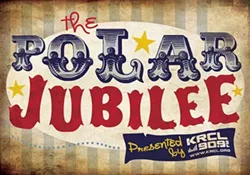 Next Saturday, we'll have a pair of events for you, the first being here in SLC as the People's Holiday Market comes back, on the cusp of winter, no less, to help you with your gardening next year -- yet another event with hand-crafted goods and services for you to peep out from noon-5 p.m. at Trolley Square. Be sure to bring non-perishable food donations, as these items will then be delivered to needy distribution centers before Christmas.
Meanwhile, up at Weber State in the Shepherd Union Ballroom we'll see the return of Sister Dottie S. Dixon's Hilarious Holiday Hullabaloo. From 8-11 p.m. the night of music and merriment, which is usually kept a secret until it hits the stage, will be in full swing to help the Ogden OUTreach Resource Center. You can still purchase tickets, but be quick as this show sells out quickly each year. $25 for average folk attending, but just $10 for students.
Sadly, the rest of the next week is looking quite dull for multi-artistic events as we wind down the year. Look for mostly concerts in the calendar. As for the blog ... yet again, we're entering the unknown. As predicted, Thanksgiving fucked everything up and we ended up dropping two pieces and moving others, so now we're feeling the afteraffects as things get shifted around. The only guarantee I have is that we'll have a look back on December's Gallery Stroll on Monday. As always, we'll see what happens!
| | | | |
| --- | --- | --- | --- |
| Follow Gavin's Underground: | | | |