Ririe-Woodbury Dance Company kicked its '11-'12 season off in late September with the thrilling production Polychromatic. --- The production, which showcased brilliant performances such as "Grid" and "Push," sold out over the three-day period and gave the Rose Wagner resident dance company a great push into the rest of its year.
This month, the company returns with its latest endeavor, Prism. The production features performances such as "But Seriously ... " which combines dance with comedy to show how similar the two are, and the examination of the West as both a place and a state of mind in the aptly titled "West." Today, we chat with artistic director Charlotte Boye-Christensen and two of the dancers involved about their careers and production, plus some extra thoughts on local dance.
Charlotte Boye-Christensen, Elizabeth Kelley & Tara McArthur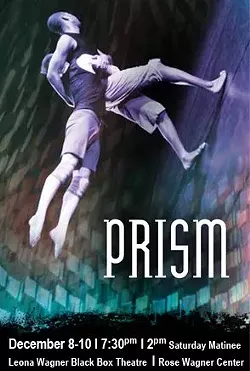 Gavin: Hey, everyone. First thing, tell us a little bit about yourselves.
Charlotte: I am originally from Copenhagen, studied ballet when I was a child and then moved on to contemporary dance when I was 17. I moved to London to go to the Conservatory there and then went on to NYC to pursue my master's degree at Tisch School of the Arts. I have choreographed professionally since the age of 21, have created original works for Singapore Dance Theater, New Danish Dance Theater, The Milwaukee Ballet, Ballet de Camaguey in Cuba, Ballet West, at the Bauhaus in Germany, at the Bellas Artes in Mexico City, at the National School for Contemporary Dance in Copenhagen, at London Contemporary Dance School, Verb Ballets in Cleveland and so on.
Elizabeth: My name is Elizabeth Kelley but I go by Betsy. I'm a 28-year-old dancer whose been with RW for six seasons. I'm originally from Anchorage, Alaska.
Tara: My name is Tara, I'm originally from Nevada City, California, and this is my second year with the company dancing full time.
Gavin: How did you each take an interest in dance and what influenced you to start performing?
Elizabeth: I started dancing when I was five after seeing a dance recital in my hometown and begging my mom to take lessons because I wanted to perform on stage, too.
Tara: I took interest in dance at a very young age, mostly through movies such as Dirty Dancing and Signing In The Rain, and watching Micheal Jackson. I believe my mom put me into dance classes shortly after I cracked my head open on the coffee table while dancing around the living room. My involvement in dance has had a long progression from those days, taking me from dancing at my hometown studio to majoring in dance in college. Once in college, I was introduced to, and consequently fell in love with, contemporary dance. It was during that time that I started to truly understand why I wanted to perform, and make dance my career.
Charlotte: I started dancing when I was very young and have always loved moving! There is an extraordinary addiction that comes with being able to express one's self through the body and movement. When I was very young, I remember seeing a solo created by British choreographer Christopher Bruce and staged at the circus building in Copenhagen, and it was the most riveting and thought-provoking experience I had ever had in watching any creative expression, and that is when I decided that I wanted to pursue choreography.
Gavin: Charlotte, you've had an extensive career prior to Ririe-Woodbury. What was it like for you performing in London and eventually earning your MFA out of NYU?
Charlotte: I still pursue my freelance career outside of the work that I do with the company because it is important for me as an artist to have creative exchanges with other artists and to experience different cultural settings; it infuses my work and stimulates change -- all important things in one's creative evolution. Traveling has always been part of my DNA. My family and I lived in the Middle East for a long period of time from when I was a child, and since then we, and then later I, have just always traveled.
Gavin: What originally brought you to Utah and how did you end up working with RW as a choreographer?
Charlotte: I originally came to Utah as an invited choreographer to participate in the Choreographers' Lab up at Snowbird, organized by the local arts organization Brolly Arts, then that was followed by a performance in the BB of my work, and Shirley and Joan saw a piece of mine there, titled "Siesta." They asked if I would set this on their dancers. That was back in 1999, then I joined the company in 2002 as associate artistic director. Initially, my plan was only to stay for a short period of time because I wanted to go back to NYC and then back to Europe, but I really fell in love with the work that I was doing with the company and the amazing landscape here, as well as the people.
Gavin: You've created over 20 original productions since joining in 2002, not to mention other works you've created for other companies. What's the process like for you when creating a new piece?
Charlotte: It is different according to the company I am working with and the concept that I am dealing with. I work from a musical source, for the most part. But having said that, I have worked with other themes, as well -- architecture, literary sources, graffiti, film, politics and so on. And now with "But Seriously ... " that will be presented in Prism, stand-up comedy!
Gavin: Where did the idea for Prism come from and what was it like for you to formulate the performance?
Charlotte: I formulated this performance with our dancers in mind -- three of these works have been created specifically on this "new" group. We had three new dancers join us this year: Alexandra Bradshaw, Brad Beakes, and Bashaun Williams. These three are joining our three seasoned performers: Tara McArthur, who has been with us for two years; Betsy Kelley, who has been with us close to six years; and last but not least, Jo Blake, who has been with us close to eight years. I am very inspired by the uniqueness of this constellation of dancers. This group is super-athletic, fearless, have a strong sense of artistry, are willing to be vulnerable, are hungry, are curious and wanting to investigate movement material to its fullest potential, and all of this is incredibly stimulating for the creative process and for me as a choreographer. The only repeat piece from last year is "Touching Fire," which is one of my most successful pieces, so I wanted to bring it back. Because of the eloquent and poignant words of writer David Kranes and the extraordinary set by Nathan Webster, this work really managed to push me in a very different direction as a choreographer.
Gavin: For the dancers: What were your college years and careers like prior to joining RW, and how did you originally get involved with the company?
Tara: During my last semester of college, I auditioned for RW and got a position as a part-time dancer doing the works of Alwin Nikolais. I went back and forth between California and Utah working both with RW and a professor of mine and former dancer with the company, Keith Johnson. After two years of that, I re-auditioned and made the move out to Utah to dance solely with RW.
Elizabeth: I spent my college years in SLC at the University of Utah majoring in modern dance. I loved going to school for dance. I used to go as a student to RW shows and secretly hope to one day be in the company. But I originally saw the company perform in Alaska when I was little. Then I worked with Shirley, who came and set one of Joan's pieces on my dance school's company; I was the understudy. I also worked with Charlotte in college, performing two of her works in the modern department's Performing Dance Company.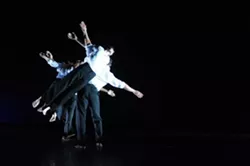 Gavin: When you first joined RW, what was the first performance you were a member of and what was that experience like for you performing?
Elizabeth: My first performance was a Nikolais concert, and it was great to be onstage, but nerve wracking because of all the props involved!
Gavin: How has it been for each of you working with Boye-Christensen and trying to fulfill her vision of the show?
Tara: Working with Charlotte has been such a fulfilling experience because of the always evolving physicality of her work. She has such a specific and detailed movement language, and to be able to find your own voice within that, for me, has been really artistically satisfying. I know she has marched into new choreographic territory with the piece "But Seriously ..." -- a combination of dance and stand-up comedy -- and to see the piece take shape in a really successful way has been wonderful to see. I feel I've learned a lot from Charlotte's process that I'm storing in the back of my mind for a point in time when I want to start choreographing myself.
Elizabeth: Like I said, I've worked with Charlotte since I was in college and it's interesting to watch and feel the changes in a choreographer over the years. Her work has changed in some ways, but maintains the challenging way it was 10 years ago!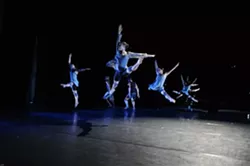 Gavin: What are all of your thoughts going into opening night and about the performance itself?
Elizabeth: I love opening night -- the energy nervous and calm, all at the same time. We all have our own pre-show rituals. Dance is so ritualistic!
Gavin: Moving on to local topics, what are your thoughts of the Utah dance scene, both good and bad?
Elizabeth: I was ready when I graduated college to move to NYC or SF and get out of SLC! I was done with the dance scene here it seemed too small. But a year later, I got the job here, moved back and love it! I don't have to work five jobs, rent is cheaper, and the mountains are beautiful, unlike in a bigger city. The dance scene in Utah is always surprising me. I love the caliber of dancers that are trained here.
Gavin: Is there anything you believe could be done to make it more prominent?
Elizabeth: I wish more people knew how supportive the arts community is. I wish there were more smaller companies, freelance choreographers that would move here and start companies.
Gavin: What's your opinion on other local dance companies and the work they're doing to promote the art?
Elizabeth: It's interesting, we are all so different. I think Odyssey is smart the way they have their standard holiday shows they do every year. Same with, of course, Ballet West with the Nutcracker. We have a different kind of holiday show, but it would be fun for us to have some type of holiday show or something we do every year. I guess we have our children's shows.
Gavin: What advice do you have for anyone looking to get into professional dancing for a career?
Elizabeth: It's tough work, you have to really want it. Be prepared to not make a lot of money, have a lot of days you don't feel like you are good enough -- dancers are hard on themselves, I think. It's a very rewarding job, though, to do something you love everyday!
Gavin: What can we expect from you over the rest of the year and going into next?
Elizabeth: We are excited to head to France and maybe Italy in March and, hopefully, a return to the Utah Arts Festival this summer.
Gavin: Is there anything you'd like to promote or plug?
Elizabeth: Yes. In my spare time I love to cook and I have my own blog. You can find recipes, win stuff, and see what it's like when we are traveling on tour. The blog's name is A Dancer In The Kitchen.
| | | | |
| --- | --- | --- | --- |
| Follow Gavin's Underground: | | | |