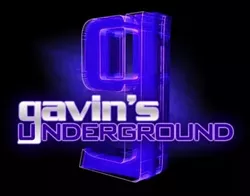 While the bigger theater companies have been holding court in downtown for years, the more upstart and underground programs have been scattered across the valley. --- And no, we're not talking about Desert Star, though I know they wish we would more often. In recent years, we've seen a rise of independent companies, some who only do one or two productions a year, that have been filling the yearly void when the high-profile companies are taking time off.
One of the more prominent of the indies is People Productions, a company that not only prides itself on introducing risky and thought-provoking works to Utah audiences, but holds the distinction of being the sole African-American theater company in the state. Over the years, they've presented works such as The Talented Tenth, The Exonerated and For Colored Girls... to audiences who would have never seen these works presented in traditional local theaters, and are continuing the effort to bring in more under the direction of their new artistic director, Michelle Patrick. We chat with Patrick about her career and coming into People's Productions, plus her thoughts on local theater.
Michelle Patrick
Gavin: Hey, Michelle. First thing, tell us a little bit about yourself.
Michelle: I was born and raised in Queens, New York; I enjoy reading and I miss the authentic taste of New York pizza.
Gavin: How did you first take an interest in performing arts and what were some early influences on you?
Michelle: My parents would probably tell everyone and anyone that performing in front of people was all I would do as a child. Whether it was dancing or acting, I was enchanted with performing. I loved watching movies and listening to music while trying to replicate everything I was absorbing. I think growing up in New York City had a significant influence on how I absorbed everything that was arts-related -- from the early authentic visuals of Keith Harring, Alvin Ailey, Eddie Murphy to the evolution of rap/hip-hop.
Gavin: What persuaded you to go more toward dance, specifically ballet?
Michelle: I began studying with the Feld Ballet when I was eight years old. I auditioned when I was very young and was accepted into the program immediately after my audition. By the time I got to the HS [High School of Performing Arts], I was a little burnt out. I wanted a change, which was why I decided to change to my major and pursue theater.

Gavin: You received your bachelor's from Bradford College in performing arts. What made you choose Bradford and what was your time like spent there?
Michelle: At the time, Bradford was a small private school in New England that I felt would provide a better education. Their motto at the time was "Dare to be Different," which is a term I still try to reinforce in my everyday routine. Bradford was great; I think we flourished academically and socially because of the core fundamentals of the liberal arts program. Some of my best memories, friends and lessons were all met at that institution.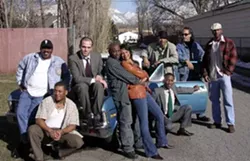 Gavin: During that time, what pushed you toward doing more theater work?
Michelle: I went in pursuing a degree in performing arts, so theater and dance just came naturally.
Gavin: What was it like for you breaking into theater on a professional level and what were some of your first productions like?
Michelle: Humbling. Returning to New York was certainly a challenge. But there was a great discipline that I was already accustomed to from my training in ballet that prepared me for the harsh realities of adjusting to a career in theater.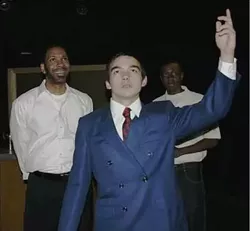 Gavin: What made you decide to head west and what eventually brought you to Utah?
Michelle: I love the West. It's so different from the East Coast; everyone out west is so more laid back. About six years ago, I came to visit some family in Utah and decided to make a home here shortly after.
Gavin: How did you end up getting involved with the local theater scene and how did it differ for you compared to back east?
Michelle: Similar to most smaller markets, there seems to be something here for everyone, which is how I found People Productions. I was looking for a company that addressed the richness of African-American actors and black theater. In comparison to the east, I think there is a lack of theater etiquette in this community in some instances that can be improved.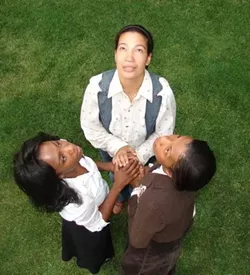 Gavin: When did you first come across People Productions, and what were your initial thoughts on the company and its history when you learned about it?
Michelle: I first learned about People Productions back in 2007. I thought the company had great potential and was eager to contribute in any way possible.
Gavin: Your debut performance with the company was to be 2008's Flyin' West. What were your thoughts on the show, and did you get to work with Edward Lewis during that time?
Michelle: Unfortunately, I did not have to opportunity to work with Edward during Flyin' West [which was directed by Richard Schraine]. Unbeknownst to any of the cast members, he was very ill at the time, but would come in from time to time to watch the rehearsals.
Gavin: Beyond the company, you're also a teacher for Ms.Kaye's Performing Arts Camp, and you're working with the Sundance Institute. What made you pursue those ventures, and how has it been for you making a career out of working with media and performing arts?
Michelle: Very liberating. I really do enjoy what I do, so essentially, it all comes back to the core of who I am and what I was meant to do artistically. With Kaye's camp, I get to utilize my dance background. With Sundance, I get an opportunity to explore and develop my understanding of the creative process through the medium of film.
Gavin: Following Richard Schraine's departure in September, you've taken over as the artistic director of the company. What was it like for you taking over that role and representing the company at that level?
Michelle: At times, it feels like a dream, but then there are times when I am brought back down to reality by those who assume that I am too young or too inexperienced to take on such a role. Then there are those who seemed put off by the fact that I am woman in this position. Either way, apprehension is a mere thought and I don't have time to give in to it or the people who nurse it.
Gavin: In the past couple of years, the company has brought in more prolific works such as Ruined, The Talented Tenth and For Colored Girls... What made you choose these particular plays and how was it bringing them to a Utah audience?
Michelle: Although I did not direct The Talented Tenth or Ruined, I can say that it was important to highlight each of those playwright's efforts. Part of our mission is to provide a platform for minority playwrights whose names and plays are unfamiliar to this community. For Colored Girls Who Have Considered Suicide When the Rainbow Is Enuf was a choreopoem that addressed issues that not only affect women of color, but all women. The message is essentially universal, whether you reside in Utah or not.
Gavin: What are your plans for People's Productions going from here, and what kind of impact would you like to have both on local theater and the community in general?
Michelle: We intend to deepen our outreach services to the community from now on. We have a training program for under-served youth in the works, and poetry readings and a spectacular season planned for 2012-2013. We are certainly going in a different direction and we are are here to stay!
Gavin: Moving on to statewide, what are your thoughts on local theater, both good and bad?
Michelle: I think all of the edgiest theater companies in Utah should get together, create a reality show about the ups and downs of producing theater and call it "Occupy Zion."
Gavin: Is there anything you believe could be done to improve on it or make it more prominent?
Michelle: I believe Steve Perry from Journey said it best... "Don't Stop... Believing!"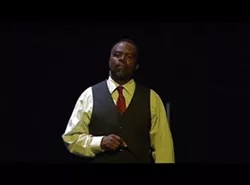 Gavin: What's your take on the push to bring "Broadway to Utah" and the steps being taken so far?
Michelle: Why not? Change is inevitable. This is part of the process of making Salt Lake City a cool and progressive one. Will it hurt local theater companies? Absolutely. But it also means that local theater companies have to work harder and offer the community other "amenities," if you will. This is becoming a very competitive market from various spectrums and the arts community will be the first to suffer if not prepared.
Gavin: What can we expect from both you and People's Productions over the rest of the year and going into next?
Michelle: All good things -- but I can't give it all away.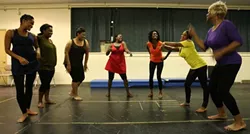 Gavin: Aside from the obvious, is there anything you'd like to promote or plug?
Michelle: Yes! We are holding the Edward Lewis Theater Festival at the Main Library in February. In honor of Edward and Black History Month, People Productions will be hosting four readings, one each week. The audience will then decide which show they'd like to see produced for our 2012-2013 season. For more information, go to our Website, or send an e-mail to peopleproductions@gmail.com.



| | | | |
| --- | --- | --- | --- |
| Follow Gavin's Underground: | | | |