As our comedy scene continues to branch out beyond the few clubs and venues we have here, we're starting to see talented comedians receive opportunities that no Utah-based performer has been offered before. --- Take, for example, the work being done by comedian Key Lewis, who has been touring the western U.S. as well as appearing on the BET Network, all while encouraging people to continue to come out and support the local end of the business. We got a chance to chat with Lewis about his career and the projects he currently has going on, plus his thoughts on local comedy.
Key Lewis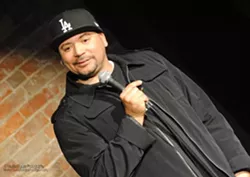 Gavin: Hey, Key. First thing, tell us a bit about yourself.
Key: Born in 1973 to an African-American musician clinically diagnosed bi-polar father and a Caucasian dancer clinically diagnosed paranoid schizophrenic mother, I am funny people; it's in the genes. I am a five-year Navy veteran, I have a beautiful wife, Irene Lewis -- high school sweethearts -- and three fantastic daughters: Larissa, 17, at the asshole stage in her life; Kiley, nine, the nicest and most philosophical child I have ever met; and Jayla, four, my youngest to reach menopause, is crazy, but I love her. I'm a Sacramento native, where I started doing comedy, then moved to Seattle for four years on a job with my current company, Mass Electric Construction Co., Kiewit. I continue to build my act. I work 50 hours a week in Salt Lake City as an equipment superintendent, building the Airport Trax & Draper Light Rail, chasing a dream of being one of the greats in stand-up comedy! Love to make a perfect stranger laugh and piss off a few people along the way.
Gavin: What first got you interested in stand-up comedy, and who were some of your favorite comedians growing up?
Key: Making people laugh and smile is a great job -- why wouldn't you want to do it? Always had to be the center of attention; there came a time in school where my teachers actually pleaded with me to stop taking the classrooms focus. These guys, hands down, were my favorites: Eddie Murphy, Redd Foxx, Robin Williams, Richard Pryor, Flip Wilson, Bernie Mac, David Letterman. Current favorites include Jamie Foxx, Robert Hawkins, David Alan Grier, Katt Williams, Joe Klocek, Jeff Garcia, Tony Roberts, Kevin Hart, and Sam Bam, my boy, for real. In the comedy game, he is a short, stocky, Filipino and Mexican ex-con who is funny as hell; hard act to follow, one of my only true friends. Mike E. Winfield, who I have damn-near mirrored in taking on competitions, has always given me good advice -- I just don't have the afro and the big-ass teeth; first comic of my class to achieve David Letterman. Proud of him and jealous at the same time;well deserved.
Gavin: What officially brought on the decision for you to attempt it as a career?
Key: It was calling me. I wrote jokes before I ever touched a mic. I saw a show with Pauly Shore and Joe Klocek, a Bay Area beast, and I said I have to do it. Del Van Dyke, a Northern California comedy legend, taught a class on the introduction to stand-up at Laughs Unlimited in Old Sacramento. I took his class three times; I tried to absorb as much knowledge before taking the stage. On February of 2003, his teachings changed my life -- this marked the first day I touched a mic in front of a live audience. It's great to make money but it is far cry from a career. I had my family before stand-up, so the responsibilities are here; as much as I would love to do stand-up full time, we all know without a break you are just surviving. I know, though, that regardless of my comedy future, I am lost when I am not doing stand-up, it's a huge part of my life and chemical make up!
Gavin: How was it for you breaking into the local lineups and getting gigs?
Key: Open mics, first hosting gig, competitions -- you have to pay your dues. I walked into Wiseguys the first day I had arrived in SLC in work clothes; the club just so happened to be having an open mic. Dusty and all, I went up and had a great set, one of the comics recognized me from the Seattle International Comedy Competition and mentioned it to the manager, they then asked me to pop in on Saturday to meet Keith Stubbs, and the rest was history. I really wish the guys that are just doing this as a hobby stop as you are creating a bullshit block for the guys that really want to do this. Get lost! Random, I know.
Gavin: When you first started out, what were some of the lessons you learned about performing?
Key: Always know your audience; don't act funny, be funny; don't be afraid to bomb; don't be a dick; don't worry about the quantity of your material but the quality; the sooner you create a relationship with your crowd, the better you will be; respect the light and the title headliner; and be yourself. There is always someone funnier -- just focus on you; don't be a hater, be a congratulator.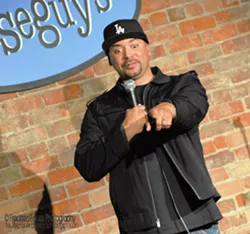 Gavin: What's it like for you personally coming up with material and deciding what works and what doesn't?
Key: I'ts the greatest feeling when you have a bit work, and even better when something doesn't and you make it funny. Paul Mooney asked me in the Green Room at the Punchline Comedy Club in Sacramento, "You're funny, but what are you saying?" I understood and added opinions and things that bug me to my act, tweaking the situation and topic to make it humorous.
Gavin: How is it for you interacting with other local comedians, both as friends and competitors?
Key: We are all competitive, finding fault in ourselves and others. It's such an independent craft, it's just you and the mic, no supporting cast, your material is your bread and butter. From time to time, a buddy will tag a bit for you; developing material is sometime a isolated event. If you derive it with other comics, sometimes it is perceived as an open bit or premise. I try to talk about personal experiences and situational comedy. I would say that SLC has a small group but a great group. I have yet to have an issue with any comics in SLC; they always give props where props are due.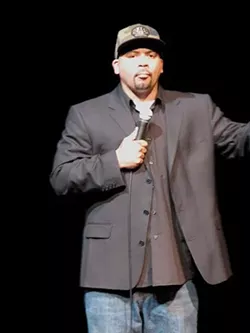 Gavin: You've actually had the opportunity to work on television shows like BET's Comic View and Whose Got Jokes! How did those come about and how does it differ from doing live stand-up for a crowd?
Key: The opportunities came about from networking, competitions, good people like a Seattle Entertainment promoter Anthony Tibbs from ThirdLevelEvents.com, my boy Sam Bam from Stockton looking out for me, Kirk McKenry of Oakland helped me with One Mic Stand, Bob Sumner producer of "HBO'S Def Comedy Jam" had seen me on a few occasions and asked me to do the show. How does it differ? It's tougher because you are structured to a set, where to stand, where to look, what jokes you can and can't do, the freedom of just being a stand-up is the best part of our jobs; the hand cuffs, so to speak change the game. TV comedy and a comedy club are a whole different animal. If you slightly like someone on TV, there is a good chance that when you see them live it will be a total different experience.
Gavin: Are there any plans down the road for you to tour again, or are you sticking to home for now?
Key: I am constantly adding to my calendar, I have dates in Colorado, LA and Ogden coming up in the next few months. I am planning to do multiple festivals this upcoming year -- Bay Area Black, SLO, Montreal. I try and book at least one full week a month because of my day job. You can see my upcoming dates on my Website.
Gavin: Going local for a bit, what's your take on the stand-up scene, both good and bad?
Key: We need more open mics, and more support of local talent. Comics need to understand that there is a whole world outside of Salt Lake and not to isolate themselves to just this region. It seems as the years go on it's about fame, not always funny. Everyone that is great were right where we are now and people followed. So get off your butt and see a comedy show!
Gavin: Is there anything you think could be done to make it more prominent?
Key: I'ts really the club and getting the word out that there is a comedy scene here, challenging the comics to build their act. It's getting better, but as cable networks grow and smartphone capabilities increase, the stage is less popular these days. Comedy Central and the big cable networks are flooded with comedy acts. This is a good thing; I just want people to always support live comedy.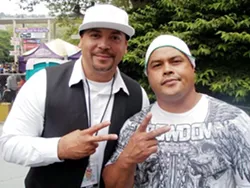 Gavin: Aside from yourself, who are some of your favorites you like to check out around town?
Key: Marcus is a favorite of mine; we actually did the Seattle International Comedy Comp. together, back in his impression days. He has revised his act to be just stand-up; with all his talent, at first I was against it, then he took the joke writing to a new level. Blake Bard is a great guy, as well. I love that he does not care about what you think, he says what he feels. John Hilder is a riot; I love watching his shows as his LDS friends cringe at some of his material -- good-ass dude. Spencer King is probably my favorite writer in that he is always putting up new jokes. He is a comic's comic and a good-ass dude. Kiley Cook has a great energy and hair; even if a joke is bad, you like him, so it does not matter. There are alot of new guys that are coming up in the SLC comedy scene -- Josh Fonokalafi, Jay Whittaker, Jacob Leigh; these are good cats to look out for.
Gavin: What are your thoughts on the clubs that provide comedians a forum to perform, and the work they do to help bring in audiences?
Key: Well, this is a touchy subject for me. I still push fliers, I use social networks; ultimately, it's your own responsibility to help promote. I would love to be on a huge billboard, but I understand that my ticket price does not reflect a billboard budget. Keith Stubbs has helped me build an act by booking me regularly to headline his club; that in itself is invaluable. The market here is not huge but we have something. I spend a boatload of money to travel outside of SLC just for stage time. I love the open mic, but as I build my act, three minutes is just that, three minutes; you have to find ways to get on stage. I do presentations for my company; just the time being spent talking to any audience helps.
Gavin: Whats your opinion of national stand-up comedians coming through town and what that does for the local scene?
Key: It's great, it makes it a better market, for sure. It's a good thing to be a part of a packed show and to learn from the best --when you see a national headliner rip it, it gives you something to strive for.
Gavin: What can we expect from you over the rest of the year and going into next?
Key: America's Got Talent is looking promising; possible LA move in the summer months. A few comedy festivals are in the works, and a push to really build my act, really take some risks.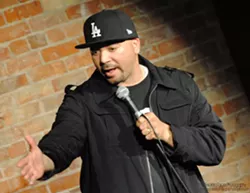 Gavin: Is there anything you'd like to promote or plug?
Key: Much appreciation to all the local businesses that bring me back to do Christmas shows, I really appreciate it. Cheers & Chuckles Comedy Show in Salt Lake City, Dec. 23; Ogden Wiseguys Feb. 3-4, and just check the Wiseguy's Website for upcoming dates. I am the only Key Lewis on the page; I am easy to find.
| | | | |
| --- | --- | --- | --- |
| Follow Gavin's Underground: | | | |