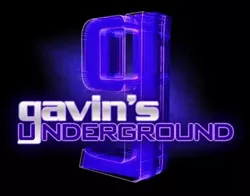 As our podcast community continues to grow, so does the geek culture within the rising form of broadcasting. --- Some don't really reflect on the time, but just three-and-a-half years ago, the Geek Show Podcast became the first in what would be a slew of Utah-based geek-related shows covering all things pop culture in a panel form. Some have sustained, others have fallen apart, but regardless of success, the genre continues to create shows that bring audiences in droves.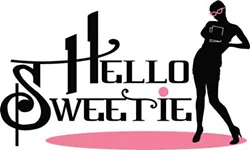 The latest podcast to join in the discussion is the Hello, Sweetie! Podcast. Created and moderated by four roller-derby gals with a passion for all things geek, the show looks at the culture for all of its brilliant insanity and dumbfounded idiocy from a woman's point a view. Today, we chat with all four of the panelists about the show and all things geek, plus a few thoughts on podcasting, in general.
IndyGo Wylde Morris, Cherri Vasquez, Kristal Starr and Danielle Uber Alles
Gavin: Hello, ladies. First thing, tell us a little bit about yourselves.
Cherri: My real name is Charity but everybody calls me Cherri since that is my derby name and my nickname and my "stage" name and everything else. I love comic books, sci fi -- especially Firefly, Star Wars, and Doctor Who, fantasy novels -- favorite author Neil Gaiman, and movies. My favorite things to do are roller derby, karaoke and pub quiz.
Kristal: My name is Kristal. I work full time as an expediter, part-time student, mom and, by night, when I am not broken, I have an alter-ego derby girl I like to play: E-Rolla Virus.
Danielle: My name is Danielle Uber Alles. I'm a hairdresser, student, and retail slave from West Jordan. I'm very into music, comics -- especially those relating to Batman or Neil Gaiman's Sandman, films, especially horror -- various awesome TV shows, and general pop culture.
Indy: My name's IndyGo Wylde. I am a geek of all trades and mistress of none. I am a rollergirl with the Red Rockettes and I officiate with the Wasatch Roller Derby. I am more than a little obsessed with derby. Other interests include books, movies, old school gaming -- think Dungeons & Dragons, and music.
Gavin: What drew each of you toward more geeky-related entertainment, and what were your favorite things growing up?
Cherri: My dad was a huge geek -- comic-book collector, trivia nerd, Trekkie, you name it. I always had the influences around me, but I came into my own early. My favorite TV shows growing up were He-Man and Thundercats. As I matured, while other people were playing sports, I was wishing my small town had a better theater program and a D&D group. I was even a certified trumpet-toting band dork. I think the thing that draws me to "geeky"-related things more than anything is just getting lost in a world that's a little more magical than the day to day.
Kristal: I have always loved books and reading and have always been a bit goofy. So naturally, in school I was drawn to the more eccentric people. I was on the Literary Art Magazine and newspaper in high school; this is when I really made the connection these were the people I felt myself around -- people who liked D&D, who liked cosplay, who liked the horror movies, Star Wars, Star Trek, comics, British humor, etc., and didn't care if that made them "weird" or "nerds." Back then, it wasn't cool to be a geek. Unapologetic for who they were are and what they liked, people with passion -- Serious passion! Don't ever tell a Star Wars enthusiast you liked Jar Jar Binks.
Danielle: I was raised watching Star Wars and I was a huge book nerd. I was super obsessed with the X-Men cartoon and Sailor Moon. I always liked girly stuff but I also had X-Men and Xena action figures.
Indy: Honestly, I don't remember ever NOT being a geek. I saw Star Wars in the theater. My parents encouraged me to read from the time I learned how, and encouraged my love for music.
Gavin: How did the four of you all meet each other and eventually become friends?
Cherri: I actually met Kristal at church, believe it or not. Turned out, she knew my husband from jr. high and a lot of his group of friends. About a year into our friendship, we decided to join roller derby, where we met Indy. Then, when I decided I wanted to do a podcast, I asked Kristal and Indy but I wanted one more person. So we put up the info on Geek Show Podcast's Facebook page and that's how we found Danielle. I'm sure the other girls will tell the story similarly.
Kristal: I met Cherri at church, Indy through roller derby and Danielle ... not really sure, but she is cute so I will keep her!
Danielle: I read Cherri's post about wanting to do an all-girl geek-related podcast on Facebook and responded. We met later that week and it's been magical ever since.
Indy: Cherri, Kristal and I are all league sisters in the Red Rockettes; we have been playing together for nearly a year now. Cherri introduced me to Danielle when she decided she wanted to do this podcast and thought the four of us would work together well. What do you know ... she was right.
Gavin: I know a few of you are part of local derby leagues. What leagues are you part of and how were things for each of you last season?
Cherri: Indy, Kristal and I are all part of the Red Rockettes. We are the only recreational roller-derby league in Utah. Things have been really good for me this year, from starting out brand-new to hitting a wall and getting frustrated and feeling like I would never improve to rallying and certain things clicking and feeling like now I'm on my way to being a great derby girl. I love skating with the Rockettes. It's one of my great passions.
Kristal: I skate with the Red Rockettes, a recreational league. I came to the Rockettes barely knowing how to stand on skates. They whipped me into shape and then broke me! Hahahaa , not really. I broke my fibula playing in a scrimmage in November. I am on the mend and hope to be back skating mid-February.
Indy: This is definitely my question! I am currently a skater with the Red Rockettes. Since we are a recreational league, we don't have an official "season." We practice once per week, and play for the love of the game and the love of each other. I think that the three of us who are Rockettes have all shown some definite improvement in our skills, especially Cherri. I also work with our sister league Wastach Roller Derby as a non-skating official. I have learned more about the rules as an official than most skaters ever learn. I hope to become a skating official soon, but I need to work on some skating skills first. I'm just not ready yet.
Gavin: When did the idea come about to start up a podcast and what was it like planning out how it would work?
Cherri: I was actually inspired to start an all-female, geek-themed podcast by listening to Geek Show Podcast. I had been a listener for a long time and participated in a lot of their events and had come to know the guys pretty well. I secretly had always hoped to be a guest on the show at some point. During an episode, Leigh George Kade mentioned that people always gave Geek Show a hard time for not having any female panelists. His answer was that there would definitely be a market if any girls wanted to put together their own geek podcast. When I heard that, I thought, "Someone should do that, and that someone should be me"!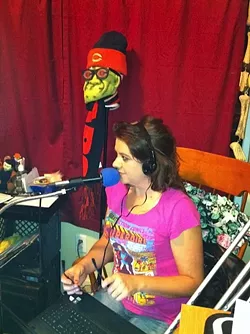 Gavin: Considering Utah already has a couple of geek-related podcasts, what did you intend to do to separate yours from the rest?
Cherri: Well, of course, having an all-female panel and targeting the female demographic was a big part of what we wanted to do to distinguish ourselves from the other podcasts in Salt Lake, but also keeping a very local format and highlighting local personalities and businesses was a big part of what we wanted to do.
Gavin: What was the process like in figuring out the format of the show and how you'd record it?
Cherri: I listen to a lot of podcasts and decided that the first thing I wanted to do was pick things that I really liked from other podcasts and use those things as a template. For example, I really liked how Geek Show had certain panelists that were experts on certain things. So I assigned each of us one or two subjects to be responsible for. I also really liked the way that The Nerdist and Marc Maron did their interviews, so I knew I wanted to do something with interviewing local geeks in the community. The recording part was the easiest thing to figure out. My husband does a podcast called the Punk N' Pie Fraudcast and uses Garageband and I knew that I wanted to model my recording method after what he was doing. Garageband is a great program for recording. We use a single track and therefore it requires very little editing.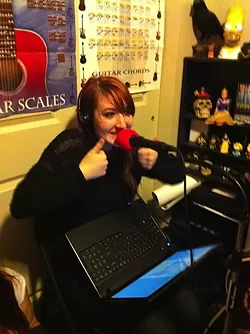 Gavin: How was it for you after the first recording, and what made you decide to continue afterward?
Cherri: To be honest, the first recording was pretty rough.We recorded a two-hour episode and then my computer crashed and we lost the whole thing and had to come back the next day and re-record. But, all in all, I think all of us had a really good time and right from the start we knew that this would be something fun and exciting.
Gavin: As a group, how is it for you to interact with each other during a recording and balancing out the input and reactions with every show?
Cherri: We are all very energetic and always have a lot to say, so the flow of the show is always really easy. Probably the thing we have the most trouble with is talking over each other and going off for too long on stuff because we all have a lot to contribute. But my favorite thing about the podcast is how great the conversation gets when we are all really excited or pissed off about something.
Kristal: Wait!?! Huh? We're supposed to balance input and reactions? We just kind of go with the flow and it seems to work. Do you think we need more balance? I kind of like being a little unbalanced.
Danielle: It's actually really easy. We're all so outspoken and it's really a lot of fun.
Indy: I don't know about the other ladies, but I just go, hang out with my friends and hope for a good show.
Gavin: How much of the show do you plan in advance and how much ends up being spur-of-the-moment?
Cherri: For the most part, when we sit down to record, we have some notes about things we want to discuss such as movie, TV, or music news, but then during the show, all of the discussion is spur-of-the-moment.
Gavin: Considering the material and how a lot of it has been a part of your lives for so long, do the discussions ever become heated, or is there an understanding that i'ts just for fun?
Cherri: The only one thing that was ever even a little heated was when Kristal and Danielle faced off on who was a better Hulk, Mark Ruffalo or Edward Norton. Kristal is team Edward and Danielle is team Mark. And even that was pretty much just in fun. Other than that, I think we all respect and enjoy one another's opinions, and when we do disagree, it makes for a fun discussion.
Kristal: Well ,for me, anyways, I might get heated about something or have a different opinion than someone else. But I can always step back and laugh. Most things in life aren't that serious.
Danielle: It's all just for fun. Sometimes discussions can get a bit heated, but we don't take it to heart. It's more interesting for the show if you can hear our opinions, even if we don't see eye to eye.
Indy: So far, we haven't really had any problems agreeing to disagree on any given subject. We have our different preferences, but we all get along pretty well, and it's all in good fun.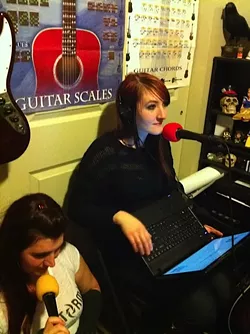 Gavin: What made you decide to do the "Geek Of The Week" segment, and how do you go about picking who you interview?
Cherri: "Geek Of The Week" was something that I decided I wanted to do -- first, for cross-promotion purposes and second, to help support and make people aware of the geeks and gurus right in their backyard. For the most part, we try to choose people who are geeks or geeky about something, and it always helps if they have a business, an etsy shop, a show, blog, or something to promote, although really the only requirement is that they are interesting to talk to.
Gavin: Do you prefer the open-panel-discussion style with all of you huddled around the laptops, or do you wish you had more time to edit it up like it were a more-produced show?
Cherri: I love the open-panel discussion. I think it helps keep things interesting and makes the discussion more genuine. We made a decision right from the beginning that we wouldn't edit anything out -- what you hear is exactly how it would sound if you were sitting in the room with us. We wanted it to sound like you were just listening to a bunch of good friends talking about what they loved and hated. I think it feels more personal that way.
Kristal: I like the free-flow, conversation-type podcast we have. It leaves so much open. I don't think a lot of my comments would make it past the edit on a produced show.
Danielle: I love the way we do the show. It's more real. Some shows can end up sounding way overproduced and it's just not fun anymore. It's more like a news broadcast, and that's not what everyone wants in a podcast.
Indy: I like the open-panel style. I feel like it's mostly just us having a good time. The fact that other people listen and like us was sort of a surprise for me. I thought we'd just record and put it out and some of our friends would listen, and that'd be it.
Gavin: Are there any plans to expand the show or include more material as you go, or are you sticking to the format you have now?
Cherri: I think, in general because the show is so young, we are always willing to bend and shape it to make it more streamlined. But for now we have a pretty full show dealing with the content that we have, so for now we're sticking with the current format.
Gavin: Going more local, what are your thoughts on the podcasts coming out of Utah these days, both good and bad?
Cherri: I think that Utah has a lot of great shows. I wouldn't ever badmouth another show specifically, but what I would say is that listeners have a great selection of shows, from the ones that sound like they were recorded in a tin can to the most well produced and professional. The great thing about the technology we have now is that anyone can put together a fairly good-sounding show with just a few pieces of equipment. It puts it in the listeners hands to choose what shows they want to listen to and support. I think it's great!
Gavin: Is there anything you believe could be done to make these shows more prominent?
Cherri: I think that cross promoting, taking advantage of social networking sites like Twitter and Facebook, and utilizing local businesses to help get the word out really can help take a show more into the public eye.
Gavin: Do you have any favorite local shows you listen to and recommend?
Cherri: My favorite local shows are Geek Show Podcast and the Punk N' Pie Fraudcast.
Gavin: Where do you see the medium going both locally and nationally over the next few years?
Cherri: I think that podcasting is going to keep getting bigger and bigger. Like I said before, the great thing about podcasting is that anyone can do it. Listeners have a lot of great choices for which shows they want to support, and there is really something for everyone out there. Podcasts are great because they are mobile. You can put in your iPod and listen in the car, while you work out, while you work, or clean, so it's almost better than terrestrial radio because you don't have to worry that you missed your favorite show or DJ because you weren't able to listen at the time. I think it's great that even a lot of TV and radio shows are putting up podcasts. It's a great time for the medium.
Gavin: What can we expect from all of you and the show going into next year?
Cherri: This next year is going to be great. As we continue to streamline the show and network more, lots of opportunities will arise for us and for our listeners. We will have more contests, more opportunities to record on location and more geeky goodness for our listeners as we continue to grow.
Danielle: By far more fun and opinions. More me nerdgasming over Batman, because that's how I roll.
Kristal: Lots! We keep getting better and better! We love meeting new people and are open to suggestions. I think we have a good thing going and really think you'll be seeing/hearing lots more from us.
Indy: Probably an insane amount of silliness and a bit of naughty fun. I think we will just get better and better as we do more of it. We are figuring out what settings work, and when to call a discussion off if it's getting too far off-track. I think Hello Sweetie is just going to take off.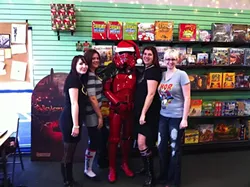 Gavin: Aside from the obvious, is there anything you'd like to promote or plug?
Indy: I think I am all about the obvious. Listen to us, Check out our friends of the program, support local roller derby. Wasatch Roller Derby is a nonprofit organization and their proceeds go to charity. Red Rockettes is a wonderful way to get to know other women and have fun doing physical activity. Buy local!
Cherri: We would love for people to contact us if they'd like to be a Geek Of The Week or if they are interested in advertising with us. The e-mail is hellosweetiepodcast@gmail.com. Also, our friends of the podcast which we always talk about: Punk N Pie Fraudcast, Grimmleighs, Kat's Art, the Red Rockettes, Sidewinder Media, Dr. Volts Comics, Blindfold 801, and more. We encourage people to go Like our Facebook page because we do a lot of fun contests and giveaways. And you can follow us all on Twitter: @HelloCherri, @Hello_Kristal, @HelloDanielle_ and @HelloSweetIndy. Also, remember that the best way to support your local economy is to buy local and buy sustainable. And we have an ongoing event going on where we are asking people to send postcards to Dr. Volts Comics and write "Hello, Sweetie" on them. We do random prizes to people who send them in. The address you can mail them to is 2043 E. 3300 South, Salt Lake City, UT 84109. Listen to us, Like us on Facebook, subscribe on iTunes, and share us with your friends!
| | | | |
| --- | --- | --- | --- |
| Follow Gavin's Underground: | | | |