We're headed into a new year in less than 48 hours, which means musicians shoveling whatever they've got left to beat the deadline, or saving what they've got for the next. --- The trend for December has been compilation albums, and one of the best of the year comes out of Utah County with the lengthy name Deer Child Presents : Winter Deer Vol. 1 FEW ARE FROZEN. For those unfamiliar, Deer Child is a booking and promotions agency based out of Provo, primarily helping musicians in the area such as The Archers Apple, The Mighty Sequoyah and Lake Island, to name a few. This 12-track album includes music from those and various other artists under the company's guidance, giving anyone interested in the Utah County scene a taste of what's bringing out the crowds down there. You can buy the album at a "name your price" tag off their Bandcamp page.
Moving on to punk music, we have the latest from The Mooks! The group (seen above) is still playing and in full force, mainly underground gigs like The Boing! Collective and house shows. But honestly, even when drummer Robbi moved out of state for a while, did The Mooks ever really go away? It's been a while since we've heard anything from them recording-wise; their debut album The Snuggle Sessions came out in early 2009 followed by periods of inactivity and the follow-up EP Like You, Like You in April 2010. But the first sign of new recordings finally hit just two days ago with the release of their three-track cassette, 2 Become One. It's pretty much what you'd expect from the SLC-based punkers -- three quick songs that total less than six minutes of music -- but it shows awesome promise for what will, hopefully, be a full-length album in 2012. You can download this for a "name your price" tag off their Bandcamp page, but I highly suggest hitting the band up in person and grabbing one of the limited-edition cassettes.
Next up is something slightly familiar from hip-hop masters Wildelux & Linus Stubbs. Last month, the NYC/Ogden duo released an album by the name of Scratch The Surface, featuring impressive beats as well as guest appearances from Chinch33. The release is barely a month old but it didn't stop the duo from doing a total remix of the album. All nine tracks in the aptly titled The Re-Visited feature fresh touches from names like Andy Mac and Yoga Flame Kane. You can snag the original for $9 and the remix version for free off their Bandcamp page.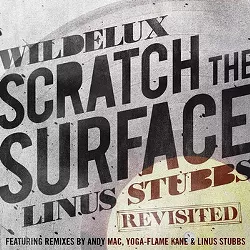 Moving on to more new-wave material, we have the debut EP from El Salvador Dollies. Not really sure what to make of this one yet. The album looks to be the latest project from McKiney Richard, lead guitarist and vocalist of the band Jackknife. But he looks to have gone to all efforts to make himself invisible and promote this album as a "self-containted entity" of some sort, so we'll let him have it. New Wave Babylon is a cross of its namesake genre and bluesy psyche rock, worth at least a listen. You can grab it for $4 off -- where else? -- their Bandcamp site.
One of the last albums of 2011 (and we say one because I'm pretty confident someone will release something in the next 24 hours and call themselves the last band) is the latest from Dream Eater. The indie electro solo-project by Landon Young had two EPs out earlier this year along with a couple of singles, and to close out the year he decided to release a four-track EP entitled ctrl alt incomplete. You can download the 8-bit throwback EP for a "name your price" tag on his Bandcamp site.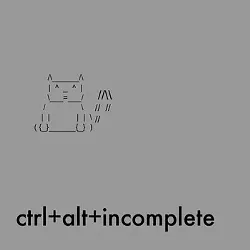 As they say, "out with the old and in with the new," so we've got three releases coming out on Sunday from people who all wanted to claim that spot of first in the new year. First up in 2012 is the latest from Aaron Marsden. The pop/rock solo artist released an EP earlier this year by the title of Shine, a fairly impressive outing with an emphasis on the pop. Now he's back with a slightly darker note on the followup EP Enchantment. At the time this is written, you can only check out the title track on his Website, but there's a definite love of composition from Marsden as he's quickly expanded his capabilities into a soundtrack-like setting. You can buy the album on Sunday, New Year's Day.
Next is the debut release from Shio Brick. I'm not quite sure what to make of this one; it's kinda like that random present of fruitcake you get during the holidays. It's edible in its 8-bit form, but the ingredients just aren't what you're used to. It appears to be a solo project from a Logan-based musician, and that's as good as we can do. You can buy the untitled EP for the "name your price" tag on Bandcamp.
And finally, for Sunday, Jan. 1, we have the latest release from indie pop-folk musician James Gillice. The former Sneath Clay member has been doing the singer/songwriter gig for over eight years out of Provo since his first release, Let Me In, back in 2003. Most recently, he had a three-track EP back in January 2011 called A Lie, which didn't seem to spark any interest. It appears Gillice has been spending the year working on new material as he's returned with his fourth full-length album, Never And Forever. You can currently preview four tracks on his Bandcamp page, with an opportunity to buy the album down the road.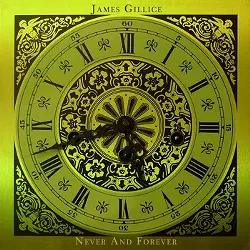 Head out, love music, buy local!