A few weeks ago, photographer Dave Brewer spoke on the wide range of talent within the SLC photographer community, demonstrating and giving examples of the best Utah has to offer. --- In an effort to showcase that talent, we'll be spending a lot of 2012 focusing on some of those individuals. One of the more high-profile photographers in the state is Ogden's own Rusty Sessions, founder and sole photographer of Sidewinder Media. His body of work spans nature to profile shots, live events and weddings, local and national celebrities, as well as his own selection of artistic shots.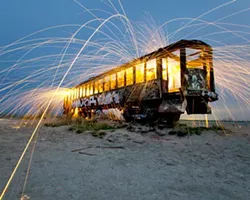 Today, we sit down the Sessions to discuss his career in photography and starting up the business, coming up through the ranks in the art community and the work he's done over the past several years, his thoughts on local art and other photographers in the state plus a few other questions -- all laced with depictions of his work.
Rusty Sessions
Gavin: Hey, Rusty. First thing, tell us a little bit about yourself.
Well, I am a proud father of three -- two boys and a new baby girl -- who already are taking control of dad. I am married to the best wife ever and am having a great time in life right now! I am 29 again (aka 30 but not admitting it yet) and still have a lot of life ahead of me.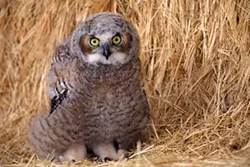 Gavin: What first sparked your interest in photography, and what were some early inspirations?
Rusty: I have been interested in taking photos for about as far back as I remember, because I loved being able to capture interesting stuff or just awesome places in this world and then being able to show others what I saw who may have not been there to see it firsthand. While I lived around the Sugar House area, I had been shooting mainly macro (close ups) wildlife and nature photography for about three years previously just as a hobby for myself and would go to a little tea shop name The Tea Grotto on 21st to edit my photos and occasionally would bring in some prints that I was working on in with me. Every once in a while, the very friendly people who visited the shop would ask to purchase one or two here and there, and eventually I was selling on average five to 10 prints a day from there or from connections from the tea shop. The Tea Grotto was fantastic in helping me get a foot under myself and allowed me to frame and sell larger prints on their walls on consignment for a while until I moved to Ogden following my marriage in 2005. There were not many places open to selling photography in Ogden that I could find, so sales of my photography slowed and eventually almost stopped when having my first baby. My wife had a district management position with Inkley's/Ritz Camera so she stayed working while I kept working a little here and there on my photography and raising my boy. A year and a half later came our second child and we continued with the same roles. My wife was shooting a bit here and there as a portrait and wedding photographer during this time when Inkley's began making employees sign "no competition" agreements and I started to take her shoots for portraits and weddings as they came along after starting my portrait shooting. My wife started me going with tips on everything she had learned from shooting with her father, longtime photographer and photo educator Clair Leavitt, and I jumped in head first! After a few weddings and a few families, I was hooked, and shooting portraits started paying the bills again.
Gavin: Did you take any formal college courses or training to learn the craft, or were you self-taught?
Rusty: I did not take any formal schooling for photography. I took physical-fitness-related classes, as well as medical classes, in high school with the thoughts of being something in the medical field eventually. Out of high school, I started following my love for animals and started on a zoology path with an emphasis in herpetology -- the study of reptiles and amphibians -- while I was working with Living Planet Aquarium in their beginning phases. But I learned most of what I know from either other photographers but mostly from self studies using books, podcasts and other online resources.
Gavin: How did you first get started snapping pictures of wildlife and nature subjects?
Rusty: I got started with wildlife and nature, I think, around the time that I started seeing bald eagles resting in trees close to my home in Woods Cross while I was in high school. They would return in the hundreds every February, and I kept improving gear and skills to get better shots of these amazing birds until I had enough to start shooting whatever, and the addiction and time to shoot the majority of my day, at times.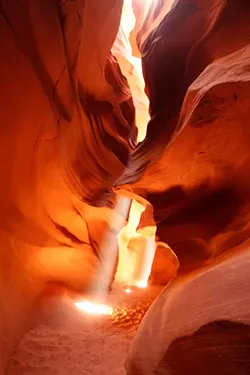 Gavin: How did the idea come about to start up your own photography business, and where did you get the name?
Rusty: The idea came from others who said I should start a business and start selling my photos early on, and from the people I started shooting when I started doing portraits and weddings. The actual business was to try and keep it organized and a name to refer people to. It started as just Sidewinder Photography when I was just doing photography, but then changed to Sidewinder Media when I started doing video with the addition of the Canon 5D Mark II cameras that are capable of Hollywood-cinema quality after local band The Daniel Day Trio asked me to test it out on a few of their performances, resulting in footage they and I loved. I got the name from a nickname people were calling me at the time because of a tattoo of a sidewinder rattlesnake I have across my back that I got while working with Living Planet Aquarium. I did not want to necessarily use my name as the business so I used my nickname.
Gavin: What was it like starting up, and how did things go during your first year?
Rusty: There were a few spots where I would say it "started" in my business and my arts "phases" -- first my hobby phase about 11 or 12 years ago when I really started spending a lot of time out shooting and learning the skills. Then the next was when I started selling prints as fine art and wildlife/nature photography in the tea shop and at some photography shows. Then the next came when I started shooting portraits and weddings. The real explosion of business has been the last three years, when people referring people to me, and the addition of video and the branching out to just about everything from event photography and weddings to music videos, training videos, TV commercials and a bit of my wildlife and nature, has taken place to the point where I do not advertise at all anymore and I stay booked almost more than I can handle at times. But it really has taken about 10 years to get to where I am at today.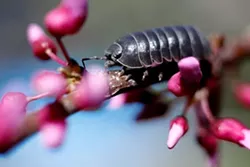 Gavin: How was it for you as a photographer to branch out beyond your comfort zone and essentially adapt yourself and skills to various projects?
Rusty: It has been exciting, and doors have just opened up on their own as I have gone along. It is hard for me to say no to a job, and if I have not done that style or type of job necessarily before I will quickly teach myself, practice a bit and just figure it out and do it then add that to the list of what I offer. I don't know if that is a good thing or a bad thing, at times, but it is how I roll. And so far, I do a pretty good job of being able to reproduce the look, feel or job that the client is looking for, no matter what.
Gavin: For your own personal choice, do you prefer film or digital, and why?
Rusty: I LOVE traditional film and would love to be able to grab a Hasselblad and shoot a wedding ,or a plate-and-bellows camera and hike up to the top of a peak and grab a sunset shot on an 8x10 plate, run home and develop it in my darkroom. But because I run a business doing photography and video, it is not practical and too expensive to produce the same thing nowadays. If I did this as a hobby only, I would probably shoot more film, and I still would like to, but do not have the time to right now. Digital has worked great for me because I can shoot hundreds and sometimes thousands of photos of a big event or a beautiful bear or bird somewhere and be able to pick and choose from the best shots much easier. As well, the video side of things I do would not exist without the camera(s) that I have now.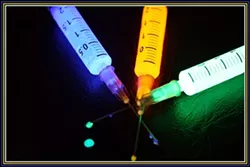 Gavin: While we're on the topic, what kind of equipment do you choose to shoot with?
Rusty: I shoot mainly with the Canon 5D Mark II because of the image quality, resolution and full-frame size. For lenses, I use as many L series lenses and some specialty lenses, depending on what I am shooting. When it comes to fast-action wildlife, I use a mix between the 5D or, when I need a faster shutter speed, the Canon 1D Mark III, which has come in very handy. With portraits, I also either use anywhere from a light or two on a stand with either umbrellas or a soft-box to a full studio with backdrop choices, and up to about three or four light setups. For video, I use the 5D either by itself or a group of multiple 5Ds for multi-angle shoots like with music-video filming or commercial filming -- along with some added aids like off-camera lighting, separate audio recording and added gear to help with focus pulling, etc.
Gavin: You've had some impressive subjects come along for photographs, including the Utah Jazz, Ebay and actor Danny Glover, to name a few. How was it for you getting your name out there to work with these subjects?
Rusty: I have loved shooting things like this. I love weddings and portraits, don't get me wrong, but shooting with the Utah Jazz and bands like 311, The Offspring, Cake and many more -- as well as being able to meet and the honor of shooting people like Danny Glover and a few others -- is very unique and exciting. It is kind of a rush doing them because the bar feels like it is raised and you really have to pull it off right and quickly; a fun challenge, and I hope to get more celebrities and big names added to the list of clients in the future. I really enjoy shooting people who I respect and look up to the most, like the band Neon Trees, OK Go or Anberlin. These bands are very cool to their fans and really care about taking the time for me to get portraits or performance photos and/or an interview, and I really respect that. I would love to shoot a music video for one of these bigger bands, or have some of the bigger local Utah bands that I shoot like Trenton McKean, The Suicycles and/or King Niko to go international and be there along with them to do the photos and video for them. I have reached out to a few here and there, but most of them have been through references from either X96 or the Jazz or other photographers/cinematographers.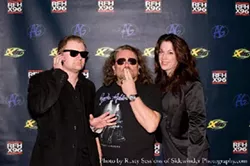 Gavin: You're one of the few small companies in the state to do casting calls, as well. What made you decide to incorporate those into the business, and how has it worked out for you during sessions?
Rusty: I decided to do those because I had the need for people to stand in for a video shoot or to take a spot acting or a model here and there for a product shoot, and that is a good way to keep names on file who are interested in doing shoots and also to send them to other projects that other photographers or cinematographers are doing because I am all about working with other artists and helping each other out when possible.
Gavin: You've been a professional photographer for over a decade in Utah. How do you believe you've progressed both as an artist and a businessman, and how do you continue to develop your skills after all that time?
Rusty: I have learned a ton with what I have done with my business, both outside of it while managing a theater or being a supervisor over CNAs in a hospital setting, to what I have had to learn as I go with my own business. It has been the hard way without schooling but I think I am at a point where I do a good job of it because of the trials and errors that I have had as I go; learning from experience, I guess. If I had the time and money, I would love adding some formal education to that, as well.
Gavin: Do you have any plans to expand beyond what you're doing now, or are you in a comfortable position?
Rusty: I do have plans to grow. I think I always want to try and do more, either by adding on people or upping quality or productivity. I have a few current goals depending on the way things end up going. I would like to have a building where I can do many different types of studio setups for photography, and video shooting where I could do shoots like model shots, family portraits and even be able to do a product or training video for a business or a simple music video out of the same building and sell prints in a gallery out of the front of the store. Or I may gravitate toward more celebrity portraits and/or music-video and commercial production. And something I will probably continue to do is my photography-education workshops. Just this last weekend, a business that I have been doing some classes for lately has just hired me on as their photography education coordinator and I will be running all of the classes offered by both me and The Imaging Depot in Ogden out of their store and I am very excited about that. There has been a big demand for that from the influx of photographers to the market, and everyone wants to learn this way, so this along with some books I am putting together will be something I will do no matter what way my business goes with everything else.
Gavin: Going statewide, what are your thoughts on the local art scene, both good and bad?
Rusty: Well, one thing I have found with the art scene here in Utah is that I miss it! Being a working photographer/cinematographer with jobs coming in constantly, I have little time to go to other photographers' shows or to other filmmakers' premiers ,as well as little time to do an art show myself, and I really miss that and hope to get more involved again in the near future. But as for the scene going here in Utah, I have not seen much more from outside of SLC but what I have seen from people I love! We have a lot of amazing talent here in Utah, like Doug Sims, Renee and Todd Keith, Teresa Flowers, Jake Garn, Cat Palmer, just to name a very few. And that is not even hitting on the painting/sculpting or even the MUA -- make-up artists -- like Aspen McKenna and others. I think if you are looking for art of any kind, you don't have to dig far to find some good stuff. But that being said, because we have so many you don't have to dig very far to hit a bad one, either. Haha. But really, I see art as like the cliche goes: "In the eye of the beholder." Something I may not find the taste for may be very-well-done, just not my style and viice versa, I like a few things/artists that others don't necessarily like, but that doesn't make them better or worse than another when it comes to art.
Gavin: Is there anything you feel could be done to make it more prominent?
Rusty: I think it is the people in the community you find the art in who make it prominent or not. You can advertise as much as you want or spread the word until you're blue in the face, but unless the mass interest is there outside of the art community, it is really not going to go much further than that, I think. But maybe it doesn't need to, either. The hard part about that is that, as it always has been and probably always will be, there will always be mostly "starving artists".
Gavin: Are there any local photographers whom you view are at the top of their game?
Rusty: There are many! The ones I listed previously, as well as others, like fantastic wildlife photographer Rob Daugherty, or the creative, clean views of Jeff Jensen, and so many more! If you're reading this, you know who you are, and I could make a list as long as this article. I love seeing other photographers' work, either good or "bad," beginner or professional.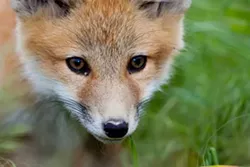 Gavin: What can we expect from you and Sidewinder Media over the rest of the year?
Rusty: Expect a lot of growth and some quality improvement. I feel that when an artist of any kind, especially a photographer, gets to a point where they feel they can't learn or improve, that is when they start going backwards. And what I have been saying for a while now is that the only boundaries that I have to define where I go in life are the ones directly behind me. I have a few music videos for The Suicycles and King Niko coming up, and some firsts for Brogan Kelby and Trenton McKean in planning right now that should be fantastic. Other than that, most of the bigger projects that I have done I did not see coming, so it could be anything!
Gavin: Aside from the obvious, is there anything you'd like to plug or promote?
Rusty: I guess where you can find and follow me. I am on Facebook and welcome adding me both personally as well as my business. Follow me on Twitter, and you can find me on YouTube and Vimeo from my business page or my Website. And I would like to thank a few places/people for helping me and supporting me along the way: my wife, of course; as well as Rob Daugherty; Doug Sims; Daniel Day from The Daniel Day Trio; Shirley Goropse from the Great Salt Lake Project for involving me in their documentary; Richie T. from X96 for getting me going on the international music scene; The Imaging Depot for furthering my education workshops and programs; and so many more, and, of course, all those interested and following my work and everyone who has used my services. Your comments and compliments and provided work lets me do what I love for a living!



| | | | |
| --- | --- | --- | --- |
| Follow Gavin's Underground: | | | |