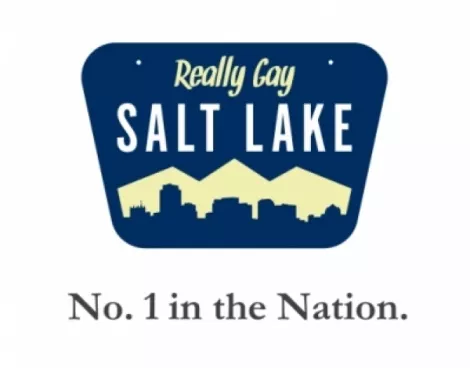 We're pretty danged gay, according to venerable LGBT news and entertainment magazine The Advocate. ---
A recent article in The Advocate's travel section ranks Salt Lake City at No. 1 among the "gayest" cities in the U.S. And, needless to say, we are all of us duly flattered.
Undoubtedly, the convention & visitors bureau must be eager to start printing up "Most Fabulous Snow on Earth!" bumper stickers.
We were somehow ranked well ahead of such gay-magnet communities as Atlanta and Seattle based on criteria the author Matthew Breed admits are "decidedly subjective." SLC received scores for our nude yoga classes, softball teams, International Mr. Leather semifinalists and certain music events. These were tallied up and the resulting score divided by the city's population.
In fact, SLC's gay quotient may have been underestimated: As Rosemary Winters pointed out in The Trib, the existence of Councilman Stan Penfold (in America, politicians are never just gay, but "openly gay" -- in other words, he isn't only merely gay, but really quite sincerely gay), as well as a city ordinance prohibiting discrimination based on gender identity or sexual orientation, should have earned us extra points.
Also, I'd like to note that we've had an Imperial Court chapter for more than three decades. Apparently, the Royal Court of the Golden Spike Empire needs to pay a bit more attention to its PR, or it would also have been included in the tally.

Nevertheless, I've always known that Salt Lake City is a very gay city. For me, though, it has nothing to do with nude yoga. (Nude yoga?!? While I studied yoga for a while back in the '80s, the class I took was neither exclusively gay nor nude. For me, the pinnacle of the experience was when I learned to stand on my head -- which I did with the reassuring support of athletic gear.)
Sure, we all know what a perk it is to have all those beefy International Mr. Leather contestants hanging around in their chaps and harnesses. And those music concerts must also contribute to our quality of life (although I must admit I'm a bit out-of-the-loop. I wouldn't know a Veronica if one landed on my head.)
Still, for me, it's not the dance clubs or wine bars that make this a gay town. It's the people.
I've been to other cities -- cities that likely would deserve higher ranking on a more traditional list of gayest U.S. cities in the Advocate -- and I've discovered that the gays certainly know how to have fun in Seattle, San Francisco and Chicago. Compared to the party animals in those cities, we here seem to be just a tad bit ... well, inhibited.
But I have never met people who were more interconnected and caring than those in Salt Lake City's gay community. We're a family here. Like all families, we're dysfunctional and we squabble, but it was this community that took me in when I was a teenage homeless throwaway queerboy, and if it hadn't been for the fine folks in this community, I shudder to think what might have become of me.