Weller Book Works is celebrating its grand opening in Trolley Square today with discounts, snacks, giveaways and a 6:30 p.m. speech by Tony Weller.---
The store (formerly Sam Weller's Bookstore) has been open since last Friday, while the staff continues to set up the space and move books from the Main Street location. There are still plenty of books on Main Street (yeah, I've been peering through the doors on the way to/from work) but the inventory at the Trolley location is fairly robust.
The space seems larger than it did when I first visited the empty shell in November. The new store layout is obviously different from the Main Street location, so some browsing was necessary to find the sections I wanted.
There's a front area that features staff recommendations, new titles, books of local interest and gift products; this is also where the large information/cashier desk is located.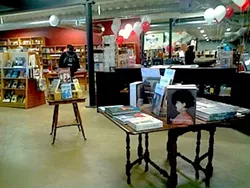 Deeper in the store, bookcases line the wall, with freestanding shelves of various heights veering off at diagonals, making for plenty of corners to turn and find tables and shelves with intriguing displays. The bookcases are marked with stickers denoting which aisles contain which subjects; I'm assuming larger signs will be present later.
Usually, I gravitate toward the young adult, children's, fiction, mystery and biography sections, but my wanderings took me past several themed displays on the endcaps of the freestanding shelves, and I nabbed two books—Roseanne Cash's Composed and The World of Downton Abbey—from a Music & Theater display, which likely wouldn't have been on my route in the old store (frankly, I'm not sure where those sections were located in the old store. Downstairs, maybe?).
I'm still not keen on the young-adult section being totally separated from the children's section; there are many titles and authors that could fall in either section, and they really feed into each other. And the backlist selection is somewhat limited in surprising ways, which was an issue that plagued the old store, as well—10 used copies of an obscure 1980s author's only novel were always available, while titles like East of Eden or Their Eyes Were Watching God were rare finds. Tony Weller spoke about a new system of selective curation for the new space, which I hope will fix the issue. (I didn't see seven copies of Family Blessings by LaVyrle Spencer anywhere, which bodes well.)

The Trolley Square location offers some obvious bonuses—foot traffic, free parking, later hours. Main Street lacks (desirable) foot traffic and downtown parking is always a boondoggle, especially near Main Street. Trolley Square's parking is free, but is sort of confusing—I always forget which side of the complex is the best place to park, and I lose all sense of direction once I'm in a parking garage and in Trolley Square itself. Even though I think I'm especially blessed in this regard (I've more than once wandered through The Gateway parking garage for more than an hour looking for my car), I did hear a couple traipsing through the garage shout, "How the fuck do we get out of here?"
Well, I drove around in a circle so you don't have to. Park in the parking garage that's accessible off of 500 South (it's no longer a one-way street this far east). Once you take the elevator down to the bottom level, you'll be just north of the Trolley Square building, facing the Pottery Barn windows. Don't go into Pottery Barn (unless you're into that sort of thing); to the right of the Pottery Barn doors are the main Trolley Square doors. Walk straight to the other end of the mall, and Weller Book Works will be on the right. Or, you could park across the street from Trolley Square in the outdoor lot on 600 South and walk across the skybridge, but this has always been beyond my capacity.
In celebration of the grand opening, new and used books are 20 percent off, and rare books are 30 percent off. The new location comes with later hours, so you can save till 9 p.m. tonight. Here's a snapshot of what I bought: $99 worth of books for $77, which I paid for using a $100 gift card I bought from the City Weekly Store for something like $35. Holla!