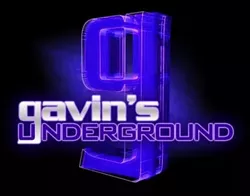 Hello to all you resolution-breaking, relationship-starting, hangover-drenching, cold-catching, doomsday-watching, welcome-to-2012 enthusiasts. --- The year isn't even two weeks old and all I've heard is bitching and moaning. If we're truly going out with a bang in 11 months, I gotta say, some of you are pissing your time away on trivial bullshit. And please, before you send hate mail, I know, I'm not one to preach. As we speak, I'm currently holding a grudge against the justice court for dragging me in for jury duty (more on that later) and essentially getting paid $18.50 to read a few chapters from a book. What a shame I couldn't earn a full-day's check to help pay my rent -- thanks, state government! Before we dive into events and the whatnot, let's look at the latest addition to the 337 Memorial Wall.
So ... MUSICIANS! Any and all musicians! This is the last time I'm announcing this because you've got less than a month, and if you're not signing up for it now, you never will. The Utah Arts Festival is still accepting applications for musicians to play the festival. This is indeed a paying gig, for those of you wondering. Every year, the festival gets hundreds of applications for coveted spots on its stages, where you can be seen by thousands of passersby in a day. It's like having a kind of SXSW in our own backyard. Last year had phenomenal turnout, including packed attendance for Fictionist and King Niko playing back-to-back, not to mention the inclusion of hip-hop and rap artists joining the lineup. This year, I'm encouraging heavier bands to sign up -- metal, thrash, hardcore, punk, experimental -- as well as bands from Utah County to sign up in force and be a part of this. Click on this link here to go to the application-info page! All applications are being done online this year, with a deadline of Feb. 3 at 5 p.m. Get your info in and get in the running!
Moving on to events, we've got a couple that you're probably either missing or barely finding out about as we post this, the first being the Undress Winter Fest. Salty Tassles and Bar Deluxe will be holding a burlesque show tonight starting at 9 p.m. with Lady Murasaki playing sometime in the evening. Just $10 gets you out of the cold and into the heated room to see some of Utah's best dancers.
Meanwhile, if you're down south in St. George, you've probably been experiencing some awesome cinema as the Red Rock Film Festival has been taking place this week. Tonight, you can see the Best Of films over at the GoGo 37. Starting at 7:30 p.m., the gallery will be playing 10 of the festival's finest including films like Below New York, Barko and Kiss The People. Visit the Facebook listing for complete times.
Moving on to Wednesday, we'll see the next installment of KRCL's Night Out events. Essentially, it's a chance for fellow listeners to get out and join the station and the Downtown Alliance at a local bar for a night of music and fun. This week, the station takes over Lumpy's downtown, located at 145 W. Pierpont, with Linda East Brady cranking out the music for the festivities. Head on over and say hello to your community-radio jockeys.
Next up, on Friday we move toward more protest as the Occupy-inspired group Move To Amend will be holding its "Occupy The Courts" event across the nation. Taking place on the second anniversary of the Citizens United v. FEC decision, the idea is to occupy the area around the courthouses, much like some of you did for a month at Pioneer Park. The SLC version will be holding a protest outside the Frank E. Moss courthouse (for those of you who need help, that's the federal one that bulldozed Port O' Call for a parking garage) from 7 a.m. to 5 p.m. Please remember, this is a peaceful movement! Blocking trains and spitting on cops and acting like a dipshit doesn't help anyone. If anything, SLCPD probably has a supply of teargas they've been itching to use since the late '80s, so don't give them a reason. But do say hi to Chris Burbank and offer him a drink after his shift.
When you're done with the courthouse, go catch a movie. There's apparently a slew of them in town, starting this week. Sundance doesn't need any help from me promoting it, and, as usual, I won't be covering it. But I will promote Slamdance to a degree, mainly because X-Dance is kinda boring to me and Tromadance won't come back. Here's a poster for it.
Also on Friday will be the Black Street Stroll. For those unfamiliar, this Stroll runs along the same night as the traditional one, but instead of multiple locations, they do a single show at Highlife Salon over on Broadway. This month, there will be live body painting from Peter Nielsen and Raven Johnson, with DJ Anthony Motto spinning music throughout the night. As fun as this sounds, there are some downsides. Unlike the regular Stroll, this one will cost you $10 to attend, and no cell phones or flash photography will be permitted. If this event sounds like something you'd enjoy, it kicks off at 7 p.m.
Next Saturday, we have a couple of events, starting with the Wasatch Roller Derby's season opener. Last year was pretty spectacular, and the hard-hitting ladies did a lot of good with their charity work. They'll be kicking off their season with a head-to-head battle with the all-male league Uinta Madness. You can buy tickets via their Website right now.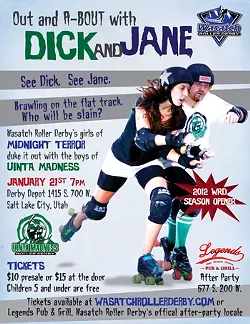 Meanwhile, up in Ogden will be the next show from the WSU Free Concert Series. Weber's college-radio station KWCR will take over the Wildcat Theater from 7-11p.m. to present a night of free local music for students and local patrons alike. This month, the show will feature WeDropLikeBombs, Headphone Theatre and Fox Van Cleef! Seriously, Ogdenites, are you going to argue with free music? Go check out the show.
The following Monday, Jan. 23, we'll see the latest fashion competition being held at the SLC Photo Collective: Symmetry. This is actually the Grand Salon Audition for Landis Lifestyle Salon, where the stylists will have five models come out and showcase their work. The people bidding for the prize this year are Tyrel Knight, Scotty Vaughn Day, Maranda Rodriguez, Joe Ramirez, Darin Duke, and Gorana Majstorovic. The event is free with some light appetizers served. Hey ... that model looks awfully familiar...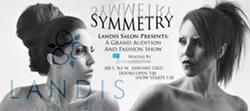 And then Tuesday, Jan. 24, the NoH8 campaign will be holding an open-photo shoot. Much in the same vein of the I Am Equal campaign, NoH8 is touring the U.S. and parts of the globe to put together a compilation of photos with the phrase on their body and tape over their mouths as a symbolic stance for what the campaign represents. NoH8 will be taking over St. Paul's Episcopal Church (261 S. 900 East) from 4-7 p.m. Be sure to get there early as this will be a packed event.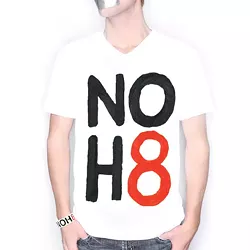 As for the blo g... Over the next few weeks, we'll have a bit of variety here: concert coverage, an interview with a stand-up comedian, chat about women in film, head back to Gallery Stroll, check in with a rising morning-radio show and a unique casting artist. At least, that's the plan; who the hell knows anymore these days? As always, we'll see what happens.
| | | | |
| --- | --- | --- | --- |
| Follow Gavin's Underground: | | | |