There undoubtedly wasn't a better guitar player in Park City on the opening day of the Sundance Film Festival than Gary Clark Jr., as he demonstrated his craft at the
Spin
Sessions at the Bing Bar.---
When Clark approaches a mic, he does so like a giant panther -- a mighty feline that has grace and agility, with a cool, comfortable aesthetic. What he seeks, he gets. The guitarist evokes Jimi Hendrix when his lanky fingers shred his cherry-red Epiphone hollowbody. He could have played in a duo -- like some of his contemporaries, such as Dan Aeurbach and Jack White (yeah, I went there -- he's that good) -- but his sound was robust as he was backed by three fine musicians.
Clark began his set with "Don't Owe You a Thing," which had folks flocking into the Spin Sessions stage from every corner of the establishment. After the song, when he said, "Damn, that felt good," he spoke for everyone in attendance. After one more rockin' song, Clark knew he needed to pace himself -- and the crowd -- because, after all, these festival days are loooong. So, he played "Please Come Home," which displayed the sweetness in his voice.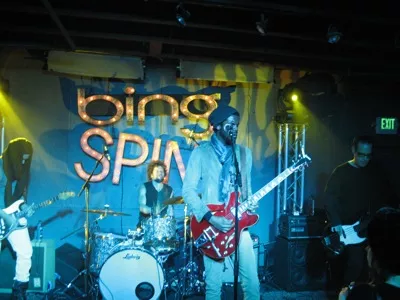 He then quickly turned things back up, teasing Hendrix's -- speak of the devil -- "Little Wing," which bled into "If You Love Me Like You Say" and the Hendrix lick as an outro. Clark then showed his versatility with a blues number, a la Chuck Berry; the song showed off the tight rhythms of his band, which are more robust than Clark's . The 27-year-old cut his chops in Texas and his sound is nasty and fat, an electrical storm from six strings. His latest EP,
Bright Lights
, is a gem. The set ended (too soon) with the title track "Bright Lights" -- the best song of the night.