For a simple weekday meal, it's hard to beat pan-seared pork chops as the centerpiece. By following a couple of easy techniques, you'll be guaranteed perfect plump and juicy chops every time. ---
The key to cooking delicious, thick-cut pork chops that are juicy and tender is to follow two basic steps. First, brine the chops. Second -- and this might seem unusual -- we're going to cook the pork chops in the oven prior to searing them on the stove. Here's how to do it:
Ingredients:
4 thick-cut (about 10-12 oz.) bone-in or boneless pork rib loin chops
Salt and pepper to taste
Kosher salt for brining
2 Tbs. canola oil
Technique:
Begin by preparing a basic brine: Combine 1 quart cold water with 1/2 cup kosher salt and 1/2 cup sugar per one pound of meat. Mix together until the salt and sugar dissolves. (Tip: If you have trouble getting the sugar and salt to dissolve, begin with hot water and let the brine cool in the fridge before using.)
Brine the pork in the refrigerator for about an hour per pound, but not more than eight hours.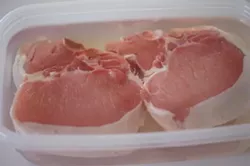 Preheat an oven to 275 degrees F.
Remove the pork chops from the brine, rinse with cold water and pat dry with paper towels. Place the chops on a baking sheet with a wire rack and allow them to come to room temperature, for about 45 minutes.
Sprinkle the chops with salt and pepper to taste, and place them in the warm oven.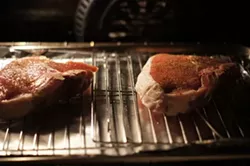 Allow the chops to cook in the oven until the internal temperature reaches 125 degrees on an instant-read thermometer (30 to 45 minutes, depending on the thickness of the chops). Remove the chops from the oven.
Heat the canola oil in a large skillet over high heat until the oil begins to smoke.
Sear the chops until well-browned, 2-3 minutes on each side.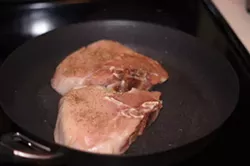 Be sure to also sear the sides of the chops to help seal the exterior of the meat and form a crispy crust.
When the chops are well-browned, the internal temperature should be about 140-145 degrees.
Remove the chops to a plate or platter and cover with foil for about five minutes. The temperature will continue to increase, to about 150 degrees.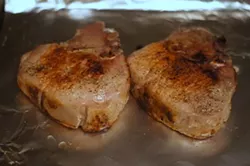 Serve the pan-seared pork chops as-is, or with a simple pan sauce.