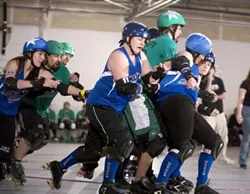 Wasatch Roller Derby kicked off its 2012 season Saturday night at the Derby Depot in Salt Lake City; WRD recaps the action:---
Winter weather wasn't the only thing to return to Salt Lake City Saturday night. Wasatch Roller Derby kicked off its 2012 season at the Derby Depot. In keeping with tradition, the first bout of the year was a battle of the sexes.
"Out & A-Bout with Dick & Jane" is the annual battle between Wasatch Roller Derby's Midnight Terror and the men of Uinta Madness Roller Derby. As the snow fell outside, inside it rained blows on the track in front of a packed house of derby fans.
The men put up a valiant effort with their first full roster of players ever, but it took until the second half for the team in green to start meshing on the track. They were able to narrow an 80-point lead but, despite of a hard push from Uinta Madness, the ladies claimed a 153 to 92 victory.
Both teams are looking forward to an exciting year. At the beginning of February, the Midnight Terror and the Uinta Madness will be competing in the Big O tournament in Oregon. But you can catch more derby action when Wasatch's home teams, the Hot Wheelers and Black Diamond Divas, face off for their first bout of the year on Saturday, Feb. 18, 7 p.m. at the Derby Depot (1415 S. 700 West). For more information, check out the WRD Website at WasatchRollerDerby.com.
Shots from Saturday's bout: