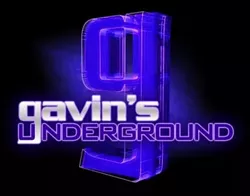 Hello to all you hoping-to-see-a-movie, line-standing, celebrity-gawking, where-are-you-gonna-get-your-fix-for-the-next-51-weeks-until-Sundance-2013 enthusiasts! --- Surprisingly, this year came and went quicker than I thought it would. Normally, the film-fest season turns into a carnival of epic proportions to the point where SLC itself becomes a mass of people who under-dressed for the blizzard and bitched that they didn't know it would be "so cold." In lieu of a 337 update, here's a little something from the New Frontier exhibition.
Speaking of, last week, there was a giant media invitational to the exhibition over at the Utah Museum of Contemporary Art (formerly the Salt Lake Art Center), which is a nice change of name as visitors kept getting SLAC mixed up with the theater company -- Salt Lake Acting Company -- known hereabouts by acronym. Stupid tourists. For those of you who haven't checked out this display of artworks, you need to get your ass off the couch and head over for a day, especially since Sundance clears out of here tonight and all the trendy folk won't be around to crowd the place. There's a lot of interactive materials that are an absolute must to spend an afternoon looking at, including some games that you might enjoy. One of my favorites is McDonald's: The Game, physically brought across the pond by Italian-based Molleindustria. The exhibition itself will be here until mid-May; plenty of time to see what it has in store. Head over to this photo gallery to get a glimpse of what you can play with.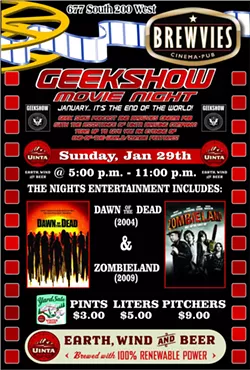 This week, my eye caught a glimpse of another local magazine trying to pull off a "Best Of" issue, which is always fun to look over and make fun of, but this one is just outright ridiculous -- Utah Valley Magazine; that's right, a magazine dedicated to everything Utah County, just with the word Valley to make it less "official." Normally, I wouldn't care about this kind of an issue from this small of a publication if not for some of the terrible awards stored within. For example, in a category called "Most Famous Person Utah County Has Produced," the winner is The Osmond Family -- a category for a single person going to a group. If that doesn't strike you as odd, right below it is one for the most "In-Famous Person," in which they take credit for murderer Mark Hacking being born in the U.C. Way to go, editors! Other nonsense categories include (and I'm not making this up) Best & Worst Traffic Schools, Favorite Local Publication (guess who won), Favorite Windshield Repair Shop, Favorite Cell Phone Service (free ad for Verizon), Happiest Person In Utah Valley (spoiler: the winner is "Me"), Favorite Gift Baskets, and my personal favorite ... Most Common Stereotype About Utah County. The whole issue is a joke in itself, and I can't see how anyone in the valley could take it seriously or not use it to line a birdcage. Feel free to browse the issue, it's free online.
Moving on to events, tomorrow over at Brewvies the Geek Show Podcast takes over Brewvies again for another Movie Night. Don't waste time with the "Pro" Bowl and see pointless competition when you can see truly fake survival as people run from zombies in a bloody duel to the death. This month's double feature will be the 2004 remake of the classic Dawn Of The Dead, and the 2009 comedic thriller Zombieland. Remember, it's totally free (except for the food and drinks), and it all kicks off at 5 p.m.(age 21 ).
If you're not into zombies, perhaps you'd enjoy a little spoken word, as the next installment of When She Speaks I Hear The Revolution takes over the JitterBug Coffee Shop on Sunday. I actually wrote this up in this week's edition of City Weekly, so when you're done with this blog entry, drag your mouse upward to the digital issue and look up the More Essentials section. I highly recommend the show if you're into the open-mic/spoken-word format.
If you can't go to that on Sunday, there will be a different version of it on Monday over at Mo's Neighborhood Grill, as Salt City Indie Arts commands its stage again for another round of Put Your Mouth Where The Word Is. There have been some new rules added to the slam, which means two people WILL perform, and Stephen Meads will be on hand as the featured performer for the event. But the group is still taking names for the wait list to take the stage and profess their fondest words. Head on over to the%uFFFDFacebook event listing for the details and sign up while you still can!
I don't really promote concerts on the blog much, but this Tuesday we'll see the tour return show for Max Pain & The Groovies. They headed west, then north, then back here eventually this week. They're one of the few bands to declare they were going to tour and followed through on the promise from last year, and the group could use all the support they can get for all the money they spent to do so. Head on over to the show and buy as much as you can so they can celebrate the return in style.
The week kinda dies out, except for this series of concerts you might be interested in checking out -- not like we're pressuring you or anything like that. But things pick back up next Saturday with a comedy showcase over at The Complex. The third installment of the "Comedy With A Complex" series will feature Levi Rounds, Blake Bard, Steve McInelly, Brandy Tobler and Ryan Holyoak, all hosted by John Hilder. You're technically getting six comedians for just $10, which isn't a bad deal. Go check them out.

Then, next Sunday is the return of Craft Sabbath. The group of crafters took a sabbatical after their two holiday shows in December, but now they're returning to take over the promenade of the Main Library in downtown SLC. Say hi to the ladies at the City Weekly table and then browse the dozens of artists and crafters on hand for some awesome handmade goods.
And then, because the rest of the week is nothing more than concerts, here's another quick, cheap plug for the City Weekly Music Awards happening during this two-week period. I'll be on hand for a few of these, snapping extra-blurry photos and bringing you interviews down the line from performing musicians. Come join us at the shows and vote for your favorites.

As for the blog: Wse'll have interview from bands at a weekend show, check out a 3-D craft artist, preview a couple of dance showcases, listen in to the latest music podcast and take front row at the next play from SLAC. At least, that's the plan for now. Who knows how things will turn out in the next few weeks.? As always, we'll see what happens.