The past few months have seen a flurry of local podcasts rise from nothing, further expanding the landscape of the online medium and choices for Utah audiences. --- One of the latest to spring up is the
100 Block Podcast
, a music-oriented interview show that took its name from the downtown block of Provo that houses several hot spots of the Utah County music scene. The show barely launched in December, but has already received rave reviews from fellow podcasters and has become a recommended favorite with local bands.

Today, we chat with the creator and one of the hosts of the show, Braden Rosenlof, about the music scene and how the podcast came about, producing the show and where they plan to take it, plus his thoughts on a few other topics.
Branden Rosenlof (right, Al Deans - left, Tom Larson - middle)
Gavin: Hey, Branden. First off, tell us a little bit about yourself.
Braden: Hey, Gavin. Thanks for having us on your blog. There are three of us behind the podcast. I'm Branden, the creator and co-host. Then we have our other co-host, Tom Larsen, and Al Deans, who is our producer/audio engineer. Tom and I are both students and Al owns/operates his own recording studio, Pulsar Audio Recording.
Gavin: What got you interested in music and who were some of your favorite musicians growing up?
Branden: We all had very similar musical upbringings. We listened to a lot of classic rock growing up: Beach Boys, Elvis, Beatles, Eagles, etc. --you know, what our parents listened to. Then we discovered different genres around junior high and high school. Al and I went down the alternative/grunge road, and Tom kinda took the punk road; he is more into the indie scene now, though. But each of us is very open to a variety of genres. Also, we all started playing instruments around high school, which helped us appreciate music on a deeper level, and introduced us to the local scene.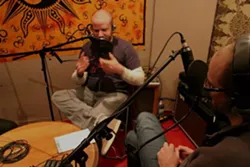 Gavin: What drew you toward the local music scene, and what was the initial appeal that got you involved with it?
Branden: We all feel like the Provo music scene has some of the greatest talent in the world. Each of us was introduced to the local scene at a different time, but we all had the same reaction — amazement. The quality of music that is being produced down here is incredible, and the tight-knit music community adds to the appeal of the local scene. We also all agree that some of the best concerts we have been to have been local shows.
Gavin: How did the three of you meet each other and eventually become friends?
Branden: I met Al around 2004 when I first moved to Provo, and Tom a few years later when I moved to Orem. We have all been roommates at one point or another and became better friends through that. But it's really our mutual love for music, and especially the local music scene, that brought us together to do this podcast.
Gavin: When did the idea come about to start up a podcast, and what was it like planning how it would work out?
Branden: I had been thinking about doing a local music podcast ever since The Provo Podcast stopped recording a few years ago. It wasn't until more recently when some friends and I started up a small podcasting network that I got more serious about it. After contacting Al and Tom about it, we planned, recorded and released our first podcast in about two days. So, that first little bit was pretty hectic, but it went surprisingly well.
Gavin: What was the process like in figuring out the format of the show and how you'd record it?
Branden: We initially wanted the podcast to be 45 minutes to an hour long, with a lengthy profile of the band and playing several of their songs. Our first episode matches that format, but we quickly realized that people were getting weary listening to more than 45 minutes of the same guest . Even that first guest, Chance Lewis, agreed. We tried 30 minutes for the second episode, featuring John-Ross Boyce, keeping it more focused on his album release rather than a lengthy band profile. The 30-minute format works very well — long enough to do justice to the band, but short enough to keep it interesting. Figuring out the recording of the podcast was easy. Al already had his studio set up, and he was more than willing to donate the time. In return, I promote the hell out of his studio on the podcast!
Gavin: How did you go about deciding which guests to bring in, and what made you want to start with Chance Lewis?
Branden: A band or musician gets priority if they are releasing a CD or playing a big show. We want to keep it relevant like that so the interviews are focused and interesting. The fact that there is so much activity in the Provo music scene right now makes it easy for us to find guests who match this profile. We decided to start with Chance Lewis because of this very reason. He was just about to release his album, Underdogg, and we wanted to promote it. Also, we are lucky enough to be good friends with Chance, which made for an easier, less awkward first episode.
Gavin: How was it for you after the first recording, and what made you decide to continue afterward?
Branden: We were all very pleased with the response after the first episode. We got a lot of positive feedback from our music friends, but even more significant was the feedback we received from people who don't know much about the Provo music scene at all. We would probably continue recording this podcast even if only a handful of our music friends listened, but the fact that we are reaching Provo music scene outsiders pushes us even harder to keep it going.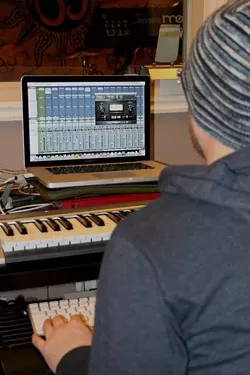 Gavin: Considering both the music scene in Utah County and that audience in the area, was there any worry on your part that people would not be interested in the show or pay attention beyond the first episode?
Branden: We were never too worried about a lack of interest. There is a solid group of people involved in the music scene down here who support each other like family. We know that they will listen as long as we keep producing quality episodes. We are also very confident that other people will hear the quality of the music that we are playing on the podcast and be interested enough to keep listening.
Gavin: As a duo with a guest in the room, how is it balancing the conversation and questions between you both while allowing the guest to respond?
Branden: Tom and I will sit down before we record and talk about questions that we definitely want to ask. We also decide who will ask each question. We both seem to have a good sense of when it is appropriate to move on to the next question, so it flows nicely during the actual interview. It also helps to regroup during song breaks, so we always know where we are going with the interview. Probably the biggest thing is that neither of us are big talkers, so we usually just ask a short, pointed question and leave plenty of time for the guest to respond. Neither of us want to be the star of the show or anything. It's all about the guest.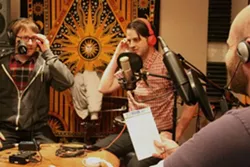 Gavin: How much of the show do you plan in advance and how much ends up being spur of the moment?
Branden: Like I mentioned, we will plan out some questions beforehand and occasionally prep the guest with any questions that might require more thought. But by no means is the podcast scripted or following some rigid format. We like to leave plenty of room for the personality of the guest to come out. So, we will have a basic plan of which questions to ask and when, but neither of us freaks out if the podcast goes somewhere that we weren't planning. Unless the guest pulls a gun on us or something.
Gavin: Do you prefer the open-mic conversation style of the show, or do you wish it were more of an edited and heavily produced format?
Branden: From the beginning, I was very set on having the podcast sound the way it does. We throw in a few heavily produced elements here and there to make the podcast sound professional, but overall, I think it works best to have a more laid-back, living room conversation feel to it. We want people to feel like they are sitting in on the conversation, and I feel like that experience would be hindered if the podcast had a heavily produced sound to it. I'm not against heavy production in a podcast. Some of my favorite podcasts are heavily produced, and it works great for them. I just don't think it works as well for what we are doing.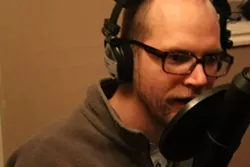 Gavin: Being relatively new, what's the response been like both from Utah County fans and beyond the county?
Branden: Response from within Utah County has been fantastic. I'm meeting random people at school and on the street who say they listen to and love the podcast. I think it's too early to tell what the response has been outside of Utah County, though. I haven't heard much buzz, but we hope that people outside of the county are listening. One of our major goals is to reach people outside of the area and show them that the Provo music scene has a lot to offer. Nothing would thrill me more than to see people from all over subscribing to the podcast.
Gavin: Are there any plans to expand the show or add additional elements, or are you sticking to the format you have now?
Branden: We just started releasing the podcast weekly, with interviews on week A, and the 100 Block Podcast mix tape on week B, where we just play music from Provo-area bands with minimal talking. Our end goal is to release the podcast every weekday—mix tape on Monday through Thursday, and interviews on Friday. It will take a lot to get to that point, but I hope to see that happen by the end of the year, if not sooner.
Gavin: Going more local, what are your thoughts on the podcasts coming out of Utah these days, both good and bad?
Branden: I've been very impressed with the quality of podcasts that I've heard. I love the fact that anybody with a good idea and a microphone can put together a podcast that's entertaining. I think a lot of people would be surprised by some of the great podcasts that are being produced right here in Utah. I can't really say that I've heard many bad local podcasts, either.
Gavin: Is there anything you believe could be done to make these shows more prominent?
Branden: Just like local music, a local podcast needs a good amount of local support to get it off the ground. I think creating a podcast network is helpful, as well. My friends and I are working on a podcast network called Wavehorse Productions, which will eventually include a variety of podcasts covering different subjects. Each podcast will advertise for the others, which will bring listeners from one podcast to another. That's what the local podcaster Scott Johnson did. His FrogPants Studios network has around 20 extremely successful podcasts.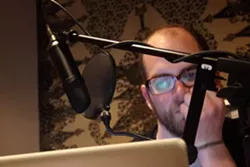 Gavin: Do you have any favorite local shows you listen to and recommend?
Branden: Soundwaves From The Underground is great. It's a nice mix of local music, art, businesses, and politics. I listen to a few of Scott Johnson's podcasts, which he records from Eagle Mountain. I also listen to the Desert Bears Podcast, which is three friends sitting around a table and talking about whatever they want. Sometimes random, less-structured podcasts like that are incredibly fun to listen to.
Gavin: Where do you see the medium going both locally and nationally over the next few years?
Branden: There have been a ton of podcasts popping up recently since audio equipment and editing software has become more affordable. Now with faster Internet connections, mobile devices everywhere, and a growing desire for "on demand" entertainment, I see podcast production rapidly increasing in the next couple of years. It may be a stretch, but I think it would be cool if podcasting eventually became the new radio. More people will be able to produce multiple podcasts and start their own Internet radio stations. Underground revolution!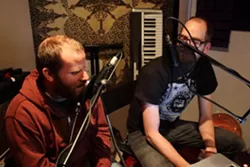 Gavin: While we're kinda on the subject, what are your thoughts on the local music scene, both good and bad?
Branden: It has been a great past couple of years for the Provo music scene. Quite a few bands down here are getting national attention, and the up and coming bands are stronger than ever. There is definitely a strong scene here, but I still feel like the support on a local level is lacking. The fact that we live in an area with over 60,000 college students and still see local bands playing to only 20 or 30 people in our clubs is discouraging.
Gavin: Where do you see the scene going over the next couple of years, and is there anything you wish could happen here in Utah to help the scene progress?
Branden: I see more bands getting national attention over the next couple of years. There is enough talent here for that to happen. But again, not much is going to happen without stronger local support. It's bands selling out clubs that gets them attention. Also, I wish there were more media outlets for local bands to share their music. I think more local music podcasts/radio stations and magazines -- online or print -- would be great for the music scene.
Gavin: What can we expect from all of you and the show over the rest of the year?
Branden: I mentioned releasing the podcast daily, and hope that happens this year. But overall, just expect more great episodes featuring some amazing talent. There is enough good stuff going on down here for us to continue this show for a long time. Also, I personally hope to set the groundwork for a Utah County podcasting network, where I want to get a bunch of shows together that deal with the arts, businesses, and people in this area.
Gavin: Aside from the obvious, is there anything you'd like to promote or plug?
Branden: Again, gotta give a shout out to Al's studio, Pulsar Audio Recording. He's a great engineer with very reasonable prices. Also, find us on Facebook and Twitter. Those are the best ways to keep up to date with 100 Block Podcast happenings.
| | | | |
| --- | --- | --- | --- |
| Follow Gavin's Underground: | | | |