When SLC got a H&M megastore awhile back, everyone I know rejoiced with a religious fervor. I thought to myself, "Oh, sweet --David Beckham underwear. Who gives a shit?" It also made me wonder if SLC had any decent gear spots; you know, a place where a guy like me can cop a clean pair of Lugz? ---

I'm half kidding about this, but it is easier to DJ with SUVs while wearing Lugz.
So when a friend of mine told me about a mysterious bodega tucked away over in the depths of West Valley, I was more than intrigued. I was on a mission to find it.
Perhaps it was divine intervention, but while shopping for big-boy clothes in the Valley Fair Mall Macy's, I wandered through the mall's scantly populated hallways and came across the holy grail of '90s streetwear. What first caught my eye was a rack of fleece Tupac blankets draped in the doorway, and when I stepped inside, naturally, my face did one of these.
I think it's safe to say I was beyond pumped to find this place. It's called J.B.Variety, and I assume by "variety" they mean every piece of '90s gear, ever, all in one spot. Perusing this store is like stumbling upon Arsenio Hall's estate sale. Shelves upon shelves of Lugz, Fila, Roca Wear and Scarface jackets. It's a perfectly preserved tomb of everything I wanted to wear in middle school. Translation: all the outfits you see in this video …

It would be appropriate to let this jam play from here on...
All right, here's a tour:
You need some gator skins? Boom…
Like Filas? Boom…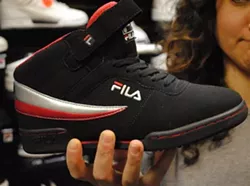 Oh, Filas aren't your thing? How about some Airs?
Looney Tunes gear? Boom…
How about a fleece blanket with a sexy black panther on it? Boom…
Huntin' for some jeans with cool shit on the pockets? Here you go…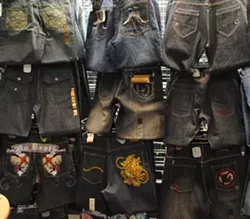 OK, that's enough of that shit. But if you think I'm clowning on this store, you're dead wrong. I couldn't have been happier to find this hidden gem. In fact, on discovery of this place, my GF Nicole and I took full advantage and put together the best get-ups possible. Here's what you suckas have been missing out on …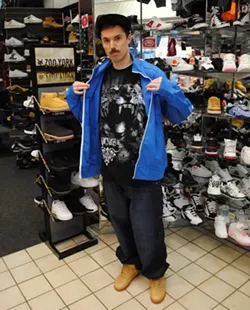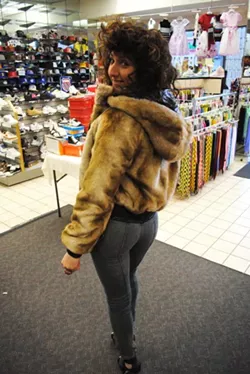 These pics don't even scratch the surface. But as much as I love this place, there's one downside: It's not cheap. It has similar prices to that of a big-box store, yet it has the look and feel of a flea market. Eh, it's sort of confusing like that, but maybe the prices reflect the demand for '90s nosalgia; I'm not really sure. Either way, it's worth checking out. Plus, there's an In-N-Out nearby.
J.B. Variety is located in the Valley Fair Mall and is open from 10 a.m. -9 p.m. Monday-Saturday and 12-6 p.m. on Sundays.