After a whirlwind couple of weekends featuring eight live-band showcases and two DJ Spin-offs, the
City Weekly
Music Awards comes to a close. The
CW
Music staff has had their say, so we wanted to hear about some memorable moments from the musicians who played and you, the reader and concertgoer.---
It's now over, and one band and one DJ have been crowned victors as voted by their fans, but it's worth taking a quick second to give praise to all of the staff, musicians and fans involved who came out to support live, local music: Thank you!
Out of the 30-plus hours of live-music hootenany, there were certainly some terrific experiences. My two favorites were watching Ryan Tanner take on the frontman role and re-imagining his acoustic gems at The State Room, and seeing the glitter-covered spectacle that was Laserfang -- the first time I've seen them since the 2010 CWMAs.
But rather than me beard scratching or decanting what we've already written (reviews of the showcases can be read here), we wanted to give the musicians and other folks involved a chance to clue you in on what you missed or remind you of a particular instance that you might have forgotten about. And, in the comments, tell us about your favorite moment.
What was your 2012 City Weekly Music Awards highlight?
The Folka Dots: The sense of community we felt truly impressed us. Being a fairly new band and having never played in Provo before, we experienced a humbling welcome from the venue, crowd and other bands. It's exciting and motivating to feel like what we do as musicians is recognized by the community as something worthwhile. We definitely did a lot of smiling that night. Big thank you to the CWMA crew, the folks at Velour, and our new friends/talented musicians we were able to share the evening with.

Stephen Chai (No-Nation Orchestra, Night Sweats, Laserfang): My favorite part was seeing the city get out and shake their tail feathers in the middle of winter. Night Sweats played the Underground Music Festival in Denver last year and it was really cool to see how much of the city came out and supported it. I felt a little touch of that this year. CWMAs seemed to have some good energy behind it.
Jordan Wallis (CW Contributor): Laserfang's set, despite the over-abundence of glitter -- the herpes of craft supplies.
Dan Nailen (CW contributor): I loved watching David Williams play his guitar through a ridiculously early Channel 2 morning news show. He has to get the "good sport" award.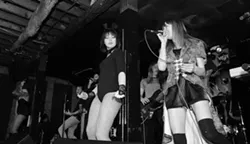 Black Rob (The Suicycles): For me, the highlight was definitely the showcase itself. We had spent so much time focusing on the boring parts of the contest,like bugging our friends for votes, that it felt great to finally be able to unleash some rock & roll.
Kolbie Stonehocker (CW copy editor/ contributor): Watching the Folka Dots play "Black Crow" -- one of my favorite songs -- at Velour.
Burnell Washburn: The obvious highlight was getting nominated and being on the same list of so many talented artists, but seeing Dusk One & The Numbs perform at Wasted Space was the real highlight for me.
DJ Flash & Flare: My highlight was performing. It's nice to play something you love and have worked on, something you've put some passion into. To play it for a crowd that is listening and conscious is great. It's a good release for me, and I love that.

Ryan Tanner: The highlight for me is just feeling like part of the music community here in Utah. There are so many incredible writers, singers and musicians, and I am grateful this year to City Weekly and the local venues (The State Room, especially for us) for showing us how important the sense of community is to the survival of music here in Salt Lake City.
David Williams: The highlight for me was playing music with the Joshua Payne Trio (+ Dave Payne) before an audience of sweet and wonderful peeps.
YYBS: The opportunity to participate in the CWMA's with the upper echelon of Salt Lake's musicians was a privilege. Huge thanks to City Weekly for inviting us and putting together the CWMAs again!

Tcoy Coughlin (Max Pain & the Groovies): The highlight was seeing and feeling all the support from everyone to everything the CWMAs created. Oh, and watching the 321's!
ToM SRVO: The highlight for me was at the end of my set: When I was done, I knew that the practice paid off. I had a sense of satisfaction. "Nailed it!" Haha. Seriously, though, there was a lot of excitement and it felt great to be a part of this year's CWMA and compete against the defending champ.